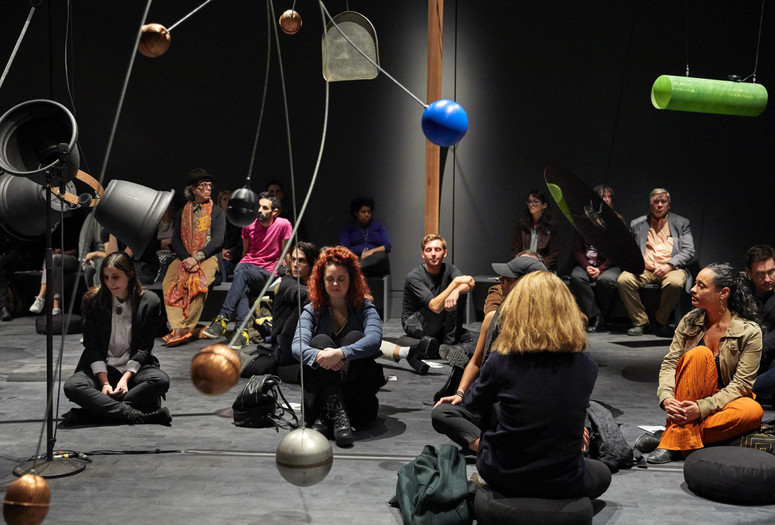 In conjunction with the exhibition David Tudor and Composers Inside Electronics Inc.: Rainforest V (variation 1), MoMA presents 12 performances of Forest Speech (1978/79), a part of the Rainforest family of works that evolved from the sound score David Tudor created for choreographer Merce Cunningham's 1968 dance RainForest. Like Tudor's Rainforest series, Forest Speech uses found objects and constructed sculptures as instruments, highlighting Tudor's interest in what he called "instrumental loudspeakers." This version of Forest Speech uniquely uses objects from Rainforest V (variation 1), a sound installation constructed from items, such as a metal barrel, a vintage computer hard disc, and plastic tubing, which are fitted with sonic transducers and suspended in space to increase their resonance. While other works in the Rainforest family often use sounds that may be reminiscent of animals, insects, and birds, Forest Speech calls for vocal-like sounds.
Forest Speech was conceived by Tudor in 1976, and was developed for this presentation in a collaborative workshop of musicians and artists working across generations and approaches, led by John Driscoll and Phil Edelstein of Composers Inside Electronics (CIE).
On October 24, 26, and 27, Forest Speech will be performed by Phil Edelstein, Marina Rosenfeld, Stefan Tcherepnin, Spencer Topel, and Jeremy Toussaint-Baptiste.
On November 14, 16, and 17, Forest Speech will be performed by Lea Bertucci, John Driscoll, Ed Potokar, Margaret Anne Schedel, and Phillip White.
On December 12, 14, and 15, Forest Speech will be performed by Ginny Benson, Cecilia Lopez, Daniel Neumann, Sergei Tcherepnin, and C. Spencer Yeh.
On December 15, a post-performance conversation with John Driscoll, Phil Edelstein, Ginny Benson, Cecilia Lopez, Daniel Neumann, C. Spencer Yeh, and Jeremy Toussaint-Baptiste moderated by Ana Janevski will follow the 3:00 p.m. performance.
Member tickets are on sale starting October 10; tickets for the general public are on sale October 14. Sunday daytime performances are free with museum admission, but require a separate ticket, which will be available on site on the day of the performance, on a first-come, first-served basis.
The exhibition is presented as part of The Hyundai Card Performance Series.

Generous support is provided by The Sarah Arison Endowment Fund for Performance.