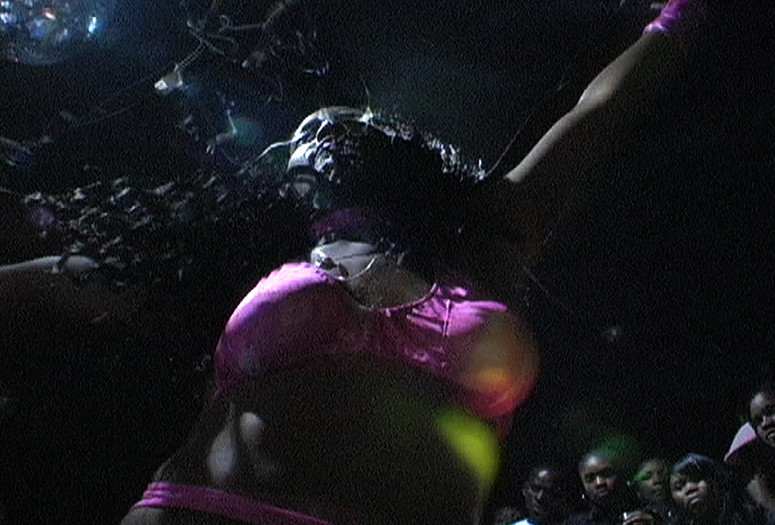 VW Sunday Sessions presents the New York City premiere of Leilah Weinraub's documentary feature film SHAKEDOWN (2018), a dreamlike depiction of Los Angeles's urban lesbian strip club scene in the early 2000s and the culture that surrounded it. Shakedown was a weekly club night held during this period, and it serves as the film's center with female performers from the party in leading roles.
Created from over 400 hours of footage that Weinraub has been collecting for the past 15 years, the film incorporates live tapes from the club, backstage videos, archival material, flyers, and interviews. SHAKEDOWN chronicles the explicit performances and personal relationships of the party's dancers and organizers including Ronnie-Ron, Shakedown Productions' creator and emcee; Mahogany, the legendary "mother" of the community; Egypt, their star performer; and Jazmine, the "Queen" of Shakedown.
Weinraub observes that the film's narrative "functions as a legend where money is both myth and material," in which she herself emerges as a desiring participant. Summarizing her project, Weinraub describes the challenge of "how to portray the before and after of a utopic moment."
The screenings will be joined with conversations and responses from artists Hannah Black, Juliana Huxtable, and Mistervacation.
VW Dome $15 (MoMA Members $13)
Ticket also grants admission to Hair Wars at 6:05 p.m. in the VW dome.
MoMA PS1's acclaimed VW Sunday Sessions program welcomes visitors to experience art live and in real time. Embracing performance, music, dance, conversations, and film, the program vividly demonstrates how these art forms can push us to engage with our contemporary world in creative, illuminating ways. With an emphasis on artistic practices that blur and break traditional genre boundaries, the program supports and commissions new work, inviting artists, curators, and other cultural instigators to share their latest projects. MoMA PS1 offers one of the most extensive museum programs dedicated to live art in the world, representing a core component of the institution's mission since its founding.
VW Sunday Sessions is organized by Taja Cheek, Curatorial Assistant, MoMA PS1; and Alex Sloane, Curatorial Assistant, MoMA PS1, with Alexandra Rosenberg, Associate Producer.

VW Sunday Sessions and the VW Dome at MoMA PS1 are made possible by a partnership with Volkswagen of America, who have supported the program for six years since its inception.