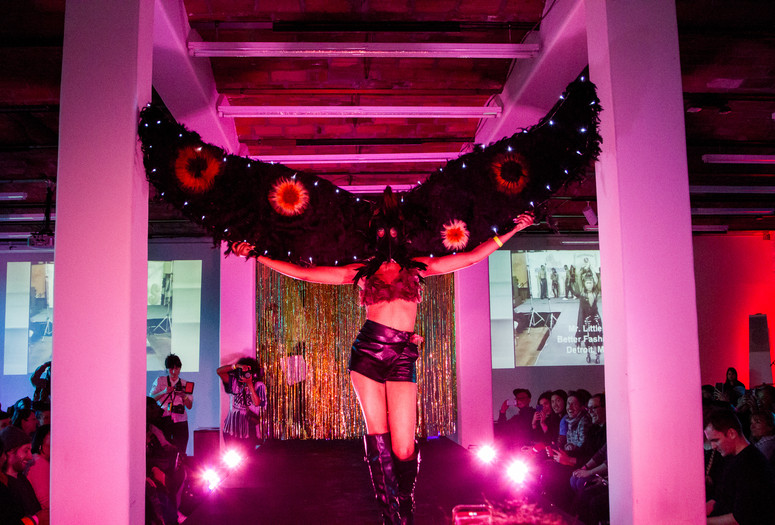 Hair Wars began as an informal stage show in Detroit nightclubs, used as a quirky marketing tool for hair stylists in the mid 1980s. The showcase has since toured to nearly 20 cities, gaining international recognition and becoming a major platform for emerging and established stylists across the country.
Beginning at 6:05 p.m.—Hair Wars' regular start time—VW Sunday Sessions presents a showcase of fantasy hair pieces created by an intergenerational group of artists and hair entertainers that stretch and blur the boundaries of fashion, humor, performance, sculpture, and spectacle. Participants selected in collaboration with David "Hump the Grinder" Humphries (founder of Hair Wars) include Dave Ray "The Beauty Surgeon," Wishbone, Keith Matthews, and Joanne Petit-Frere. A selection of archival video from 1985 to the present will be shown throughout the day.
Tickets: $15 (MoMA Members $13)
Ticket also grants admission to Leilah Weinraub, SHAKEDOWN at 1:00 and 3:00 p.m.
MoMA PS1's acclaimed VW Sunday Sessions program welcomes visitors to experience art live and in real time. Embracing performance, music, dance, conversations, and film, the program vividly demonstrates how these art forms can push us to engage with our contemporary world in creative, illuminating ways. With an emphasis on artistic practices that blur and break traditional genre boundaries, the program supports and commissions new work, inviting artists, curators, and other cultural instigators to share their latest projects. MoMA PS1 offers one of the most extensive museum programs dedicated to live art in the world, representing a core component of the institution's mission since its founding.
VW Sunday Sessions is organized by Taja Cheek, Curatorial Assistant, MoMA PS1; and Alex Sloane, Curatorial Assistant, MoMA PS1, with Alexandra Rosenberg, Associate Producer.

VW Sunday Sessions and the VW Dome at MoMA PS1 are made possible by a partnership with Volkswagen of America, who have supported the program for six years since its inception.