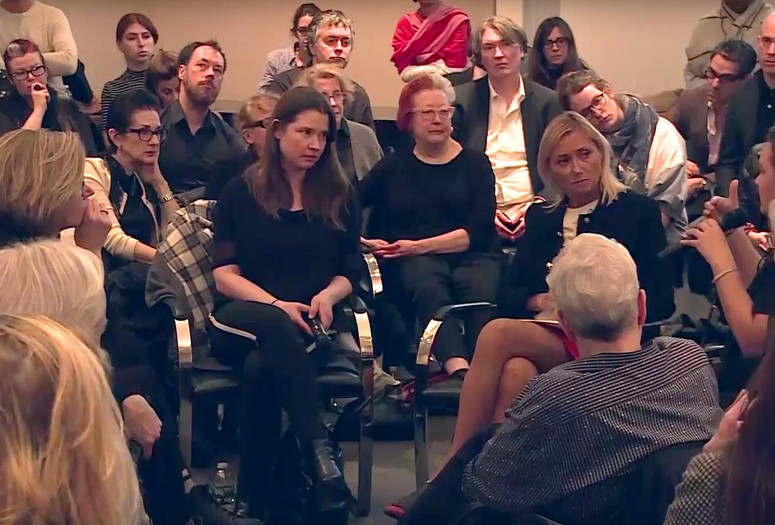 This session will address questions concerning the active construction of identity through gender indeterminacy; the representation of lesbian, trans, and cross-dressing individuals in photographic art; and, more broadly, the relationship between new gender roles since the advent of feminism and the intertwined fight for women's and queer rights. This session accompanies the September 2016 Forum, titled Queer Photography from Stonewall to AIDS.
Featured speakers:
Jennifer Blessing, Senior Curator of Photography, Solomon R. Guggenheim Museum

Joan E. Biren (JEB), artist and activist

Johanna Burton, Keith Haring Director and Curator of Education and Public Engagement, New Museum

Catherine Lord, artist, writer, and Professor Emerita of Art, University of California, Irvine

Catherine J. Morris, Sackler Family Curator for the Elizabeth A. Sackler Center for Feminist Art, Brooklyn Museum

Elle Perez, artist


 
This event is invitation only, but we are very pleased to present a recording of the forum, which will allow remote friends and colleagues to hear the conversation.
Cofounded by curators Roxana Marcoci and Eva Respini on February 16, 2010, and conceived as an experimental platform for free-form critical discussions, MoMA's forums on contemporary photography are designed to encourage debate about the perspectives and scope of still and moving images and other forms of picture-making among leading artists, curators, and theorists in the field. The creative process of today is not solitary but dynamic, evolving from countless partnerships. These forums offer an intellectual milieu that values the scholarly reassessment of pivotal ideas in art, innovative practices, and complex and competing visions of modern and contemporary art.
Roxana Marcoci, The David Dechman Senior Curator, The Robert B. Menschel Department of Photography, MoMA, begins each session with an introduction to the topic, providing context for the conversation. Four to seven featured speakers then present for five to 10 minutes each. The presentations are followed by a probing, critical Q&A session and a moderated discussion with all the guests.
Read an article about the Forums from Art in America.
Organized by Roxana Marcoci, Senior Curator, Department of Photography, The Museum of Modern Art.

This Forum on Contemporary Photography is made possible by the Pannonia Foundation.