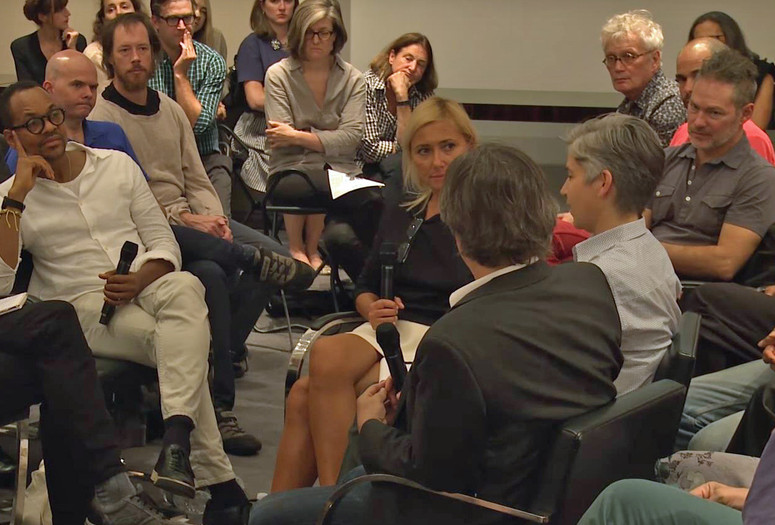 This session will focus on the homoerotic trajectory—gay men, desire, and photography in the 1970s and 1980s, from Stonewall to AIDS. Particular attention will be paid to the work and legacy of artists such as Jimmy DeSana, George Dureau, Peter Hujar, Robert Mapplethorpe, Mark Morrisroe, Rotimi Fani-Kayode, and David Wojnarowicz, among others. Speakers include Vince Aletti, curator, writer, and photography critic; Chris Boot, Executive Director, Aperture Foundation; Philip Gefter, photography critic and writer; Sophie Hackett, Curator, Photography, Art Gallery of Ontario; and artist Lyle Ashton Harris.
It was "during this post-Stonewall period," Phillip Gefter notes in an email exchange concerning this Forum, "that we see the first and most conspicuous evidence of openly homoerotic male nude imagery exhibited on the gallery walls—despite the fact that a genre of homoerotic male nude imagery exists throughout the history of the medium, from Thomas Eakins to F. Holland Day, Baron von Gloeden, George Platt-Lynes, etc. But it was hidden and never shown in public in its time." It was only in the 1970s that artists such as Mapplethorpe, Dureau, Hujar, Morrisroe, Wojnarowicz, and De Sana began to assert their queer work "openly and unapologetically—a rupture of a bedrock cultural taboo about the male nude in general, the shock of such optically precise depiction of male genitalia, in particular, and visual evidence of male homosexuality, above all." A future forum on photography will focus on the subject of lesbian, trans, and cross-dressing individuals, and more broadly on new gender roles in the wake of feminism, and the intertwined fight for women's rights and gay women's rights.
This event is invitation only, but we are very pleased to present a recording of the forum, which will allow remote friends and colleagues to participate in the conversation.
Cofounded by curators Roxana Marcoci and Eva Respini on February 16, 2010, and conceived as an experimental platform for free-form critical discussions, MoMA's forums on contemporary photography are designed to encourage debate about the perspectives and scope of still and moving images and other forms of picture-making among leading artists, curators, and theorists in the field. The creative process of today is not solitary but dynamic, evolving from countless partnerships. These forums offer an intellectual milieu that values the scholarly reassessment of pivotal ideas in art, innovative practices, and complex and competing visions of modern and contemporary art.
Roxana Marcoci, The David Dechman Senior Curator, The Robert B. Menschel Department of Photography, MoMA, begins each session with an introduction to the topic, providing context for the conversation. Four to seven featured speakers then present for five to 10 minutes each. The presentations are followed by a probing, critical Q&A session and a moderated discussion with all the guests.
Read an article about the Forums from Art in America.
Organized by Roxana Marcoci, Senior Curator, Department of Photography, MoMA
Speakers: Vince Aletti, curator, writer, and photography critic
Chris Boot, Executive Director, Aperture Foundation
Philip Gefter, photography critic and writer
Sophie Hackett, Associate Curator, Photography, Art Gallery of Ontario
Lyle Ashton Harris, artist