MoMA Mixtape: The Monochrome Musings of Johanna Fateman
The Le Tigre founder and art critic removes the color but keeps all the soul.
I come to the Museum often, maybe every other month. Over the past decade or so, I usually find myself there to review a recently opened show. If I have time, I visit the collection galleries, too. But this trip was special, because MoMA had invited me to make a Mixtape—to wander around, courting synesthetic inspiration, pairing things with songs, setting art to music in my head. And I hadn't visited for a while, not since the spring. (I took a break from art criticism, sort of, to rehearse and go on tour. My band, Le Tigre, got back together after nearly 20 years to perform last summer.) I was excited to stop in on old favorites and to check out what's changed.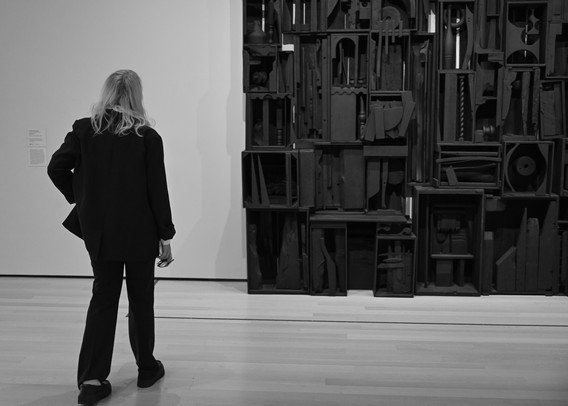 Johanna Fateman at MoMA. Pictured: Louise Nevelson. Sky Cathedral. 1958
Julius Eastman's "The Holy Presence of Joan of Arc" + Louise Nevelson's Sky Cathedral
I started on the fourth floor (1940s–1970s) and, overwhelmed by the options, decided to narrow my focus and give my mixtape a theme. I chose only art that is (pretty much) black and white. And as I write this later, looking at my photos and scrolling Instagram, I learn that it's Louise Nevelson's birthday. On this rainy first day of fall, the modernist titan would be turning 123. So, I'll start with Sky Cathedral, from 1958, a towering monument dipped in Stygian matte paint.
I remember reading that Nevelson had an epiphany as a child. Gazing at a statue of Saint Joan (the artist was Jewish), Nevelson knew that she would become a sculptor. With this in mind, I'm listening to Julius Eastman's typically miraculous composition "The Holy Presence of Joan of Arc," from 1981. It's an experimental tempest written for 10 cellos, anchored by a taunting Patti Smith motif. I think it works. I usually pause only briefly before a Nevelson, taking in its wild topography as a whole, the awesome sum of its parts. Eastman's piece, around 20 minutes long, could be a score for looking closely and methodically instead, into the dozens of dark boxes—each one its own world of activity—stacked to form the scrap-wood expanse.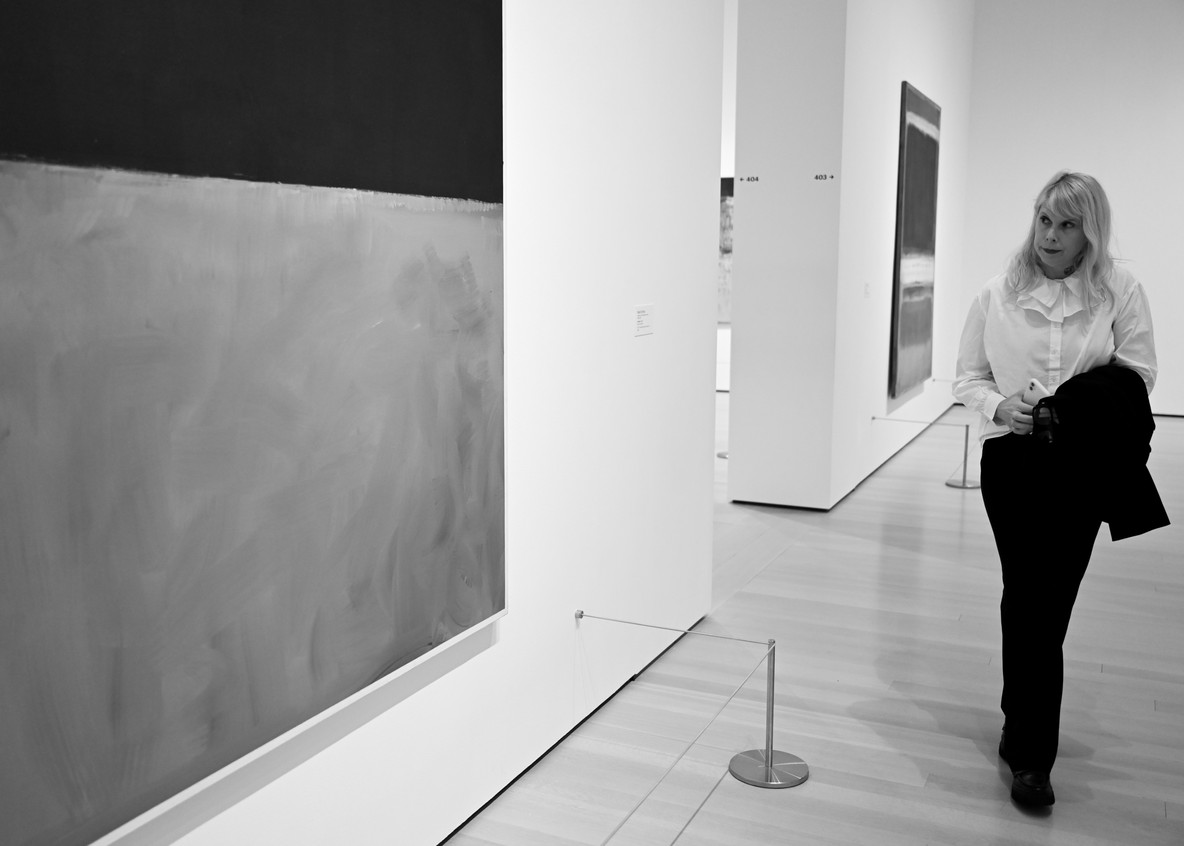 Johanna Fateman at MoMA. Pictured: Mark Rothko.Untitled. 1969–70
Television's "Marquee Moon" + Mark Rothko's Untitled
I wouldn't normally choose something colorless by the color-field painter, but I don't regret my black-and-white rule. I love this lushly dreary, faintly turbulent two-tone rectangle, with its suggestion of an inky horizon. A song comes immediately to mind: Television's "Marquee Moon." "I remember when the darkness doubled / I recall, lightning struck itself," it begins. This song's airy clarity—the spare punctuation and ornamentation of the guitar, the plaintive singing, and the fragile quality of the elements, the way they hang together—seems to evoke an appropriate air of melancholy and portent, an ambiance of myth, if not quite Mark Rothko's sweeping sense of the tragic.
E.S.G.'s "Erase You" + Yoko Ono's Film No. 4 (Bottoms)
Yoko Ono's genius Film No. 4 (Bottoms) was made around the same time as Rothko's Untitled. Thinking of her as Rothko's contemporary—that is, in the New York context of Minimalism and color-field painting as well the Fluxus movement—makes the formal and conceptual concision of the work, the framing of her shot, even funnier. Ono's subject—the bare bottoms of those she's enlisted to walk on a treadmill for her—is somewhat abstracted by her cropping; in each take, the butt crack and the crease below the buns divide the picture into doughy quadrants. It's hard to pick a song because everything goes with this film—it's just a matter of figuring out what you want to highlight. Considering the spirit of the work (and Ono's own music), I'm proposing "Erase You" by E.S.G., which—like Bottoms—is a lesson in insouciance and economy, and repetition.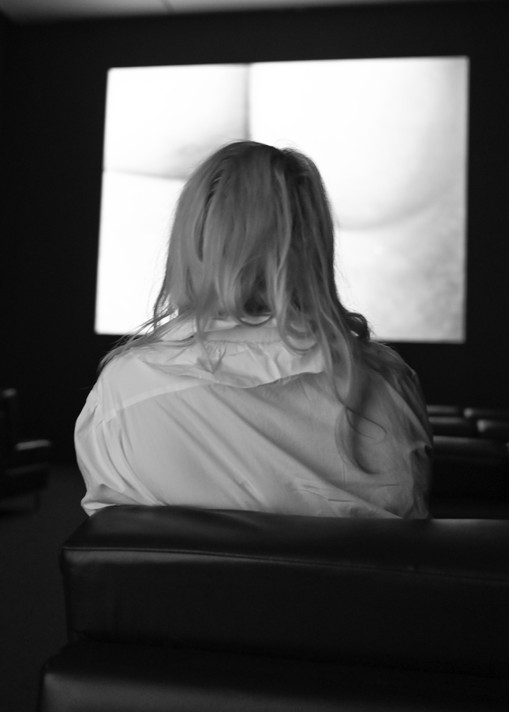 Johanna Fateman watching Yoko Ono. Film No. 4 (Bottoms). 1966–67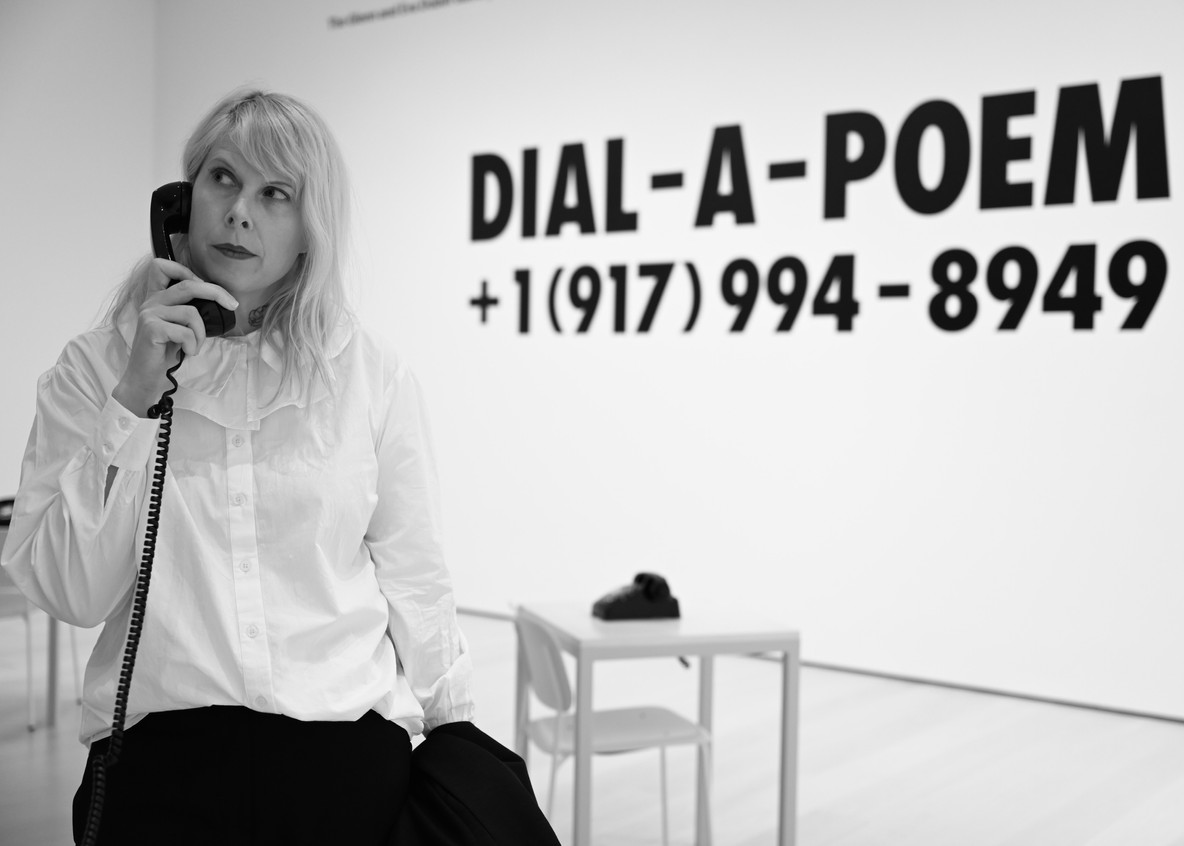 On the phone with John Giorno's Dial-A-Poem
Drake's "Hotline Bling" + John Giorno's Dial-A-Poem
Next, still in the 1960, I stopped at John Giorno's Dial-A-Poem installation. How could I resist the beckoning black rotary phones? I hung up on William Burroughs (twice!) before listening to Dianne DiPrima for a minute. This is rather literal-minded of me, but "Hotline Bling" just popped up in my algorithm the other day while I was washing the dishes, and I can picture Drake, in another life, brooding over the Beat poet. Perhaps DiPrima took off for Timothy Leary's intentional community in California and never called the Canadian rapper/singer again.
Gavilán Rayna Russom's "Changelings in the Human" + Fernanda Gomes's Untitled (Light Specific Ensemble)
I went looking for Alan Saret's Untitled 1969 sculpture—an apparition-like presence shaped from hexagonal wire—because I wrote an essay about his work last summer, in the jetlagged staticky intervals between shows, in dressing rooms and hotels. His sculptures have been shimmering in my mind's eye for months; I wanted to see one in person again. Nearby, I encountered Fernanda Gomes's gently kinetic, also ethereal, all-white work Untitled (Light Specific Ensemble), from 2017. Its exquisite drama derives primarily from the morphing shadow of a paper-thin hanging square. Gavilán Rayna Russom's "Changelings in the Human" seems suited to both works, and particularly to collective effect. The recording has a sculptural, process-y quality, simultaneously un-precious and delicate. (Saret's and Gomes's pieces are living together for a time in Gallery 413, seductively named Touching the Void.)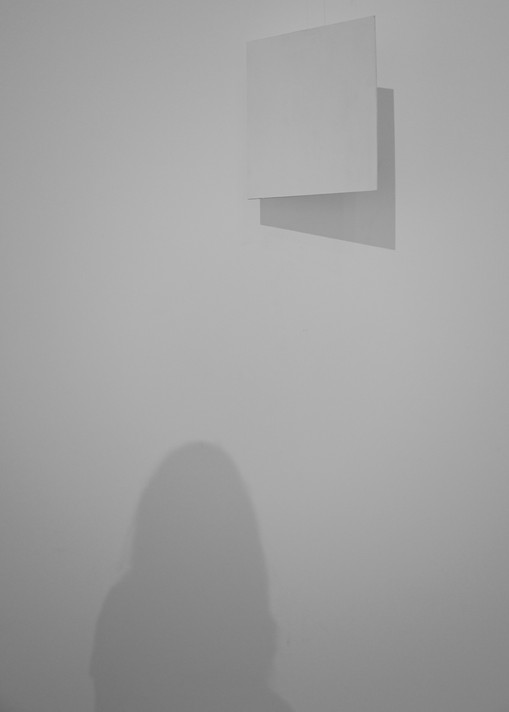 Looking at Fernanda Gomes's Untitled (Light Specific Ensemble) (2017)
The contemporary soundtrack for such moody glamor, dark nostalgia, and bleak white femininity is of course Lana Del Ray—"A&W," perhaps.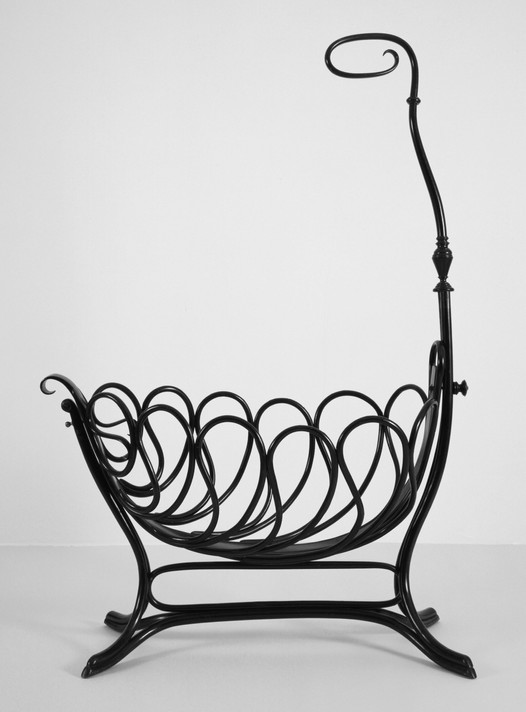 J. & J. Kohn. Child's cradle (model 1573). 1895
Lana Del Ray's "A&W" + J. & J. Kohn's Child's cradle (model 1573)
When I used to come to MoMA with my grandparents—they called it "the Modern"—my grandmother would gasp, standing in front of an artwork, and ask, "Can you imagine?" As a child, I took this as an instruction. I would picture myself making the sculpture, living inside the painting, or wearing the dress. I could hear her stock phrase of wonderment when I saw the black bentwood Child's cradle (model 1573), from c. 1895, by Viennese furniture makers J. & J. Kohn. Art Nouveau goes hard here. I can absolutely imagine myself, all dressed up, in postpartum despair, rocking a baby in this gorgeously dangerous vessel that conjures mourning, Maleficent, and Hector Guimard's Paris Métro entrances. The contemporary soundtrack for such moody glamor, dark nostalgia, and bleak white femininity is of course Lana Del Ray—"A&W," perhaps.
PAT's "Love Will Find a Way Home" + Diamond Stingily's Entryways
Diamond Stingily talks about her grandmother Estelle in relation to the stark works of her Entryways series, this one from 2021. Estelle kept a baseball bat by the door of her apartment in Chicago, just in case. With the improvised weapon leaning against the worn door in this sculptural homage, the specter of violence becomes entangled with maternal gestures of protection and care. I thought of "Love Will Find a Way Home" by PAT—a collaborative project of visual artist Jacolby Satterwhite and Nick Weiss, made with old recordings of Satterwhite's mother Patricia's unrealized ideas for songs—as an accompaniment for Stingily's battered and potentially battering readymade. Like Stingily's piece, the track is haunting, minimal, and constructed from found material, as well as rooted in family history and notions of home.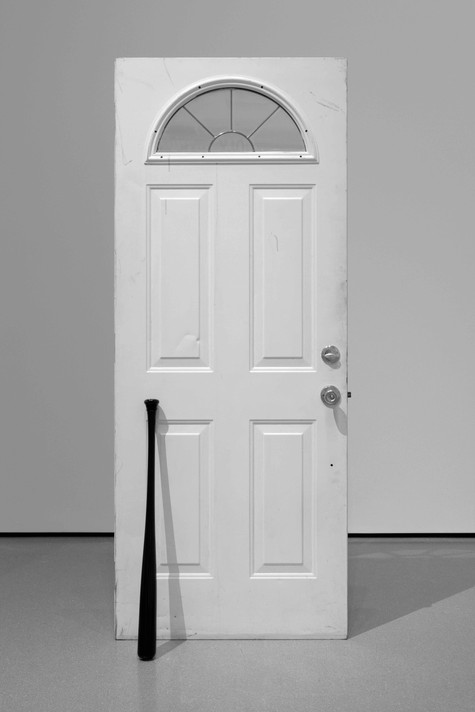 Diamond Stingily. Entryways. 2021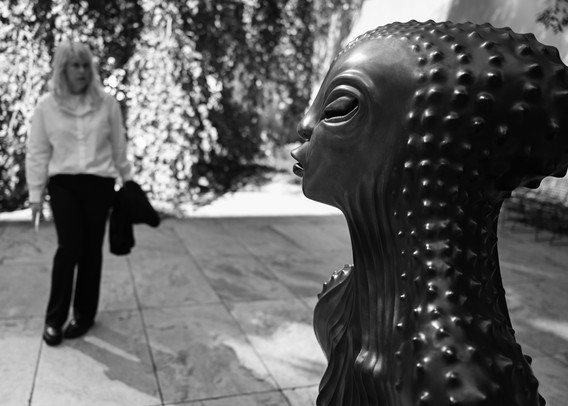 Encountering Wangechi Mutu's MamaRay in the Sculpture Garden
Alice Coltrane's "Journey in Satchidananda" + Wangechi Mutu's MamaRay
I ended my visit in the Sculpture Garden, where another mother—Wangechi Mutu's bronze MamaRay, from 2020—is in residence. Part human, part manta ray, inspired by East African mythological sea creatures, she waits beyond Franz West's melting orange hoops. She is truly breathtaking with her 12-foot wingspan. I was looking for her but she nevertheless took me by surprise. The sculpture is enormous, but not tall; you can't really spot it from a distance. It was a beautiful, sunny day, and my choice of music was instant. It felt obvious, destined. Alice Coltrane's 1971 "Journey in Satchidananda," featuring Pharoah Sanders, is amphibious, metamorphic, and magical. Coltrane's first harp glissando gives me the chills. And the recording's long fade is a perfect end for a mixtape.
Johanna Fateman is a writer, art critic, and musician. She writes about art often for 4Columns, Bookforum, and Artforum, where she is a contributing editor. Her band, Le Tigre, reunited after 17 years to tour in the summer of 2023.