Nancy Buchanan's California Stories
Watch an exclusive two-week screening that explores the myths and realities of the Golden State.
Nancy Buchanan's California Stories screened here September 20–October 4, 2023. The video is no longer available for streaming. Join us for the next Hyundai Card Video Views, screening on October 18.
Beginning in the 1960s, artists in Los Angeles took advantage of the city's available space and diverse communities to experiment with new ways of telling stories through video. Art schools across Southern California fueled the scene, creating hubs for technology to make its way into the hands of artists, who often used video to explore the pervasive social issues of the time, from the experience of the body in space and represented on a small screen, to feminist practices, to the Black Arts Movement.
As an art student at the University of California, Irvine, from 1965 to 1971, Nancy Buchanan emerged from the center of this vibrant experimentation with the new medium, and it was key to her continued exploration of the social capacities of art during the 1970s. She was a founding member of the experimental F Space Gallery in Santa Ana, along with fellow UC Irvine students Chris Burden and Barbara Smith, then was closely involved in artists' groups at the Woman's Building and Los Angeles Contemporary Exhibitions, among other nonprofit organizations that structured the city's art scene. During a detour from Los Angeles while teaching in Wisconsin, Buchanan made California Stories (1983), creating a playful test of the medium as a tool to distribute myths and realities of the place she came from. By way of the camera, Buchanan bridged the two locales, in many ways visually connecting communities through the perceptions of her newfound space.
On the occasion of this Video Views, I discussed California Stories with the artist, and the wide-reaching role of video in her practice since then.
—Lilia Rocio Taboada, Curatorial Assistant, Department of Media and Performance
Can you describe the development of California Stories?
After growing up and living in Los Angeles in the 1970s, I took a number of temporary, part-time teaching jobs to help support our family in addition to working as an artist. It seemed impossible to find anything more substantial in California, so I applied for two tenure-track jobs in the Midwest, at the University of Wisconsin-Madison and at Ohio State University, where my friend Allan Sekula was teaching. I was offered both positions, but I thought Madison might offer a richer experience for my son Page (who still lives there!).
Part of California Stories was attempting to respond to the kinds of lighthearted things people said to me about their vision of where I was from, especially my colleagues at UW-Madison.
Can you talk about the process of interviewing the individuals?
I wanted each person to feel comfortable answering my question: I simply invited them to tell me what they knew or thought about California. I believe I only left out a couple of interviews.
How did you pick them out? Were they strangers passing by, or carefully selected?
Since I was teaching, I began with colleagues at the university, and asked each of them to identify others who might be willing to comment.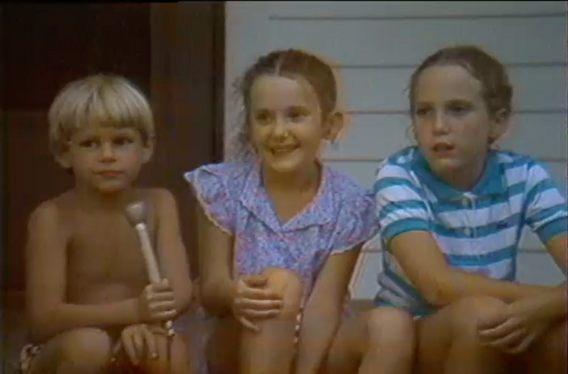 Nancy Buchanan. California Stories. 1983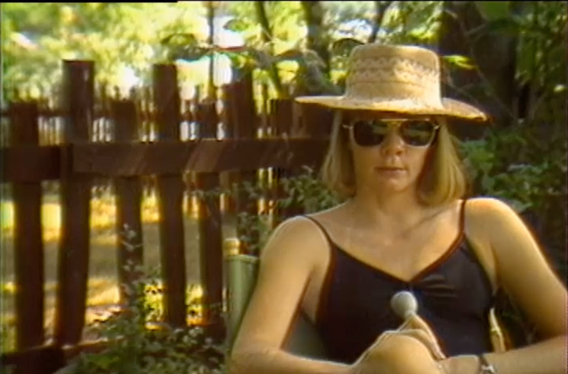 Nancy Buchanan. California Stories. 1983
Prior to California Stories, you were involved with broadcasting as a producer for CLOSE Radio, a weekly, half-hour program, from 1976 to 1979, where artists presented sound and art projects via KPFK, a Los Angeles radio station. The interview style in California Stories reminds me of radio as well as the format of TV interviews that developed with nightly news broadcasts in the '80s. How did your work in broadcasting and other mediums of the time translate into your video practice?
Prior to this piece, my work consisted of experimental formats, and one performance document. I also made a work exploring technology: Tech-Knowledge, in 1984, which utilized image processing effects generated at the Experimental Television Centre in upstate New York. CLOSE had a specific time limit, distinct from the video interview process.
As a Californian, were there any personal revelations that arose in the interviews?
Some people had comical responses. Barbara Erdman's memory about driving on the freeway and being new to air-conditioned cars was particularly hilarious—she offered this narrative without any prompting. I believe she thought about it in advance.
Would you say the work is autobiographical? Cinéma vérité? A documentary? A satire?
In my mind, video art opens possibilities for hybrid genres, and I hope this work fits that category.
How did narrative genre figure in your video practice then, and since?
I think I've always been less interested in storytelling than in examining culture as it exists without fabrication. I often cannot believe the times we are living in now!
How has your work in video developed throughout your career?
In the 1970s and '80s, there was a great deal of mutual support for artists working in video. I helped document some feminist performances at the LA Woman's Building in the 1970s, and I co-owned equipment with artists Paul McCarthy and John Duncan before moving to Wisconsin.
Teaching video had a profound effect on my own work, since I sought to expose my students to as many different directions as possible. Also, I really loved learning to master tools, from working with simple portable equipment to running a TV studio at California Institute of the Arts (CalArts), where I taught from 1988 to 2012, after my time in Wisconsin. In addition to organizing screenings and exhibitions for other artists, from 1986 to '88, I had artist-in-residence grants at the Pasadena Community Access Corporation (PCAC) to teach video to local residents, from children to adults.
Rather than seeking to use large-scale video projection, I developed additional ways to incorporate it into my practice. For instance, a series of sculptures with video playing within miniatures. One small mansion contained video of a speculative housing construction, American Dream #7: The Price Is Wrong (1991), which was created with sculptor Carolyn Potter and included interviews with attorney Mary Lee and author Mike Davis, and footage of politician Ron Dellums's speech at Huey P. Newton's funeral, courtesy of former Black Panther and anti–police brutality activist Michael Zinzun. The combination of video and sculpture points to 1990s real estate speculation in contrast to community needs in downtown Los Angeles and Watts.
In recent years, some of the mutual support of the early days continues through connections with artists working in Southern California. My friend and fellow video artist Ulysses Jenkins invited me to use the theater at UC Irvine for a performance in 2016. Consulting with artist Stef Allespach, I developed a collaborative, durational event, It's Your Party, in which people could come and go as they pleased for two hours. Within the space, we had several videos playing. One of these, Operation Empathy, was also included in the 58th Carnegie International last year. It shows drone footage of the area around UC Irvine, evoking the experience of being observed by superimposing animated crosshairs onto a vehicle seen from above. Falling text details the titles of various US military operations in the Middle East.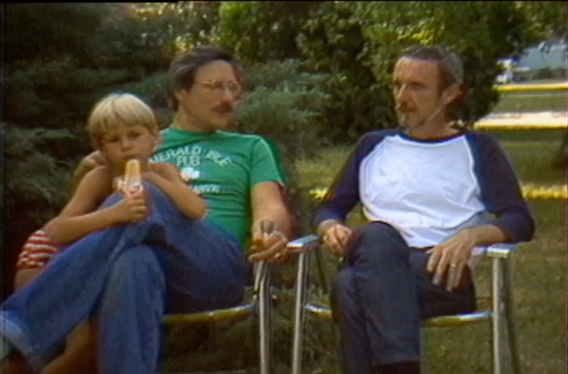 Nancy Buchanan. California Stories. 1983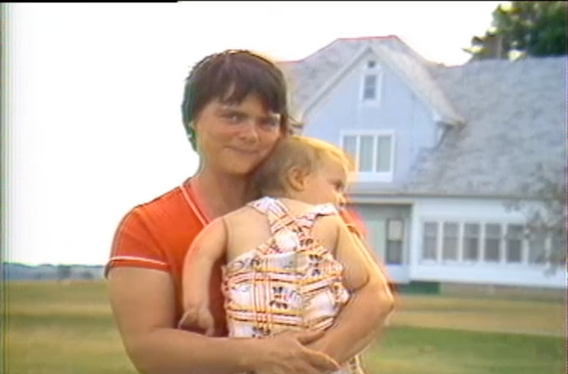 Nancy Buchanan. California Stories. 1983
What are some of the ways video opened the door to other areas of your practice?
Video opened the door to other projects that show solidarity between local and international struggles, often presented through video documentary and the use of interviews. Following my PCAC residencies during the late '80s, I continued working with community activist Michael Zinzun on his monthly PCAC show, Message to the Grassroots, from 1988 to 1998. My work with Michael also led me to travel to Namibia to make a documentary about Namibia's independence from the Union of South Africa.
California has always had a presence in cultural consciousness, from Hollywood to social movements alike, a vision that has only morphed and multiplied with the unique coalescence of agriculture, the tech industry, and the acute impact of climate change in recent years. What is your California Story?
I returned to LA from Madison because I so missed my community. I love Los Angeles, especially for its amazing diversity. There are also many different Californias, as one can see driving through the Central Valley, where angry farmers post signs about restrictions on their water and where there have sometimes been calls to split the state in half. Unfortunately, the ability to find housing here has become more and more difficult, and as a result, the state suffers as a capital of homelessness as well. Alongside these challenges, there continue to be vibrant groups working for change, and though I haven't been on the protest lines for a while, my heart is with many of them.