Alex Bag and Patterson Beckwith's Cash from Chaos/Unicorns and Rainbows
In this exclusive two-week screening, watch an edited compilation from a ​1990s cable-access TV show that redefined the relationship between art and television.
Alex Bag and Patterson Beckwith's Cash from Chaos/Unicorns and Rainbows screened here January 25–February 8, 2023. The video is no longer available for streaming. Join us for the next Hyundai Card Video Views screening, beginning February 22, 2023.
Fifteen years after the launch of MTV, the mid-1990s saw the dawn of reality television and the popularization of the World Wide Web. It was during this time that artists Alex Bag and Patterson Beckwith collaborated on a storied public-access television show titled Cash from Chaos and, later, Unicorns and Rainbows. After graduating from the Cooper Union in the early 1990s, they turned to video to examine, absorb, and respond to a media-obsessed society transfixed by artifice, celebrity, and rampant consumerism.
Public-access programming offered an alternative to mainstream content, enabling the artists to "make [their] own television." Bag and Beckwith's weeknight 2:30 a.m. time slot on Manhattan's channel 34 allowed near-total creative freedom and cultivated an intimacy with their viewers, who were most likely alone at home after a night out or plagued by insomnia. The novelty of this intimacy is impossible to replicate in today's era of instant broadcast and on-demand television viewing.
With this project, Bag and Beckwith transformed the spoils of popular culture into a reflection of the pain, loneliness, absurdity, and messiness of being a person. Using clips of daytime talk shows and sitcoms, interviews on New York City streets, diaristic footage of their everyday lives (dyeing their hair, ordering pizza, experimenting with drugs, getting lost, shopping for groceries), puppets and masks, extended prank calls, and just playing with the camera, they amassed a repertoire of content from which they constructed discrete 29-minute episodes. The show drew in the world around them—the banal, the beautiful, and the grotesque—both critiquing and celebrating the television medium. Most episodes are deftly edited into essayistic or collage-like compositions, while some are largely unedited, like the ones consisting mainly of concert footage culled from rented or borrowed VHS tapes.
Broadcast between 1994 and 1997, this work spans three years and more than 50 hours of footage. While it figures into a rich tradition of artists using television against itself—bookended by figures from Andy Warhol and Jaime Davidovich to Ryan Trecartin—a broadcast of this scope by artists remains unprecedented. In this installment of Hyundai Card Video Views, we're presenting 60-plus minutes of a "super-edit" intended to distill the essence of this epic project. In this interview, the artists reflect on the work nearly 30 years later.
—Erica Papernik-Shimizu, Associate Curator, Department of Media and Performance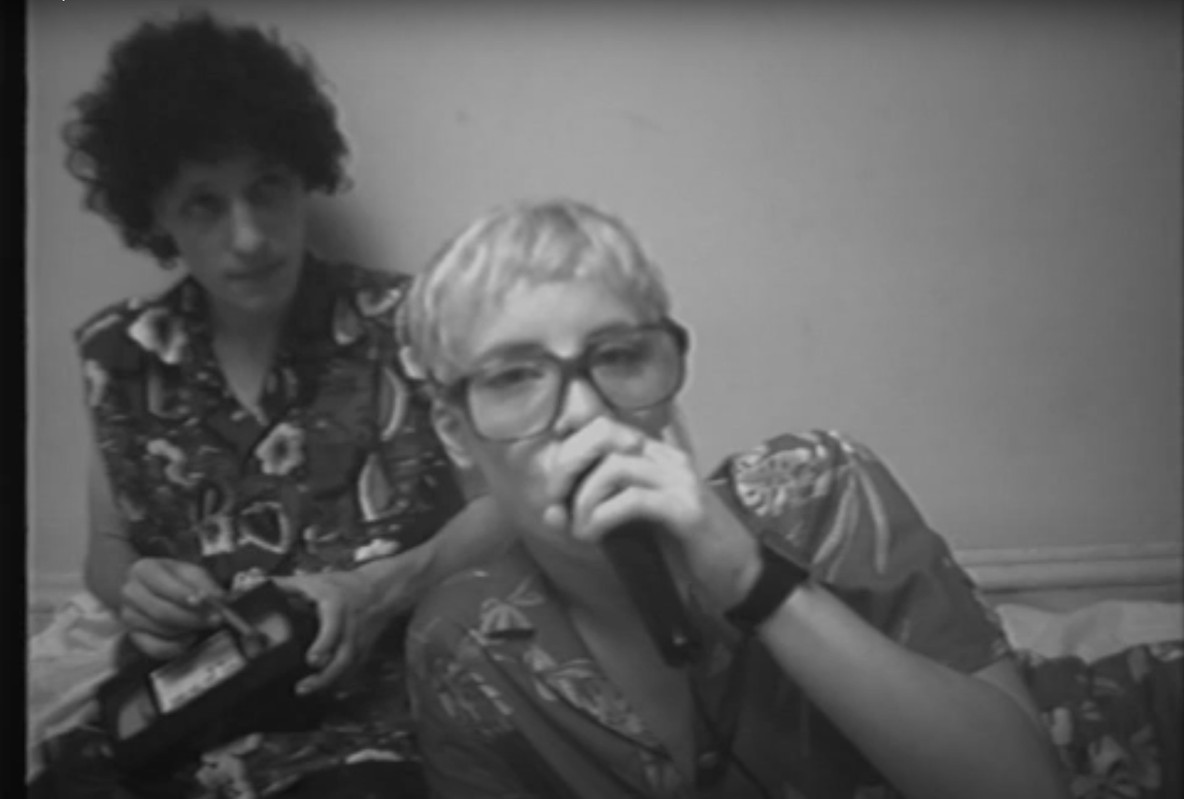 A still from Alex Bag and Patterson Beckwith's Cash from Chaos/Unicorns and Rainbows
Erica Papernik-Shimizu: Let's start with the origin story of Cash from Chaos/Unicorns and Rainbows. Can you speak a bit about what led to its formation?
Alex Bag: A weekly deadline for a collaborative, open sketchbook on an actual pretend television channel completely independent from the art world was exactly perfect medicine for two soldiers fresh out of the ecstasy and agony of the Cooper Union for the Advancement of Science of Art. I think we both felt the need to emulate and self-generate the inordinate kind of rigor that we had grown accustomed to.
Patterson Beckwith: We were watching a lot of public-access shows, and there was a fairly vibrant community of artists making shows. Public access made sense at the time—we were looking for other outlets or venues that weren't art galleries. Public access definitely provided a framework and a weekly deadline that was good in terms of actually making something. It was also a little bit impossible to produce 29 minutes of material a week. That became apparent almost immediately, and became part of the project.
A still from Alex Bag and Patterson Beckwith's Cash from Chaos/Unicorns and Rainbows
Alex, this project was made in parallel with your early performance-based videos. What is the relationship between Cash from Chaos/Unicorns and Rainbows and your stand-alone videos? Did these bodies of work inform one another?
AB: The primary difference is that my solo video work was and continues to be absurdly over-scripted, and nothing on our public-access show had any real scripting whatsoever. Although some amount of bleeding between works is inevitable, for me these were two separate projects that happened to happen simultaneously.
One defining characteristic of the show was its 2:30 a.m. time slot. Who was your audience, and how important were they? Did it matter if no one watched?
AB: We were completely thrilled by a weekday 2:30 a.m. time slot. There were never any lofty aspirations or delusions of grandeur. There are no stepping stones inside a void.
PB: At 2:30 a.m. on Wednesdays, there was nothing on. People watched public access because there was nudity (which we didn't provide). We were the audience, and the other viewers were our people—anyone watching TV in Manhattan at that hour.
What was the initial response to the show, and did it change over time?
AB: The initial response was exactly no response, and over time that never really changed.
PB: We got our first email address for the show, and a voicemail number. There wasn't much response until we did something obscene. We'd hoped to use the calls as content, but it worked only once.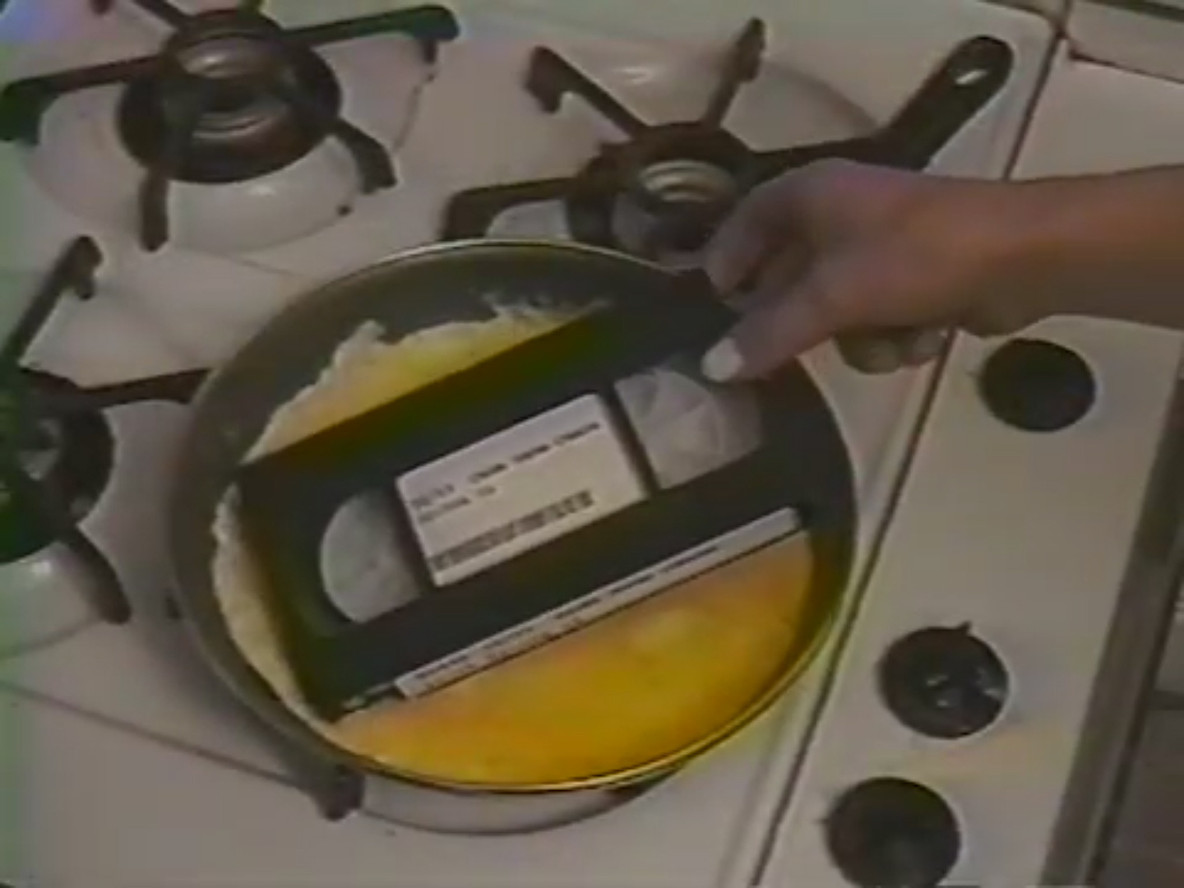 A still from Cash from Chaos/Unicorns and Rainbows
One quality that makes this project irresistible is how uninhibited and playful you were. To what extent can Cash from Chaos/Unicorns and Rainbows be interpreted as a document of a friendship and a process of coming of age or grappling with adulthood?
AB: He dodged, I'll answer. We were most definitely and definitively in love during this defining time. He gave me Gang Starr, I gave him Gang of Four. He sent faxes, made phone calls, secured real press passes and made counterfeit ones. I watched, recorded, crudely edited and re-edited everything that seemed even slightly interesting on TV. His McDonalds, my Margiela. His robots, my pathos.
This work gets to the heart of our fascination with celebrity, which has only intensified with social media. Almost every episode contains imagery from mass media and pop culture that still resonates today—sometimes painfully so. How did you choose your subjects?
AB: Subjectively but with a large net. Also, something unearthly happens when you spend that much time with a TV and VCR. You intuit—and maybe even begin to telepathically manifest—the precise moving pictures your eyes want to see.
PB: It was pretty organic—we chose things we were just interested in or came across. Just stuff we thought was funny, or worth sharing. There's a sort of messy public service aspect to it all.

Three stills from Cash from Chaos/Unicorns and Rainbows
Looking back at 1994, what was it about the cultural moment that compelled you to create this work?
AB: I think that regardless of the specific year, when you're in your early twenties you should most definitely feel compelled to create SOMETHING. Some kind of zeitgeist is happening all around you and the Call of Cthulhu should be keeping you up most nights. Certainly you are being advertised to, and magazine and newspaper articles are making a lot of sweeping generalizations about you and your friends. Agree or disagree, but you should want to say something, no?
PB: Looking back, it seems like the spectacle was just getting started—1994 wasn't as close to the end of civilization as we are now. It's increasingly difficult to imagine a pre-interwebs New York. There was also no money in art; when we got involved that wasn't even a prospect.
For someone unfamiliar with your work, which episode would you recommend as a primer?
AB: There are no specific episodes to recommend because each one was a last-minute scramble to compile with necessary filler, but also there are at least a few refining and defining moments somewhere amid the 29 minutes. Each episode of Cash from Chaos begins with the (simulated) destruction of the previous week's episode, which says a lot, or not.
Thinking about the history of video art as an inherently oppositional medium, through-lines can be traced between this work and the work of historical precedents like Nam June Paik, Dara Birnbaum, and Gretchen Bender. Your use of appropriation and performance are also evocative of the Pictures Generation movement. How do you locate Cash from Chaos/Unicorns and Rainbows within these traditions?
AB: We loved us some Kruger and Lawler, and Sherman was already in our bloodstream at this juncture, but we were more on an Acconci, Graham, McCarthy, Fleury, Fraser ride, if memory serves, which it rarely does.
In the mid-1990s, access to media footage was still limited, so you were often pointing the video camera at the TV screen. With the instant accessibility of visual information online, is there anything out there today that resembles Cash from Chaos/Unicorns and Rainbows?
AB: It's increasingly difficult to explain the olden times when only 30 to 60 channels broadcast maybe 20 hours of content per day, all of which was viewed on a dimensional, weighty, and stationary piece of furniture. If anything seemed worth saving, you had to save it yourself by employing at least one separate and equally bulky piece of machinery. That machinery itself required additional bulky moveable parts that only allowed for two hours of time/space to be recorded and then had to be hand-labeled, stacked, and stored on shelving units that continually expanded and encroached.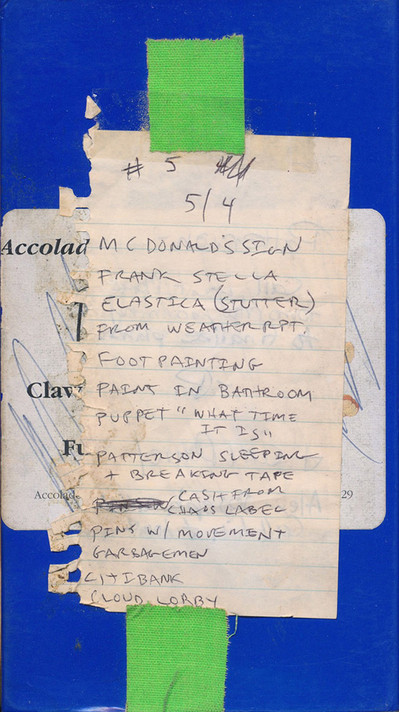 One of 116 VHS master tapes for Cash from Chaos/Unicorns and Rainbows
There used to be stores scattered throughout the city that required membership in order to rent consumer-level analog video recordings for one or two nights at a time. Selecting just the right tape took time and required a sharp eye, determination, and years of practice.
PB: The project was supposed to have a critical element, and it was also meant as an anti-capitalist gesture. Now it's more clear how this type of thing gets recuperated, how impossible it is. But, of course, some artists still work in this vein. Not taking things too seriously, just taking the piss—it continues to seem like the best thing an artist can do.