Linda Goode Bryant and Laura Poitras's Flag Wars
In this exclusive screening, an artist explores the gentrification and preservation of her hometown Ohio neighborhood.
Linda Goode Bryant and Laura Poitras's Flag Wars screened here November 16–December 7, 2022. The video is no longer available for streaming. Join us for the next Hyundai Card Video Views screening, beginning December 21, 2022.
Linda Goode Bryant has worn many hats during her nearly 50-year career: museum fellow, education coordinator, gallery director, filmmaker, activist, farmer, artist. Her dedication to creativity connects them all. In 1974, she founded the gallery Just Above Midtown (JAM), a self-described laboratory that centered Black artists and other artists of color and their experiments in art. After closing JAM in 1986, Goode Bryant transitioned into filmmaking, including the production of the award-winning documentary Flag Wars (2003), codirected by Laura Poitras. Currently, Goode Bryant serves as founder and president of Project EATS, a "living installation" that transforms vacant lots and rooftops into urban farms.
In Flag Wars, Goode Bryant and Poitras ask what it looks like for two historically oppressed groups to live together. Is gentrification different if the gentrifiers also experience oppression? The culmination of four years of filming, this documentary follows two groups as the neighborhood where they live changes. Olde Towne East, in Goode Bryant's hometown of Columbus, Ohio, has been a working-class Black neighborhood since the 1950s. Attracted to the large and relatively low-cost Victorian homes, homebuyers, mostly white and gay, renovated and moved into houses previously in disrepair. Goode Bryant and Poitras capture court hearings, dinners, protests, and more, asking questions about the everyday decisions that we make as part of larger systems of exploitation.
Twenty years after the release of Flag Wars, Olde Towne East continues to be gentrified. I recently spoke with Goode Bryant about Flag Wars and her filmmaking practice. Her work and JAM are the subject of the exhibition Just Above Midtown: Changing Spaces, on view at MoMA through February 18.
Join us in December for the next edition of Hyundai Card Video Views, as the series continues its consideration of how artists engage with the technologies that have become central to our daily lives.
—Amber Edmond, Curatorial Fellow, Department of Media and Performance
Amber Edmond: What brought you to make a film about gentrification in your hometown?
Linda Goode Bryant: I had gone home to visit my parents and the rest of the family. And when my father picked me up from the airport, and we turned onto our block, I saw these pastel flags. And I know what gay pride flags are, but it was my neighborhood in Columbus, Ohio, so I said something like, "So, have the senior women reactivated their flower clubs?" And my father said, "That's what the gay guys put up when they move into the neighborhood." I started laughing. Then, as I walked around the neighborhood, there were a couple of new businesses—a restaurant, bar, and food kind of businesses—that were being opened by the people moving to the neighborhood. But the backdrop of it was all these burnt-out buildings. There'd be one little section of the building they rented, but the rest of it was burnt out.
When I got back to New York, Laura [Poitras] and I were scheduled to have lunch. She just moved up to Harlem with her partner. So I said, "Laura, you should see this. These guys are sitting here at these little round tables, having coffee." And she said, "That would make a good documentary." At the time, I was working on a feature film script, and I I didn't want to do a documentary. Laura was just wonderfully persistent. So I started thinking about it because Laura said, "We can do this now, and then when you raise all the money, you can still do your film." That's how I ended up making Flag Wars.
When you're in a mode of running and gunning, it's such a creative, wonderful high because you can't anticipate what's going to happen.
Linda Goode Bryant
What was it like to collaborate on the film, and what does it look like to codirect a documentary?
I think Laura and I pretty much understood why we were interested in doing the documentary. Here you have two historically oppressed groups, and we wanted to find out whether a new group moving into an all-Black neighborhood looks different than gentrification. I liked the challenge of trying to do a documentary that unfolded like a narrative film, and that could surpass War Room, the brilliant D. A. Pennebaker film.
Flag Wars doesn't have narration. It's chronological, but also loose enough where it feels like you're making comparisons between scenes because of how they're placed next to each other. Did you see narratives coming together as you were filming?
When you're in a mode of running and gunning, it's such a creative, wonderful high because you can't anticipate what's going to happen, and you have to be aware of everything around you. You're shooting, but you're looking to see how people are reacting around you. You have to read people's body language, so you can anticipate—is this person about to explode? Because you want the camera there when it happens. It's such a wonderful in-the-moment, creative way of making.
In our editing, we made a commitment to ourselves and to the people we were following—our characters—that the story would be told by them. Laura and I decided just to show the people as they are. The audience has to experience that and decide how they respond to these characters.
You know, in filmmaking, you always have at least one shot where you're like, "Golly, this is the money shot." And you realize that in telling the story, you gotta let it go. And that's a hard thing.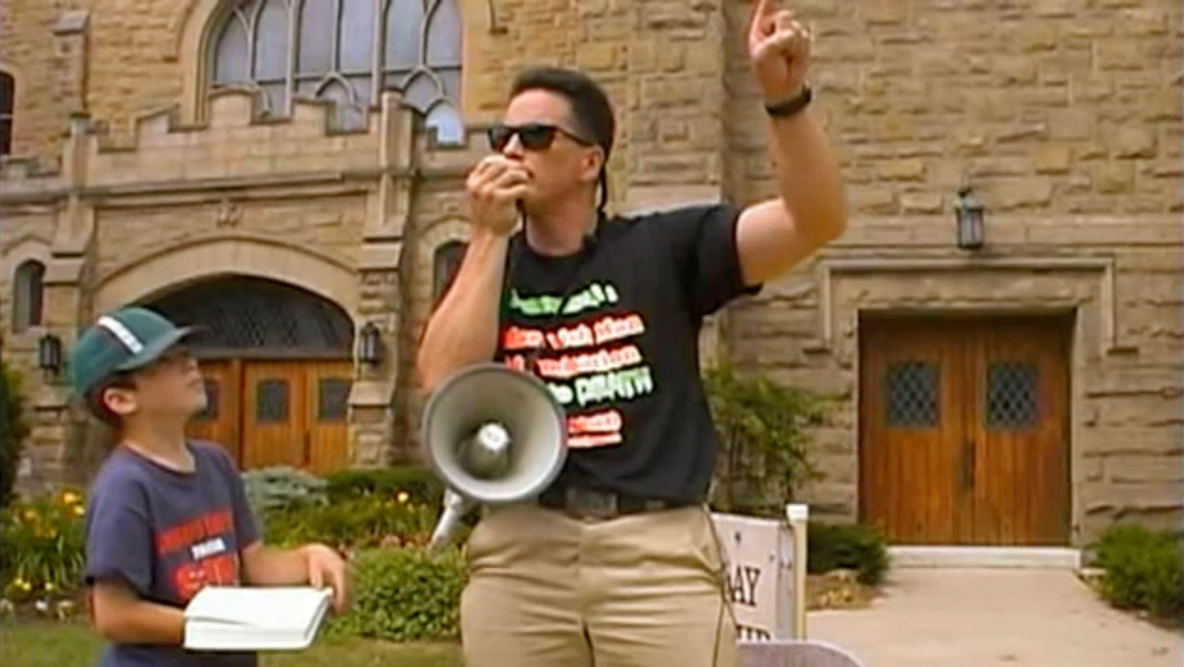 Something that stands out to me is that the people in your film are speaking these bigoted thoughts so plainly. It made me wonder how they forgot that the camera was there, and how you gained their trust. How did you come across these people and realize that you wanted them to be in the film?
We looked at, I think, four or five cities, because gentrification was happening everywhere across the country. The last thing I wanted to do was shoot in my old neighborhood. But it became increasingly interesting to me as we researched. We were able to identify some characters from the local news. We met others, like Chuck Spingola and his family, after we got to Columbus. Chuck is the gentleman who pulls down a gay pride flag at the State House.
He was on the news climbing up the flagpole, tearing it down, and, you know, we're shooting. We shot him when we saw him, but then it was on the news. Then I said, "We got to go meet him. He needs to be in this film." And that introduced a whole other universe of people who got into the film.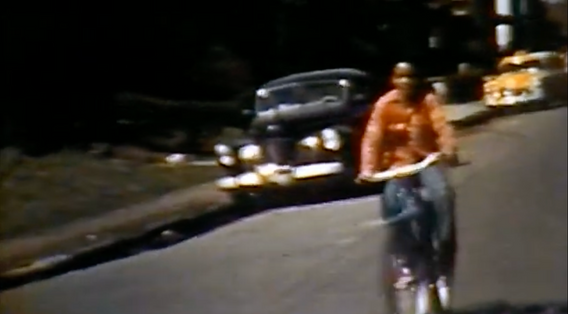 I am wondering about the archival footage that we see at the beginning of the film and the appearance of your parents. And I was thinking of The Presence of Black in the exhibition [Just Above Midtown: Changing Spaces], which also includes words from your grandmother. How do you see their inclusion in your work?
Who I am is really shaped by my family, the people who "raise us," the people who we eat with every day. As much as I was a rebel all my life, I honor and respect what I learned from the people who raised me. There are things that I rejected, but also things that I hold onto. I believe in the goodness of human beings. It's not that I'm blind to the fact that there's a flip side to that. But to my core, I believe in our ability as Homo sapiens to be our best angels. So having my parents and the folks I grew up with in the film is important.
Do you see your filmmaking career as connected to JAM or Project EATS?
I think everything is story. I believe everything we imagine and create is driven by a story. And that story could be a vision that we have in our imagination, or it could be a story of something that's happened to us or others. So I think they're all connected that way.
I'm really drawn to filming people being people. My goal is to capture people as we are. Hopefully, as people sit in the audience and see themselves on the screen, they own that.
Do you have any questions you want people to think about as they're watching Flag Wars?
I want to create an environment where people talk about the film from the perspective of the character they represent in the room. That intrigues me because often the questions that are asked, it's like people are asking you to tell them what they should see.
And what's most interesting to an artist—whether it's a visual artist, a musician, or a dancer—is, did you see what I hoped you'd see? We're making this work to share. I made this idea that was in my head tangible so I could share it. And, increasingly, it's harder to have those kinds of conversations because we're telling people what they should see. I'm not interested in telling anybody anything. I'm interested in learning about me and how I make work, and how it affects the people who are experiencing it.
Media and Performance at MoMA is made possible by Hyundai Card.

Major support is provided by MoMA's Wallis Annenberg Director's Fund for Innovation in Contemporary Art.

Generous funding is provided by the Lonti Ebers Endowment for Performance and the Sarah Arison Endowment Fund for Performance.