In this exclusive two-week screening, watch an experimental film work about a utopian vision of India.
Nalini Malani's Utopia screened here April 13–27, 2022. The video is no longer available for streaming. Join us for the next Hyundai Card Video Views screening, Jacolby Satterwhite's The Matriarch's Rhapsody, beginning May 18, 2022.
In the summer of 1969, Nalini Malani began to explore moving-image art making. A recent graduate of the J.J. School of Art in Bombay (now Mumbai), she was the youngest—and only female—participant in the legendary though short-lived Vision Exchange Workshop (VIEW), a Bombay artists' hub founded by artist Akbar Padamsee. Malani's first stop-motion animation film, Dream Houses, made at VIEW that same year, was inspired by utopian modern architecture—including the Indian architect Charles Correa's plan for New Bombay (later known as Navi Mumbai, 1964), drawings of which are featured in the MoMA exhibition The Project of Independence: Architectures of Decolonization in South Asia, 1947–1985. Seven years later she paired Dream Houses with a new film to form a diptych, Utopia, which is currently on view at MoMA in Gallery 419: Living for the City, and is presented here.
Malani's groundbreaking video installations of the 1990s, her video/shadow plays of the 2000s (such as Gamepieces), and even her recent series of digital iPad animations, through which she connects with audiences on social media, can be traced back to these initial moving-image experiments. Now, 50 years later, Malani and I spoke via email about the origins of this work and its ongoing and wide-ranging influence.
—Lucy Galun, Associate Curator, The Robert B. Menschel Department of Photography
Join us for other screenings in the Hyundai Card Video Views series, which considers artists' engagement with a technology that has become central to our daily lives.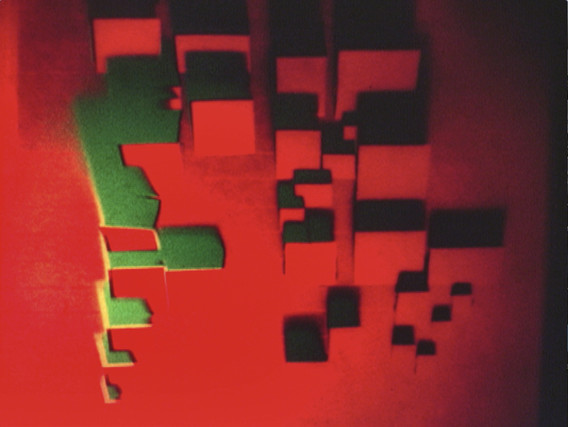 Nalini Malani. Dream Houses. 1969
Lucy Gallun: Utopia (1969–76) is a diptych that consists of two film projections, made seven years apart. The first of these films, Dream Houses (1969), is an 8mm film stop-motion animation, for which you constructed a sculptural model and made multiple still photographs. What was your inspiration for this film, and can you describe the multi-step process you employed?
Nalini Malani: The subject of Dream Houses is the idealism and hope that modernism brought during the Nehruvian period, in which poverty and housing problems in modern India could be solved through a master plan for urban space. For me this topic was very vital due to close friends who were students at the J.J. College of Architecture and, especially, because of my encounters with India's most famous architect, Charles Correa, who frequently visited his friend Akbar Padamsee at VIEW. Charles's visionary plan for building New Bombay had a profound impact on me. The more artistic levels of inspiration came through my studies of Johannes Itten's color theories and the reading of Moholy-Nagy's Vision in Motion and his experiments with the Light-Space Modulator.
The multi-step process of making the stop-motion animation Dream Houses was quite complex and elaborate. Even for museum media conservators, how this work was made still seems like a mystery. I want to leave it that way, and anyway to explain it in detail would be a dull technical story. What I do want to say is that, as with my other films from the VIEW period, I did everything myself: the making of the black cardboard architecture model, the shooting of the series of 21 120-film black-and-white slides, the turning of the grayscales from the projected slides into color with 8mm reverse-stock film and a set of color filter lenses. It was a painstaking, complicated process which took two months; the engagement with the different technologies fascinated me.
You made Dream Houses, as well as other films, while a member of the Vision Exchange Workshop (VIEW), which was founded by artist Akbar Padamsee in 1969 in Bombay. The name of the Workshop conjures a place of experimentation as well as dialogue and exchange. Can you describe your experiences there, and the significance of this community and environment in your development as an artist?
To understand this, you have to know I came from a very traditional British-oriented art academy, where photography and film were not part of the curriculum. To be able to work at VIEW with "new media" was like opening a new world for me. Even before Akbar had acquired still cameras for VIEW, I started a series of cameraless photographs in the recently finished dark room. I blew these photographs up so they could stand tall next to my paintings. I showed them beside each other in 1970 at Pundole Art Gallery; most members of VIEW came to the opening to support my first solo show. Press, visitors, and fellow artists were completely surprised by what came out of these experiments with technology and how it was presented as art. A similar scenario occurred when the new 8mm and 16mm cameras arrived. I learned so much at VIEW from participants like noted film directors Kumar Shahani and Mani Kaul. In 1973, I assisted Mani Kaul with continuity for almost a month on his shoot in the village of Borunda outside Jodhpur for the film Duvidha. During this period I made my short film Taboo at the same remote village. For the film diptych Utopia, I wanted to go beyond the single-lens cinematic formula, to show that multiple timelines are experienced simultaneously. In the early 1990s, I further explored my passion for technology and the experimental moving image in my video art. Given the growing pressure of religious orthodoxy that was getting connected to politics, I felt a dire urgency to break once more out of the painting frame.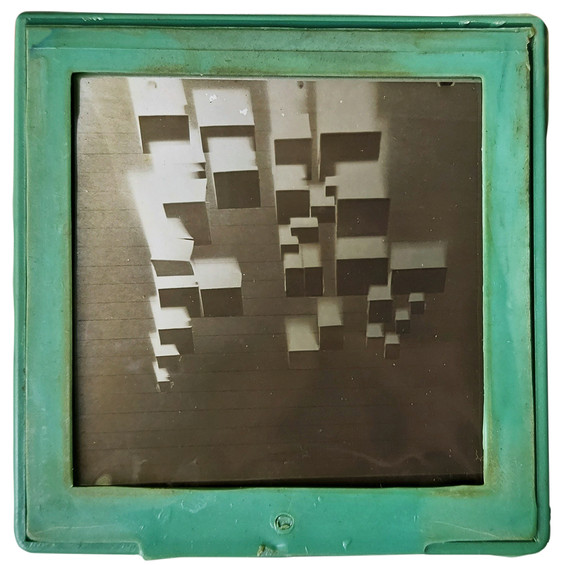 Nalini Malani. Preparatory transparency for Dream Houses. 1969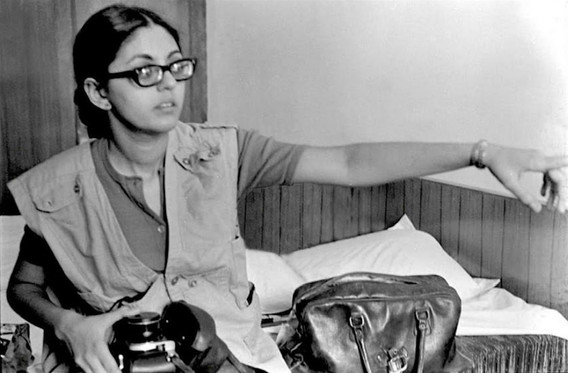 Serendipitously, Utopia is on view at MoMA concurrently with the exhibition The Project of Independence: Architectures of Decolonization in South Asia, 1947–1985. In the words of the exhibition's curators, it presents innovative work by local architects who "embraced the language of modernism as a means of proclaiming their autonomy, articulating their national identities, and enacting social progress." One of the projects featured in that exhibition is Correa's plan for New Bombay, which had a major impact on you at a moment when many of your close friends were studying architecture. I also understand that you had a memorable meeting with Buckminster Fuller at Correa's home, during his trip to India at Correa's invitation to deliver the Nehru lecture in Delhi in 1969. How did these conversations and ideas shape your work?
When I met Buckminster Fuller in 1969, he was 74 and I was 23. As you can imagine, sitting next to him that evening was most inspiring. He explained to me several of his theories, such as the geodesic dome, referring to a water drop that was hanging on a rose on the table. Besides his "search-and-research" attitude, which stayed with me for the rest of my life, it was his ideal of an "omni successful education and sustenance of all humanity" that moved me profoundly. I still have the copy of his Third Annual Jawaharlal Nehru Memorial Lecture that he gave me. Charles Correa was 39 at that time, but already the living embodiment of an alternative vision in decolonized India; he offered modern and humane solutions, deeply rooted in local cultures, for modern urban development. I knew his work firsthand because I used to watch these projects being built. It was the Nehruvian dream—a form of socialism based on a philosophy of humanism that tried to establish a modern India free from feudalism and the caste system—coming true: an inspiration that still forms the core of my work.
The left and later half of the Utopia diptych was made in 1976. Footage of a young woman looking out of a window at the urban development around her, filmed in a northern Bombay suburb, is superimposed with images from the earlier Dream Houses film. What spurred you to bring these two parts together, to be seen simultaneously in side-by-side projections as a diptych?
The seven years between the summer of 1969, when I made Dream Houses, and 1976, when I finished Utopia, were turbulent. I left India at the age of 23 for Paris on a two-year scholarship, but because of the 1968 student revolts I could not take any lessons at the Ecole des Beaux-Arts. My Paris life was spent attending lectures at the Sorbonne by scholars such as Claude Lévi-Strauss and Noam Chomsky. And visiting the Cinémathèque Française to study the Nouvelle Vague and discuss the meaning of film with Chris Marker and Jean-Luc Godard, whose works were politically engaged with the movements of the 1960s. And experimenting with photography in the dark room, where I made collages from X-ray material salvaged from hospitals.
Surrounded by Marxist demonstrations, painting lost its meaning and was seen as something redundant and bourgeois. In that spirit, I decided to return to Bombay to become part of the process of nation building. This desire led to my documentary project in a Muslim slum in Bombay, which was based on the idea that film could be used for raising political consciousness and social awareness, so its subjects could mobilize and demand the basic amenities of life. Then, one morning the whole slum area was demolished. You can imagine how disillusioned I was after four months of work. I could not even locate the people who used to live there. This was not the India that I had known while making Dream Houses. It took a while for me to find the form that allowed me to turn these experiences into artworks. This is how the film Taboo came about; it explored the ongoing oppression in the caste system, especially its effect on women. And in Utopia, my dream and the reality are shown as one artwork. The young woman in the film on the left literally looks at the animation of Dream Houses on the right. The architectural stop-motion elements of Dream Houses are superimposed on her in the black-and-white film, because all of it remained a dream. At the end of the film she disappears in the clouds, which gives a feeling of hope.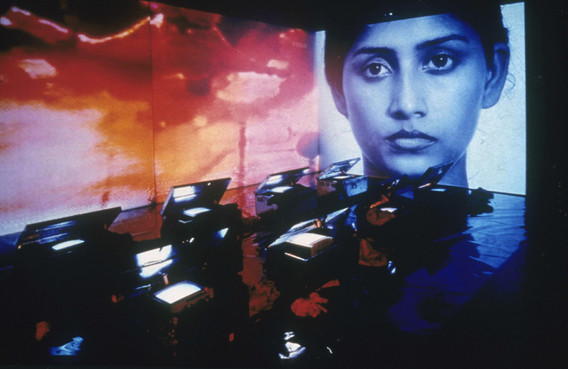 Nalini Malani. Remembering Toba Tek Singh, Installation view, World Wide Video Festival, Amsterdam, 1998.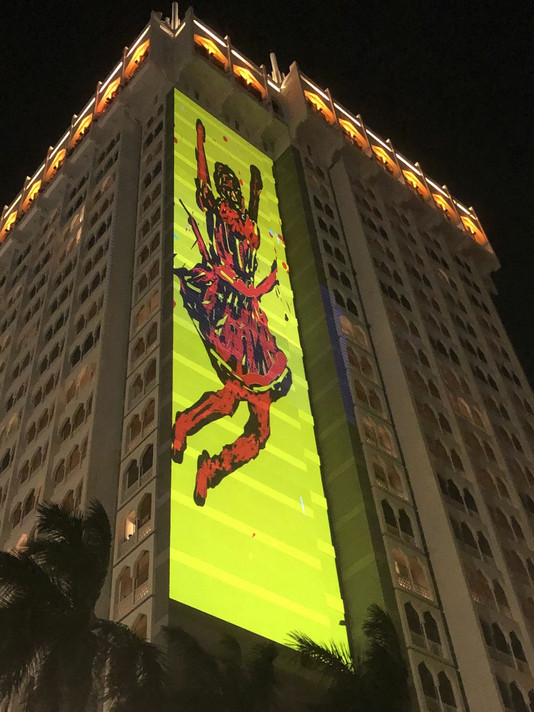 Nalini Malani. Can You Hear Me? 2020. Installation view, Taj Mahal Hotel, Mumbai, 2020
Alongside your other early films from the 1970s, Utopia seems to have laid the foundation for your moving image works over many decades, both in terms of formal characteristics (such as multiple screens and simultaneity) and also in the urgent sociopolitical issues they address.
The moving image attracts people from different strata. I knew that if I wanted the attention of a larger public, painting would no longer suffice. The 1990s and after became one long session of experimenting with the moving image and technology, based on my experiences with theater. This resulted in a series of sociopolitically engaged, time-based works. I wanted to "seduce" the viewer into my work, so that she would be engulfed in an all-encompassing environment. An example of this is my four-channel video play Remembering Toba Tek Singh. I made this work in 1998 as a reaction to India's underground nuclear tests, which were soon followed by similar tests by our neighbor, Pakistan. When visitors walked into Remembering Toba Tek Singh, they were surrounded by four wall-covering projections. A woman from Pakistan on the left and a woman from India on the right are unable to fold a saree together. In between there were three rows of four metal trunks; inside each there's a monitor showing archival and documentary film material about the results of the foolishness of humankind. These trunks stood on a Mylar mirrored floor, and the visitors' reflections became part of this collective nuclear madness where no escape seemed possible. It was shown in March 1999 at the Chhatrapati Shivaji Maharaj Vastu Sangrahalaya (formerly the Prince of Wales Museum) in Bombay, and had around 5,000 visitors per day. It gave rise to heated debates about India becoming a nuclear state.
Most recently, the formal characteristics and the sociopolitical issues (especially as seen from a woman's perspective) that I explored of Utopia can be found in my ongoing series of iPad animations, which are presented on Instagram (@nalinimalani), or as a nine-channel animation chamber in a museum setting, or in a public urban environment. In 2020, 68 animations were projected on the 70-meter tower of the Taj Mahal Hotel, next to the Gateway of India in Mumbai. Thousands of people gathered to watch it. The series, which is called Can You Hear Me?, is based on the rape and death of a child in India and addresses the urgent and ongoing crises of violence against women not only here but around the world.
Media and Performance at MoMA is made possible by Hyundai Card.

Major support is provided by MoMA's Wallis Annenberg Director's Fund for Innovation in Contemporary Art.

Generous funding is provided by the Lonti Ebers Endowment for Performance and the Sarah Arison Endowment Fund for Performance.