Experiment with materials, movement, and action
From manipulating materials to moving your body, making art involves action. Try out these six activities that take inspiration from artists' experimentation.
For everyone ages four and up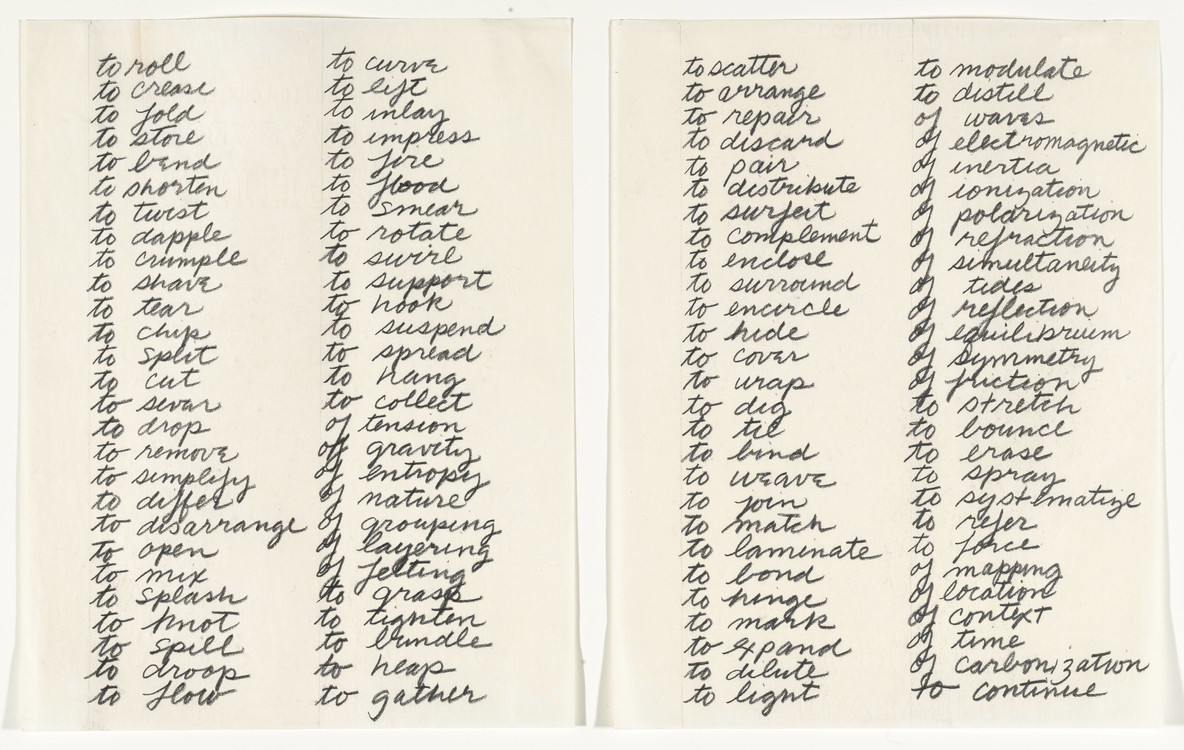 Richard Serra. Verblist. 1967–68
1. Take action
DISCOVER
Richard Serra likes to explore all the things different materials can do. In Verblist, he made a list of action words that became instructions for experimenting with materials.
GATHER
An assortment of materials such as aluminum foil, cardboard, fabric, and paper
EXPLORE
Experiment with shaping your materials into different forms using these action words:
to roll, to curve, to lift, to wrap, to prop, to heap, to open, to bend, to twist
DISCUSS
Take a look at the sculpture Serra made with vulcanized rubber, following the instruction "to lift." Not all of Serra's material experiments ended as art. Talk about whether you think what you made is a work of art—why or why not?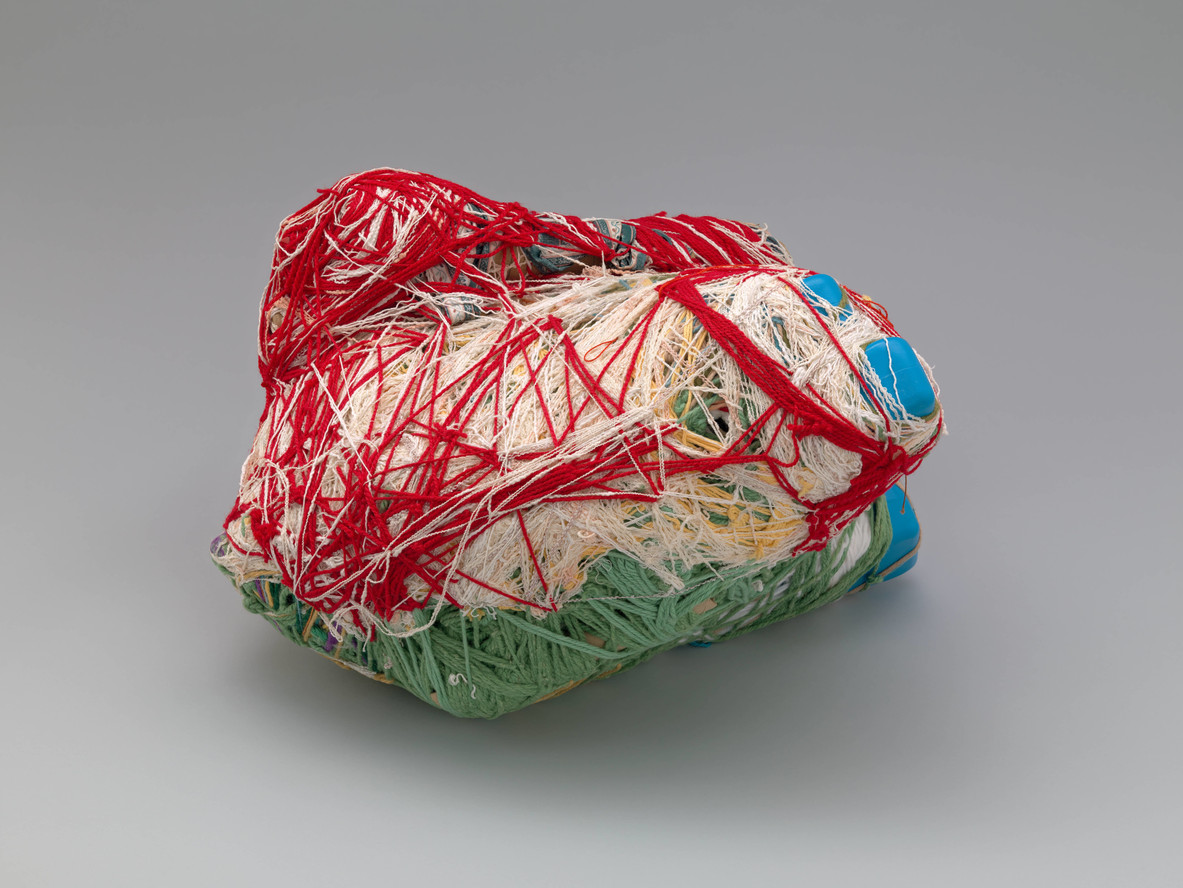 Judith Scott. Untitled. 2002
2. Wrap it up
DISCOVER
Judith Scott created sculptures by taking everyday objects and wrapping them in yarn, fabric, rope, and other fibers. Sometimes, she hid the objects completely, but sometimes she left hints of what was underneath. People have made X-rays of her works and found zippers, pins, and even jewelry.
GATHER
An everyday object from your house that has an interesting shape or texture, as well as yarn, string, ribbons, or anything you can use to wrap your object, like cut up strips of newspaper and tape
EXPLORE
Begin wrapping your object with yarn, string, ribbons, paper, or a combination of materials. Decide if you want to cover the object completely or if you want to leave parts exposed. Look at the new shape you created. How has the object been transformed?
DISCUSS
Show your wrapped artwork to a friend or family member. See if they can guess what is underneath.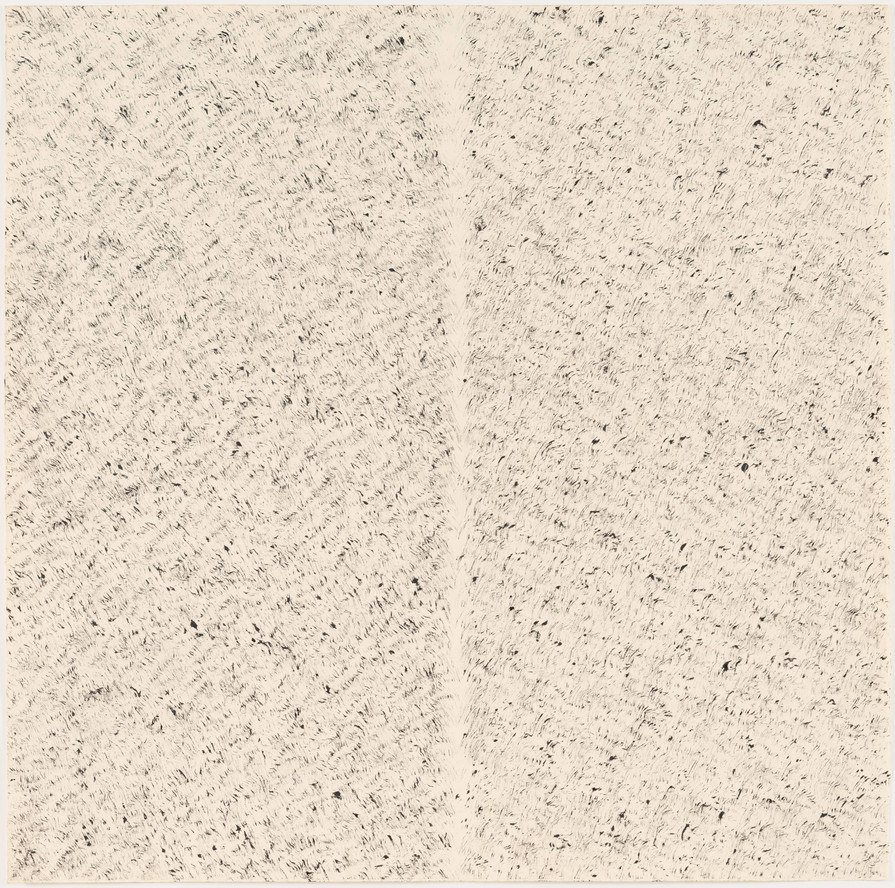 Janine Antoni. Butterfly Kisses. 1996–99
3. Make your mark
DISCOVER
Janine Antoni uses her body as a tool to make art. To make Butterfly Kisses, she applied mascara to her eyelashes and quickly blinked, so that her lashes brushed the paper and left fluttery marks. The marks show the movements of the artist's body—her eye blinking. Antoni made around 60 marks per day and completed the drawing after about 2,124 blinks, made over many months.
GATHER
Paper; washable ink pads
EXPLORE
Make a drawing using your body as a tool. Pick a part of your body—your fingertips, a foot, or an elbow. Press that body part into the ink pad and stamp it onto a sheet of paper. Play around with the amount of pressure you apply, and with moving your body slightly as you stamp. After you play around for a bit, take a new sheet and make another body print drawing. Will you make a design or will you improvise?
DISCUSS
How will you decide when your piece is finished?
4. Capture textures
DISCOVER
To make Soho Sidewalk, Sari Dienes rubbed an inked paint roller over a cotton sheet on top of the sidewalk. Dienes made an artwork from something people hardly ever look at closely, bringing our attention to the different shapes, lines, and textures that make up this sidewalk section.
GATHER
Paper and crayons, or a pencil
EXPLORE
Go on a walk around your neighborhood or living space. Search for interesting textures you might want to capture. Place a sheet of paper over the surface and then rub the paper with the side of an unwrapped crayon or pencil. What textures and lines appear? Add more rubbings to your paper—they can be of different floor surfaces, or objects around your house (keys, leaves, placemats).
DISCUSS
How are the textures different? Do they remind you of anything?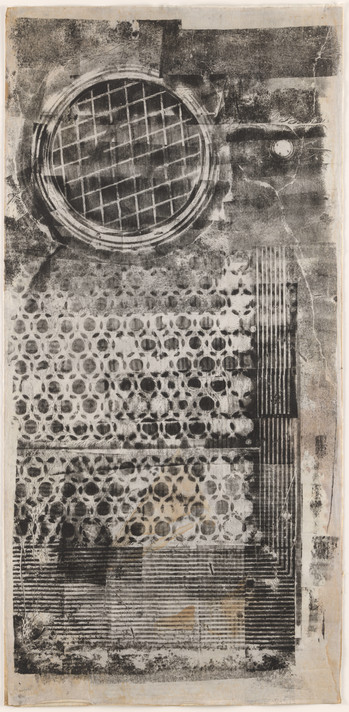 Sari Dienes. Soho Sidewalk. c. 1953–55
5. Push paint
DISCOVER
To make the series of paintings he called Energy Fields, Jack Whitten poured paint onto canvases and dragged through a variety of tools, from Afro combs to squeegees, rakes, and brooms. The result gives a sense of movement, like the blurred vision from a moving vehicle, in paintings like Siberian Salt Grinder.
GATHER
Paint; a paintbrush; a variety of items such as Q-tips, a comb, a paper clip, a spatula, or twist-ties; and aluminum foil or paper. Be sure to cover your table surface and have a water container nearby.
EXPLORE
Pour a bit of paint onto a piece of aluminum foil. Spread it around, coating the surface. Choose some tools to drag through the paint and try making different kinds of marks. Think about moving your tool fast and slowly, make skinnier bands and thicker ones, and make shorter marks and try ones that go from edge to edge.
DISCUSS
What do you notice about the marks you made? Did certain tools work better than others? Is there a sense of movement in your painting? If so, how would you describe the action?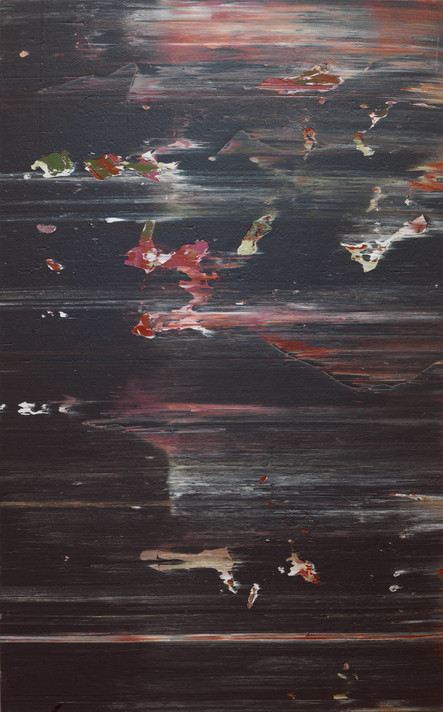 Jack Whitten. Siberian Salt Grinder. 1974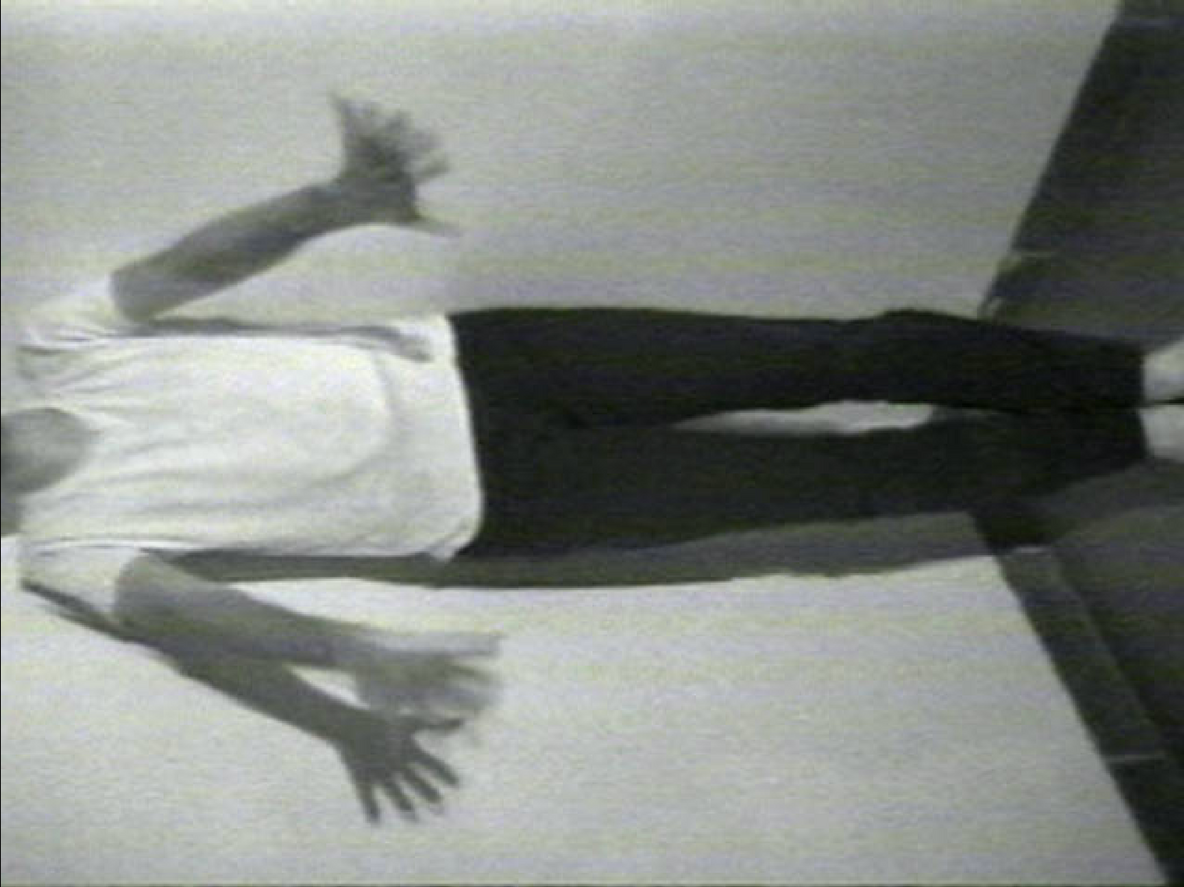 Bruce Nauman. Bouncing in the Corner, No. 1. 1968
6. Perform a movement
DISCOVER
Bruce Nauman made artworks in which he filmed himself moving his body in unusual ways. In Bouncing in a Corner, No. 1, the artist jumped in a corner for 60 minutes. In Slow Angle Walk (Beckett Walk), he invented his own unusual style of walking and repeated it for an hour.
GATHER
A stopwatch or timer, and some energy
EXPLORE
Try out these challenges inspired by Nauman. Once you've experimented a bit, ask a family member to make a video capturing the action.
Choose a movement from the list below and repeat it for 60 seconds.
Jumping in place
Twirling in a circle
Tapping your foot
Patting your stomach
Bouncing in a corner
Marching in place
Flapping like a bird
Nodding your head
Then invent your own style of walking. Where or when might you walk this way?
DISCUSS
How did your movements change with time? Watch the video of your movements. What do you notice?
Volkswagen of America is proud to be MoMA's lead partner of education.

Family Programs are made possible by The Samuel and Ronnie Heyman Family Endowment Fund.

Generous funding is provided by The William Randolph Hearst Endowment Fund and Brett and Daniel Sundheim. Additional support is provided by the Annual Education Fund.