We compiled a playlist of songs about works of art for your listening pleasure.
In the fall of 1971, singer-songwriter Don McLean was sitting on his veranda, staring at a print of Vincent van Gogh's The Starry Night, when inspiration struck. He grabbed his guitar and started strumming.
"Looking at the picture, I realized that the essence of the artist's life is his art. And so, I let the painting write the song for me," he recalls. He titled the resulting song "Vincent."
McLean isn't the only musician who has drawn inspiration from the visual arts. Stephen Sondheim and James Lapine wrote an entire musical (Sunday In the Park With George) inspired by Georges Seurat's pointillist painting A Sunday Afternoon on the Island of La Grande Jatte. (The song "Color + Light" is particularly representative of the painting). Paul Simon's "So Long, Frank Lloyd Wright" uses the architect's passing as a metaphor for Simon's imminent separation from his longtime collaborator, Art Garfunkel. Peter Gabriel wrote the song "Don't Give Up" after seeing an exhibition of Dorothea Lange's Dust Bowl photographs.
See below for a playlist of these and more "art tunes" to get you into a creative groove.
Special thanks to Michael Meade, Isabel Meisner, Kenneth Casey Swoyer, Curtis Scott, and Isabel Custodio for their song suggestions; and Laura Braverman for lyric translations.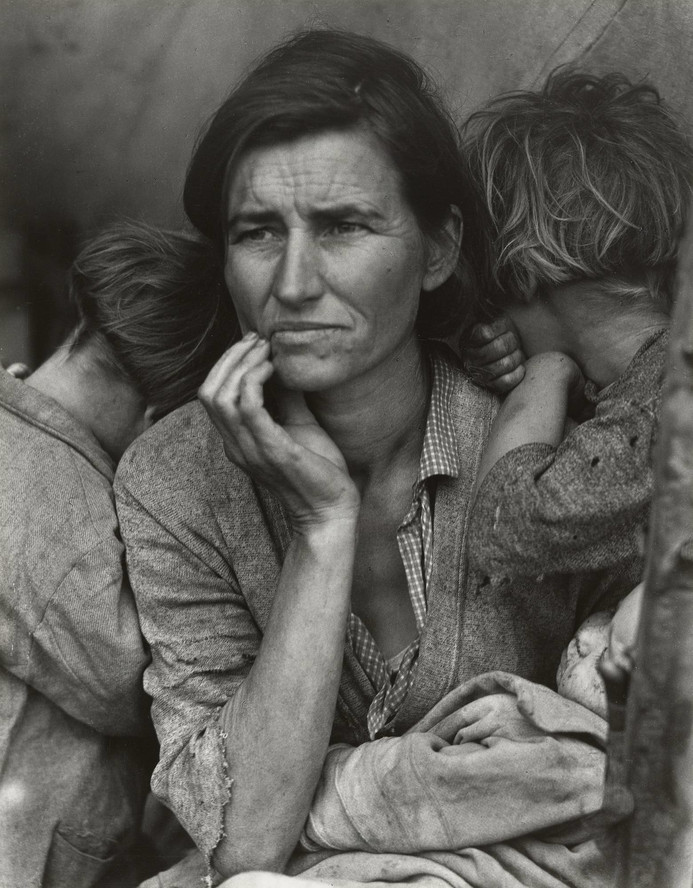 Dorothea Lange. Migrant Mother, Nipomo, California. March 1936.
"Don't Give Up," by Peter Gabriel (ft. Kate Bush)
Drove the night toward my home
The place that I was born, on the lakeside
As daylight broke, I saw the earth
The trees had burned down to the ground
Don't give up
You still have us
Don't give up
We don't need much of anything
Don't give up
'Cause somewhere there's a place
Where we belong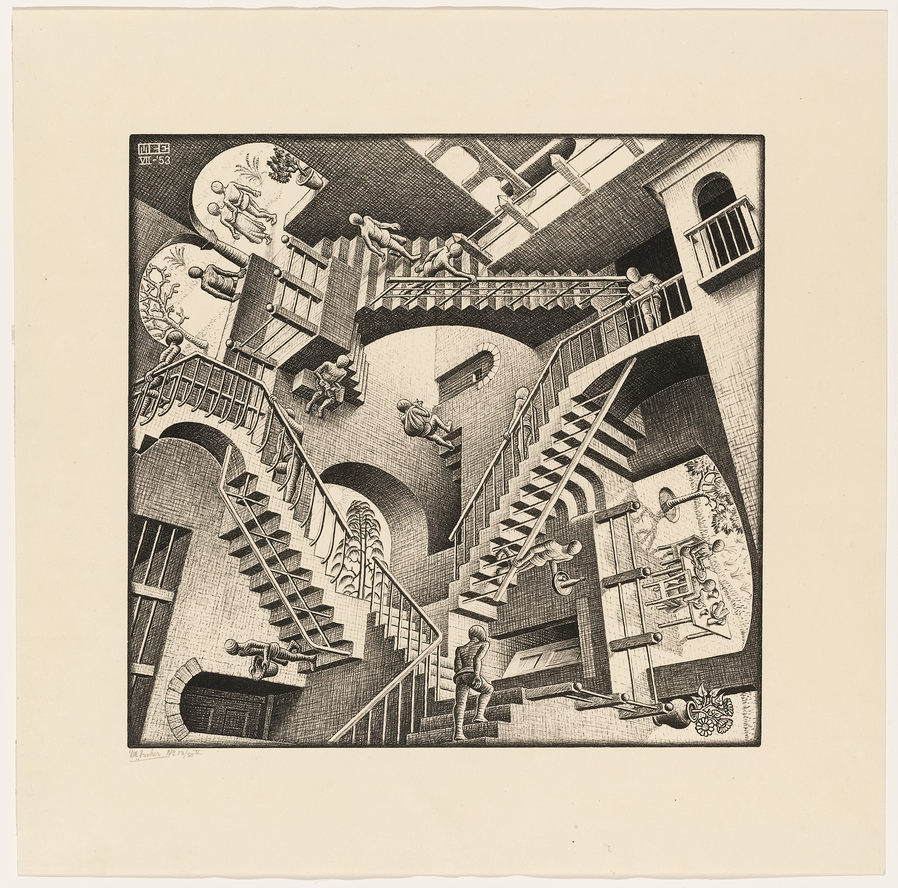 M. C. Escher. Relativity. 1953
"Escher," by Teenage Fanclub
And I don't know if I'm
Going up or down, with you
Don't know if I'm coming
Going up or down, with you
But I don't mind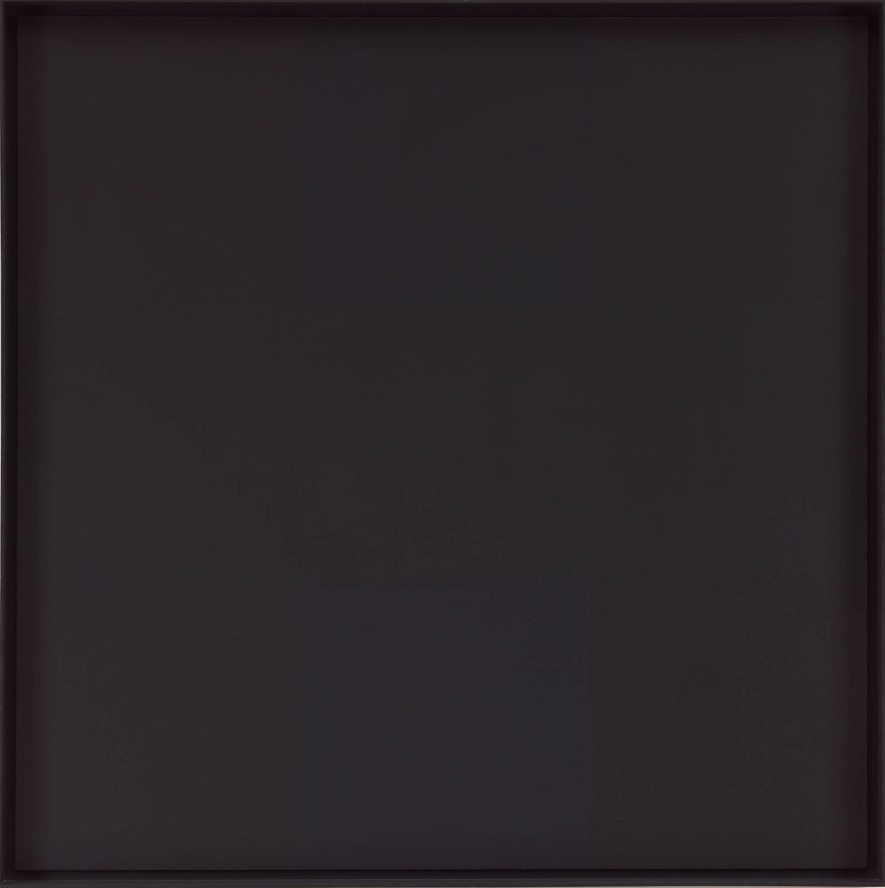 Ad Reinhardt. Abstract Painting. 1963
"Paint It Black," by the Rolling Stones
I look inside myself and see my heart is black
I see my red door I must have it painted black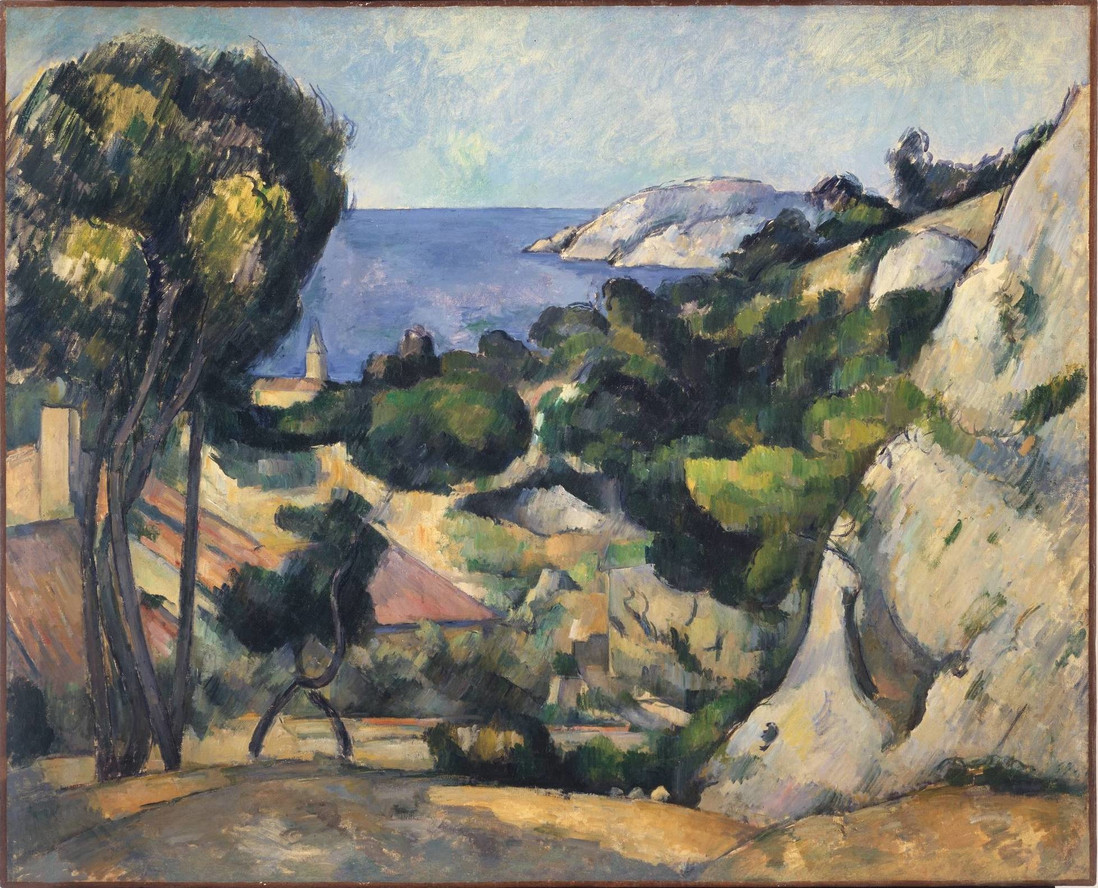 Paul Cézanne. L'Estaque. 1879–83
"Cézanne Peint," by France Gall
Et il éclaire le monde pour nos yeux qui n'voient rien (And he lights up the world for our eyes that see nothing)