The Many Lives of Big Queen Casino
Three MoMA conservators and two slot machine experts discuss conserving Isa Genzken's Spielautomat.
Isa Genzken's ongoing experiments in combining consumer goods and autobiography come to life in her 1999 sculpture Spielautomat (Slot Machine), which recently joined MoMA's collection. In this work, an actual slot machine is covered in a raucous collage of colored cellophane, self-portraits, and images of Andy Warhol, Lawrence Weiner, Leonardo DiCaprio, fashion models, airplanes, and New York City. A portrait of the artist taken by her friend and fellow artist Wolfgang Tillmans sits atop the collage. The machine itself—a tool of chance, luck, and risk—becomes a kind of self-portrait of the artist, adorned with a mixture of inspirations and images from both her personal and collective memory. Conserving this work, currently on view in MoMA's second-floor collection galleries, required three conservators from different departments in the Museum, the help of a father-and-son team of slot machine experts from Long Island, and some undercover detective work in the deep corridors of Internet chatrooms. We sat down with this dedicated group to discuss their collaboration, and the way each sees this work.
How did you all begin working together?
Flaminia Fortunato: When we looked at this slot machine, it was clear there were aspects of the technology that needed to be addressed. Two displays were showing foul messages—foul in German means "error or invalid." Through extensive research, we discovered this was caused by a battery failure. We needed an expert's advice on how to replace the battery. That's when I started contacting different vendors.
In contemporary art conservation, we often work in collaboration with other professionals from diverse fields of expertise. For this project, we interviewed different experts, but the D'Elias were the only ones who expressed a confidence and willingness to look at the artwork, and unravel the technical issue together.
RG: Many of the vendors we spoke with weren't interested once they found out this was a slot machine that was a piece of artwork—that it was in a way nonfunctional. They were more interested in making it back into a slot machine.
JD: The challenge was attractive. We knew we could make the machine function and the Museum was an interesting location.
RG: I worked on the Isa Genzken retrospective at MoMA in 2013. This work was in the exhibition, but it was static. There were no flashing lights and the LED sign wasn't even visible on the top. We thought that was the correct way to show the piece.
At the very last venue of the traveling exhibition, when it was in Texas, one of Genzken's assistants revealed that the LED needed to be visible. We realized we needed to go deeper into understanding what the artist's intent was when she wanted to display this object.
When we contacted the artist's studio, they said, "We want it to have a heartbeat. We want it to be alive."
The only way to get inside the machine to fix the LED was to remove the photographs. That is where Krista came in as a photo conservator. We needed to make sure that we were not going to damage the unique photographs attached to the surface. And then once we got it open, we realized the mechanics were wrong. That's where Flaminia came in, so the project just kept growing.
Hanna Girma: As slot machine experts, what kind of projects do you typically work on?
Daniel D'Elia: I do mostly in-home repairs of pinball machines, video games, jukeboxes, and slot machines. Most are used for private entertainment. Some people have big collections, but it's mostly a couple games in a family's home. It's a lot of fun.
Is this your first time working on a project like this?
James D'Elia: The main genre, which is the slot machine, is not unusual for us. The fact that it was used as an object of art is!
DD: The fact that it's a German slot machine is a little bit different but I come across all kinds of things.
Roger Griffith: And pictures of Leonardo DiCaprio.
JD: Exactly.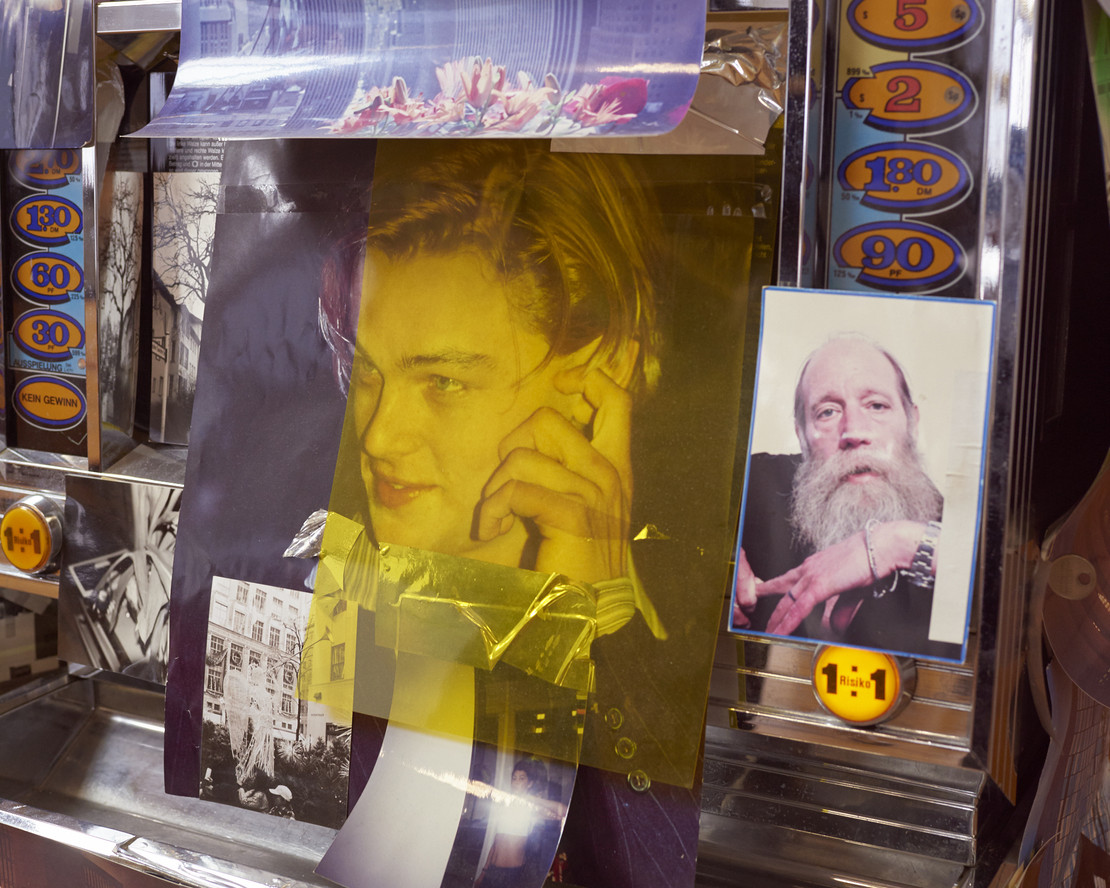 Detail image of Spielautomat (Slot Machine). Photo: Meron Menghistab
We want it to have a heartbeat. We want it to be alive.
Roger Griffith
What was the process like working with the images on this particular piece?
Krista Lough: When Roger first approached me, I was really hesitant to work on the photographs, because it's a collage. Collages are very personal, a representation of the artist's creative process, and I felt that lifting or removing aspects wasn't necessary if it was going to mess with the artist's hand.
I began to realize how important it was to see this object as a whole; that it deserved more than just a purist treatment of photographs. There is not just a collage, but also an amazing electronic component that needs to function for the work to be truly representative of the artist's intent.
Could give me some history on this particular slot machine?
JD: It's a 1990s vintage machine. There are microprocessor-based components within the machine that control the way in which a patron puts coins in and selects how to bet. Then there's a series of barrels, like a regular slot machine, that tell you if you've won or lost.
DD: The original slot machines [from 1895] were all mechanical. There was no electricity involved. The actual pulling of the arm would wind the spring, which would then release, unwind and run the wheels, the payout, and everything. They were really amazing machines.
JD: The slot machines now in places like Atlantic City are programmed so there is a percentage of wins and they place the ones with a large payout percentage at the front so visitors see people winning. There is a whole psychology to the casino, and the electrical makeup of the new machines match that.
DD: I'm not so impressed by the electronic machines. I'm more impressed by the mechanical machines because the guys that made those were able to have an idea and make it function with springs, levers, and wheels.
JD: The functionality of this machine is like any other machine you find in Atlantic City or Nevada or Las Vegas. They have taken away the mechanical model of a slot machine. Here, you just push buttons and the wheel spins with a motor. Put money in, get a winner, coins come out. That's as simple as it could be.
Have you unearthed anything conceptually about the piece from conserving the work?
RG: We didn't actually know what the artist's intent was because when it came into our collection a lot of the lights were out and the LED wasn't visible because there was a screw missing that caused it to fall inside of the machine. My original intention was just to get the work open, move the LED, and put the screws back in.
In opening up the machine, we also discovered it was so old that it was using Deutschmark, before the currency was switched over to Euro. There were still some Deutschmarks inside!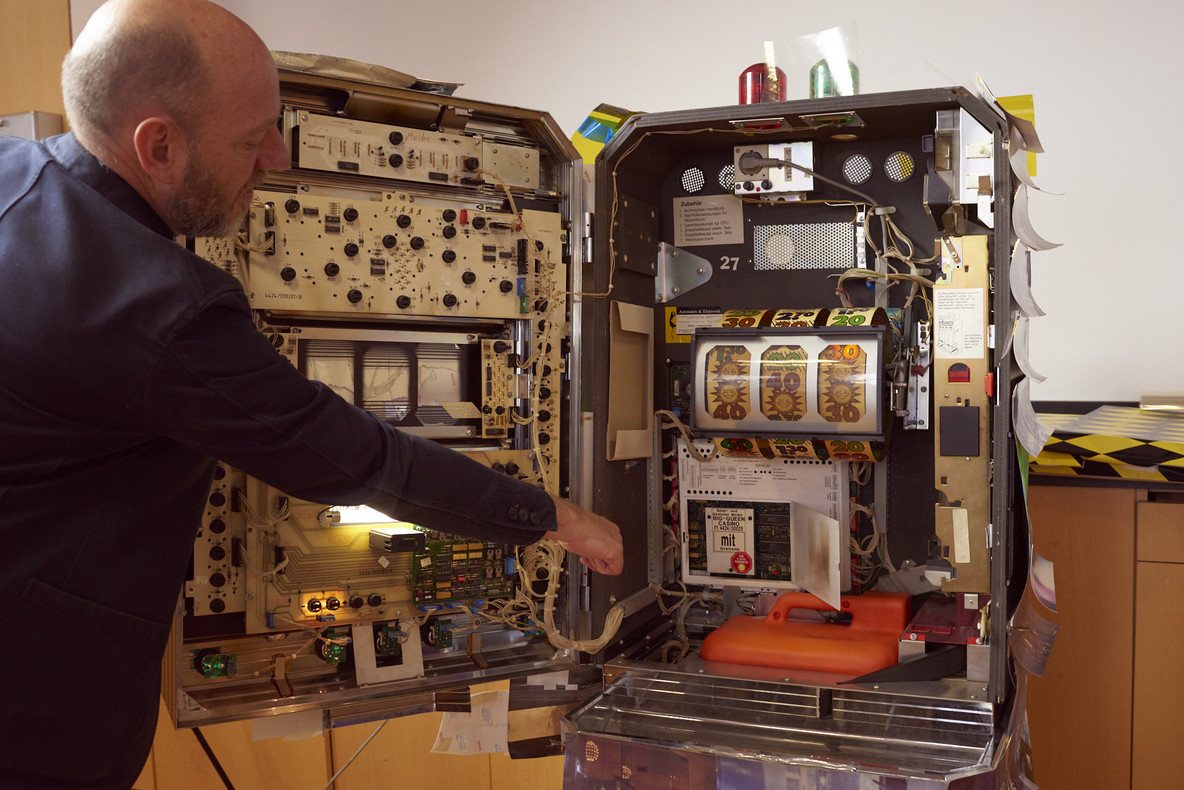 Roger Griffith with interior of Spielautomat (Slot Machine). Photo: Meron Menghistab
KL: In lifting the photographs, I realized a lot of collage elements were hidden. And a lot of the photographs were covering crucial aspects of the machine, like its name, which is great: "Big Queen Casino."
It's fascinating to me that [Genzken] chose to cover some elements but not all. As a conceptual choice it made me wonder: How is she approaching this object? What does she decide to expose to the viewer?
FF: We didn't want to leave the machine with the "foul" status. We didn't want something that was a mechanical failure to become a conceptual layer to the work.
I love hearing about the strange rabbit holes curators and conservators go down in order to solve research questions. Are there any interesting routes you took to pursue a question?
FF: Because the slot machine was manufactured in Germany, all of the useful resources were only available in German. That definitely was a challenge for me. I speak German, but understanding the technical terminology was quite challenging.
I realized that online there is a forum for slot machine enthusiasts called Automatenfreunde, or "Friends of Slot Machines." I decided to ask some questions about our case under the screen name Big Queen Casino.
I think that was an interesting and funny part of doing research—deciding the best way to gather information in meaningful ways without revealing that this slot machine was in fact a work in a museum collection.
JD: Her curiosity gave us a level-up in understanding how these machines work. She added to our knowledge.
How did you both become slot machine experts?
JD: I am primarily self-educated. When I came out of the Air Force I went to school on the GI Bill. I graduated from RCA Institute down on 14th Street back in the '50s, and at that time my primary academic education was in vacuum tubes. I progressed from vacuum tubes to microprocessors in the span of about 50 years. I'm going to be 90 years old in February. Anyway, that's my history, and I tried to stay current with the technology and passed some of it, most of it, to Danny. He was the only one of my four sons that was interested enough to go into the business.
James D'Elia with Spielautomat (Slot Machine). Photo: Meron Menghistab
So would you consider the slot machine a work of art?
JD: Yes. Well, as a slot machine expert, it's very challenging to come to a museum to see one of these machines and consider it a work of art.
I don't know about art in the conventional sense. I love it and I love jazz: 1940s, Glenn Miller, Tommy Dorsey. So now you could get a sense of my background and history! That's what we were brought up on. My father was a jazz trombonist, and an upholsterer because you couldn't make any money as a musician back then. Today, I don't think you can either. It's a tough career.
I saw it as a slot machine with a bunch of pictures in the way that inhibited fixing it, but we made it work.
James D'Elia
Is there anything that surprised you about working together?
FF: I personally enjoyed seeing how our battery replacement mission electrified the whole team, specifically our slot machine "doctors". I like when the value of our work as conservators is being fully understood and embraced by other people who may be less familiar with our field.
RG: We all came at this project from a different angle. As an object conservator, I see it as a conceptual or assemblage work of art, but an object first. I think Krista was seeing a collage, but the support of the collage was the slot machine. Whereas Flaminia's enthusiasm is what really made this all come to fruition with the two technicians.
JD: I saw it as a slot machine with a bunch of pictures in the way that inhibited fixing it, but we made it work.
RG: I think with contemporary art, it's a challenge for most people because you come at it with your own set of ideas and your own set of views. I think you take away from it the same thing, so it's up to you. The interpretation is really individual.
JD: It's what makes it work.
KL: I agree. We all have such different views on the elements of the work. This treatment was definitely more involved and hands-on than any of us expected it was going to be. I'm so delighted that everyone was able to come on to the project and give the object its heart and soul back, which I think it really needed.
JD: Glad to be a part of that. I hope it becomes a big attraction in the museum. We had a lot of fun.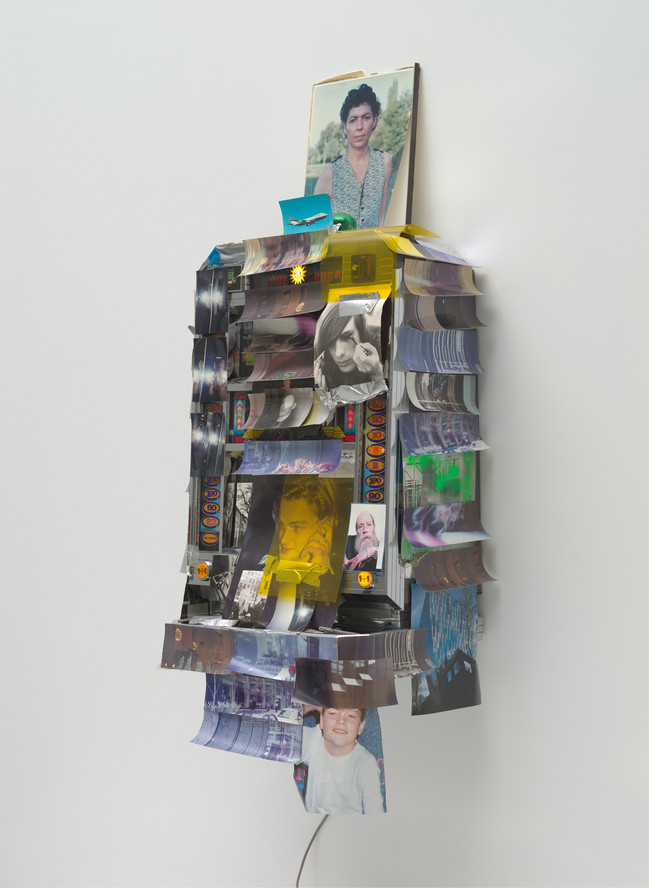 Isa Genzken. Spielautomat (Slot Machine). 1999