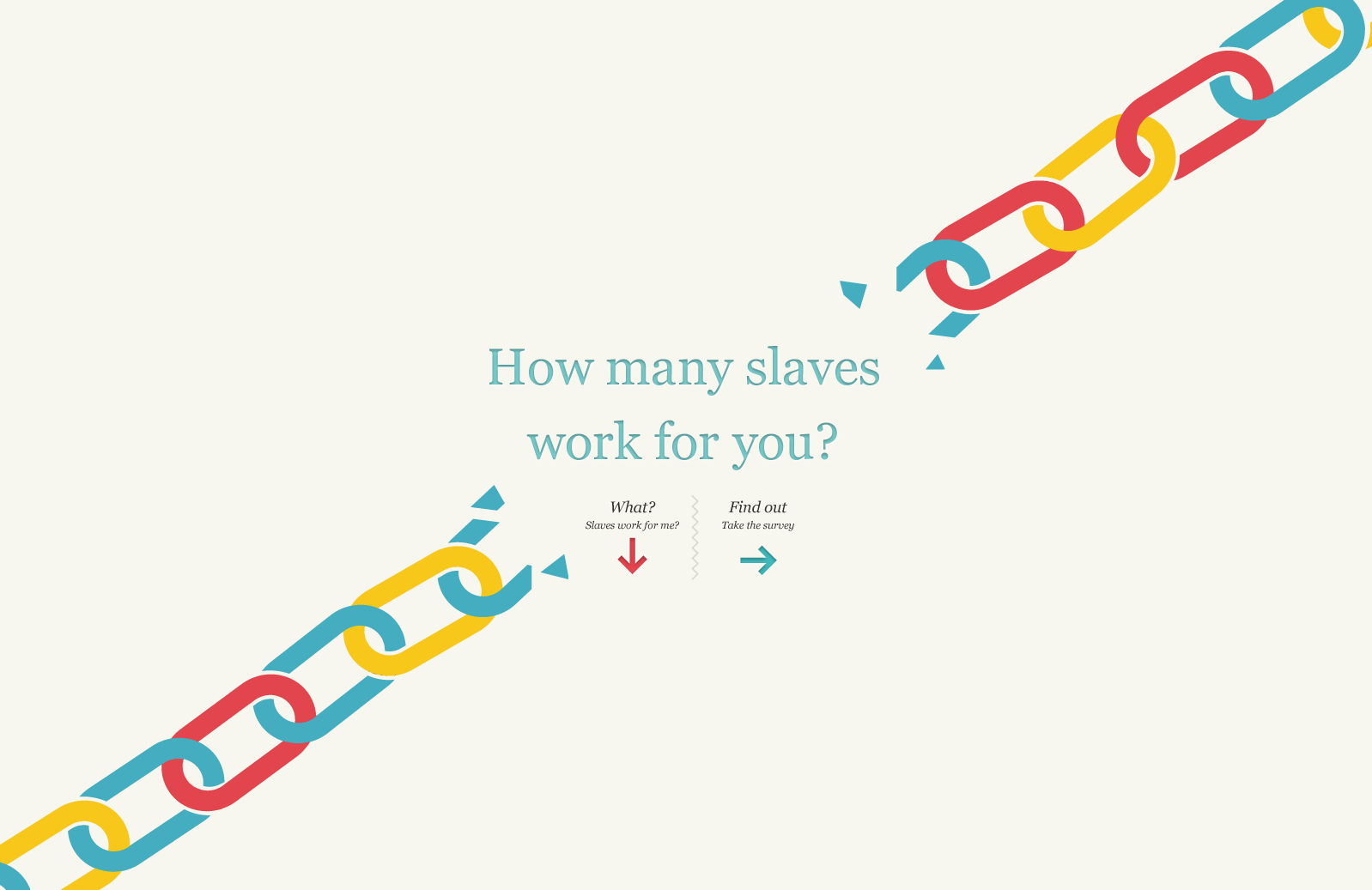 Slavery Footprint (Made in a Free World)
From the curators: Slavery Footprint is an interactive design that visualizes individual and collective complicity–silent, unwitting, or otherwise–in global slavery, raising consciousness of how forced and indentured labor underpins free-market supply chains from raw materials to finished products. Over 150 years since President Abraham Lincoln signed the Emancipation Proclamation into law in North America, and despite global efforts such as the 1948 Universal Declaration of Human Rights, slavery still thrives today, with worldwide and widespread instances of people trafficking, and indentured or forced labor. The UN's International Labor Organization estimates that over 21 million people worldwide are victims of forced labor, and other sources suggest this figure may be as high as 35 million. (Shandra Woworuntu has written compellingly for Design and Violence regarding her experience being trafficked as a sex slave from Indonesia to New York). Slavery Footprint humanizes and personalizes this overwhelmingly large issue. Users navigate the project online or in an app by responding to 11 questions that assess the ways in which they use goods and services, resulting in a speculative provocation: the number of slaves who might have to labor to enable this consumption. This correlation is impossible to truly measure. The goal is instead to encourage greater awareness of coerced and inhumane labor practices, including child labor and sex trafficking. In this way, designs like Slavery Footprint might encourage both consumers and, eventually, companies to make responsible choices and, importantly, to raise collective voices against exploitation.
Slavery Footprint shows that 35 slaves work for me. That is, people who are forced to work without pay, being economically exploited, and are unable to walk away.
The number is shocking. I reached the end of the survey and was left with the question: What do I do with this information?
Slavery Footprint says that over 27 million people are enslaved today. Not in history, but today. When I think of this number, I also think of all the garment workers that I've met in Bangladesh who are working in incredibly harsh conditions that do not fall under the category of forced labor.
I think of the man who tried to form union in his garment factory last year but who was severely beaten and had all his family's possessions stolen—including every single bed sheet, chair, lightbulb, onion, and clove of garlic—in retaliation for attempting to exercise his legal right to form a union.
I think of the thousands of people who were inside the Rana Plaza building on April 24, 2013, when it collapsed, in the deadliest disaster in the history of the global garment industry. When these garment workers reported to work that morning they were afraid to go inside because of the large visible cracks that had appeared in the building's walls. But managers ultimately forced them inside, threatening to dock their wages for the month if they did not meet shipment deadlines imposed by the multinational apparel brands. Some workers were physically coerced to enter the building. That morning the conditions at the five Rana Plaza factories, which mostly employed teenagers sewing for companies like Walmart, Benetton, The Children's Place, and JCPenney, had transformed into a situation akin to forced labor. As a result, more than 3,000 workers were inside the building when it collapsed less than an hour later.
When I was 12, my family in Dhaka, Bangladesh, fell into poverty, and I started working in a garment factory. For years, I worked day and night among other exhausted children, some as young as eight. In the beginning I earned $6 a month, yet often worked 18-hour days in a chaotic, unhygienic, and unsafe environment. But that wasn't considered slavery.
These are only a few of the many examples of tremendously harsh working conditions that aren't counted in the 27 million number.
The Slavery Footprint helps consumers connect to the human cost of the goods they purchase and use every day. The word "slave" is a powerful word that focuses our attention on the severity of the situation in which many of the people who make globally traded goods find themselves. But it can also be disempowering, focusing on the person as a victim under someone else's control. The people who suffer what the site refers to as "modern-day slavery" are people, just like ourselves, trying to find a good job so they can support their families. They are men, women, and, sadly, children who want to work hard to create stable lives for themselves and their loved ones. But that is very hard to do in many places because of the way our global economy is structured.
Forced labor is one of multiple horrendous labor rights abuses that characterize global trade in the 21st century. The current profit model allowing over-the-top revenues for mega-companies is only possible by squeezing every cent up through the supply chain to feed the top. The people at the top get multi-million-dollar salaries and hundreds of millions in stock options, but everyone down the line suffers, and it is those in the most need that suffer most. Bangladesh is an economically impoverished country; people desperately need jobs, and so they seek out the jobs that Western-based companies are establishing here. But we need jobs that benefit both sides, providing well-made products in exchange for a decent wage and safe working conditions. This is not possible with the low-price, high-profit strategy that consumer-facing brands currently have.
Former slave Frederick Douglass wrote, "Power concedes nothing without a demand. It never did and it never will." Many workers, even those in the harshest conditions, do not remain passive victims. Many workers are standing up for change. And many labor organizers and solidarity activists are standing with those workers. Together we are making change, and it is through the sharing of our stories of struggle and success that we hope to inspire more people to join in collective action for human rights and labor rights.
At the time of writing, one of the things that Kalpona Akter is standing up for the demand that the apparel brands that did business with Rana Plaza pay the $9 million still owed to the survivors and families of those killed in the building collapse before April 24, 2015, the two-year anniversary of the tragedy. As part of this campaign, on March 12 Kalpona was arrested during a peaceful demonstration at The Children's Place's headquarters in Secaucus, NJ. She is currently asking for donations to the legal defense fund to support her and the other 26 charged activists. Kalpona also asks readers to join her in the Global Day of Action: Remembering Rana Plaza on April 24, 2015.