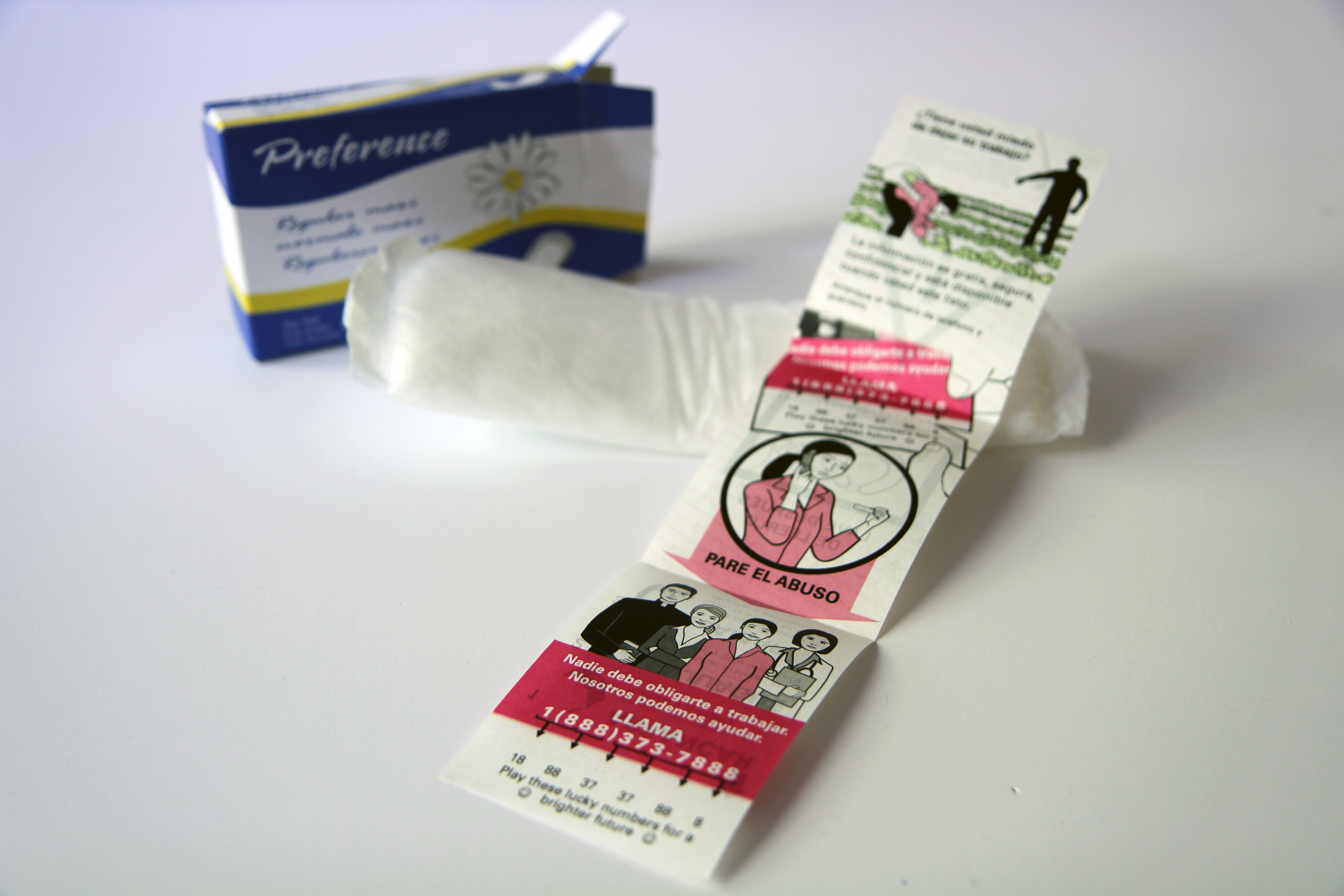 Pivot: Design Against Trafficking (Public Practice Studio)
From the curators: Human trafficking happens to men, women, and children of all ages, in many different industries and geographic locations. In 2009, the United Nations Office on Drugs and Crime reported that the majority–around 79%–of human trafficking worldwide concerns the sexual exploitation of women and girls. Trafficked women are rarely alone and so passing on information to them is difficult. The Public Practice Studio at the University of Washington, Seattle, attempts to confront this coercive violence via Pivot, a feminine hygiene product designed to communicate covertly that help is available. Sandwiched between Pivot's two sanitary pads–in a box with nondescript, functional packaging–lies a clear graphic illustration depicting how a trafficked woman wishing to seek help can do so. The telephone number for a national portal to services and counseling is located on a detachable slip on the insert, disguised as a fortune cookie message. Women can access this information during the one time they may be left alone by their captors–while using the bathroom–before flushing away all but the number for later, stealthy use. Pivot is designed to be distributed by shelters, doctors, and community centers. Public Practice Studio is led by Professor Tad Hirsch and, at the time Pivot was conceptualized, included Mike Fretto, Kari Gaynor, Josh Nelson, Adriel Rollins, and Melanie Wang–all students in the University of Washington's Division of Design. 
I'm a little girl dancing with butterflies in the garden. I hold a flower and lift up the corner of my tiny, floral-print summer dress while singing "Little butterfly where do you go?" I'm a typical 10-year-old girl who loves to play in the river, letting the current take me out to sea. Climbing to the top of an oak tree, looking down at what seems to be the bottom of the Earth, I reach out to grab the stars under the moonlight of the Indonesian night sky.
Everything is beautiful.
Everything is perfect.
Suddenly I awake. Not in a garden or by the banks of a river, and certainly not in an old oak tree. Not even in Indonesia. I find myself locked in a cold, dark room. Cigarette smoke burns my eyes. The smell of sweat on the sheet I lie on is repulsive.
From a dream to a living nightmare, in an instant.
Just months earlier my anxious fingers danced on the keyboard at the international bank where I worked. Then, my concern was the pulsing of the stock market's heart. Exchange-rate speculation and currency exchange kept me awake at night. Now what keeps me up is fear.
I'm not alone. I scan the room and notice many of the other trapped women are much younger than me. I'm no longer surprised to see their bruised faces, fresh wounds, and pale complexions due to untreated illnesses and malnourishment. One of the younger girls starts sobbing. There's nothing I can do; there's nothing anyone can do. Unlike her, I've learned to cry on the inside, keeping my tears for myself.
And the guns. My traffickers think the guns are what scare us, what keep us subservient. But for some of us a bullet would bring relief. At least death by bullet would offer a quicker, more humane death than the one we die slowly as sex slaves. Still the guns are a symbol of control, an illusion of power.
The humiliation I feel from strangers gazing at my naked body forces me back to the dream. The memories of dancing with those butterflies keeps me distracted, keeps part of me alive. When they put a gun to my head, I return to those butterflies, asking them to chase the fear away.
I feel so small.
I am nothing.
I am lost.
My life is over.
What have they done to me? Deprived of food, locked in darkness, barely clothed…I am powerless.
My nose is filled with the residue of the cocaine they've forced me to sniff, the lingering odor of marijuana smoke hanging in the air, and the bittersweet traces of the crack I was made to smoke. My throat burns with the taste of stiff, cheap whiskey—one of the only things they offer to nourish my weak body.
Sleep deprived and fading in and out of consciousness, I'm forced to serve any paying client—men old and young, fat and lean; their money unites them as buyers, reducing me to a commodity.
They throw me down on the dirty mattress; the stench of it has made me vomit more than once. Sometimes they turn me around and have their way with me; at least like this, I don't have to see the evil in their eyes. When I'm on my back, I blankly stare at the ceiling, allowing my tears to fall down the sides of my face while praying the clients finish quickly. I've become their human rag doll, one with a $30,000 debt.
When they're finished, I'm moved to another room; maybe it's a hotel or an apartment building. All I know is that my captors' routine is to transfer me under a cloak of darkness. Always at night when the city seems so quiet, so distant.
I wonder: How many others suffer this same hell? How many more were lied to? How many young women in New York are hidden away and forced to give up tiny pieces of their soul one trick at a time?
And then—a glimmer of hope. A spark of courage ignites something within me. I am determined. I will find a way out. I will find my way home.
From a tiny bathroom window in a second-story apartment building I jump. The fresh air. A split-second of freedom. I am that butterfly from my dreams.
I am free.