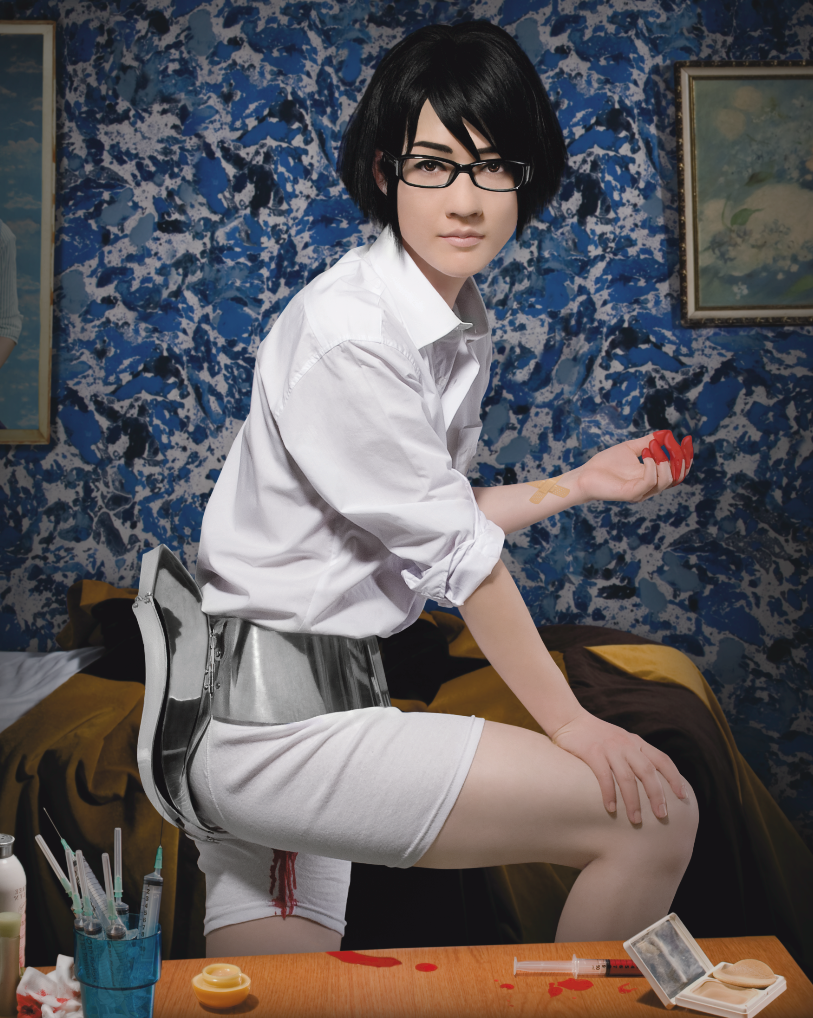 Menstruation Machine (Sputniko!)
From the curators: With Menstruation Machine, Sputniko! explores the relationship between identity, biology, and choice, while also probing the meaning of gender-specific rituals. The accompanying video is about Takashi, a young man who wants to understand on many levels, including the physiological, what it feels like to be a girl. Takashi builds the Menstruation Machine and wears it out on the town with a girlfriend, strutting around a shopping mall and occasionally doubling over in pain. The metal device, which looks like a chastity belt and is equipped with a blood-dispensing system and electrodes that stimulate the lower abdomen, replicates the pain and bleeding of the average five-day menstruation period. It is designed to be worn by men, children, postmenopausal women, or whoever else wants to experience menstruation. Thus an internal, private process is transformed into a wearable and manipulable design, a public display of pain and identity. Since the 1960s, advances in hormone-based contraception have, by suppressing ovulation, challenged the biological necessity of monthly periods. Sputniko! notes that the Menstruation Machine may be particularly desirable in a future in which menstruation in fact becomes obsolete.
The menstrual machine is the machine that produces all that is living. A body comes only from another body, or several. Every living thing has its own kind of blood, its own forms of circulation, nutrition, reproduction, sexuality, excesses. Everything bleeds, in its own way—even the Earth itself, as it creates new forms of land, new orders of sea. Volcanic blood, in this case. We can write and paint with blood, a congealing, tracing, supporting, oozing liquid. It may be, along with milk, what conditions all writing, and makes all art possible, even as it disappears or dries up in its support for the emergence of things. All of the universe is made of liquids, moving at slower or faster speeds, at lower or higher temperatures, and with greater or less force. This is how new planets and universes are created, bleeding minerals and energies from a great huge leak in space and time.
Menstrual blood leaks from a uterus, in developed primates at least. And in bats. Females leak menstrual blood. Freud claimed that it was the cause of women's shame and the trigger for their art-making, especially weaving, the uniquely female art, in his consideration. This blood leaks everywhere, infecting everything, every living being, with the marks of birth, the ties of lineage that connect and infect generations, that trace life. It is the blood that nests emerging life. We now have medications that can temporarily or permanently delay or prevent menstruation, a great boon in birth control, but also a fluid connection that is threatened with its chemical regulation. We still bleed in other ways, we still require to be brought into being, nested, nurtured, developed. Even with machines we need to continue our lives. Even machines bleed.
To hack is to infect, to overtake one program with another, one purpose, or trace, or path, with another. We had hacking long before we had written programs and long before there were humans: life is hacked, made from the infections, contagions, and crossings between unlike things which somehow come to inhabit or be inhabited by each other. Life is chemistry infected with a temporary coherence and cohesion. Which nevertheless leaks, sheds its inside and the surface of its outside now and then, which renews itself by exchanges, sometimes—often—violent, between what is inside it (whether it is a cell's inner structure or that of a complex living being's bodily organs) and what is outside it (a milieu or environment, one in which life and non-life participate without reciprocity). Life must live both sides of the boundary (skin, cell wall, carapace)—that enables it to exist in order for it to thrive, to enjoy, to expand, to make art. This is why leakage, hacking, are possible, and effective: the contamination of inside by outside, and vice versa, is creative, enhancing, estranging. It leads life beyond its boundaries to encounter things outside of itself, things that enhance or diminish it in particular ways. These encounters, infections, or hacks are the condition not only of life but of life living beyond itself, that is, a life capable of art, capable of feeling itself, sensing itself, not just acting or regulating itself.