When I was asked to propose a new learning format to MoMA, I suggested a café because I wanted to create a social space where meaning is made in dialogue, where objects can be touched, and where visceral knowledge is honored. MoMA Studio: Exchange Café is a social space dedicated to exchange, from unconventional encounters to barter and reciprocal economies. What follows is an explanation of some principles of the café, and how these principles could be extended to MoMA generally. (Be sure to read Part 1 of this series first.)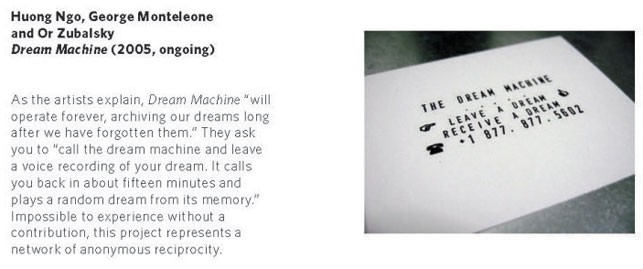 Long-term Experiments
This learning space features an Exchange Archive of works in MoMA's collection and beyond that focus on reciprocity and one-to-one exchange. For example, if the Archive reference work The Dream Machine (above) allows anonymous individuals to exchange dreams, and OurGoods allows individuals to barter art skills and objects, how could these networks carry goods internationally? The Feral Trade Courier takes the one-to-one transfer to a global scale, moving goods from hand to hand outside of commercial shipping channels. As Kate Rich, Feral Trade grocer asks, "What is the true load-bearing capacity of our social networks?"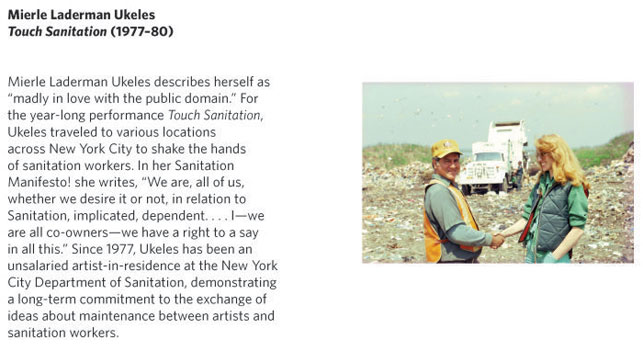 For another example, with Milk Not Jails, milk products are distributed only when farmers agree to a radical (as in, "getting to the root of the issue") policy agenda: opposing prison expansion as an economic driver. If Mierle Laderman Ukeles worked to give sanitation workers recognition in Touch Sanitation (above), Milk Not Jails pushes for recognition of dairy farmers that goes beyond visibility, advocating for policy shifts to support their livelihood. Lastly, if Ben Kinmont seeks an ethical exchange between participants and artists in his work I Need You, BeeSpace looks to research the (im)possibiity of ethical exchange in interspecies collaboration.
Social Spaces Take Time
Imagine if museums were places to rest, gather, and practice ways of belonging to one another. Exchange Café is a social space where children and adults climb on furniture without a second thought, where books can be touched without gloves, and where Fluxus works are understood in reperformance: Forest Purnell and Tychist Baker ask visitors to imagine snow falling and to let shadows touch. With the café as a learning format, education happens when people practice ways of being and belonging. It is my hope that more museums will make space for embodied, visceral knowledge. To do this well, the Exchange Café (and other projects of this nature) should be open to the public after work, and should exist as a reliable space for at least six months, if not a year.