MoMA's current exhibition, Claes Oldenburg: The Street and The Store, celebrates the early years of artist Claes Oldenburg's extraordinary career, when he experimented with painting and sculpture by reworking the stuff of every day into larger than life objects made with unexpected materials. Oversized sculptures like the plush Floor Cone (1962) and the papier-mâché "Empire" ("Papa") Ray Gun (1959) imbue viewers with child-like wonder—and at times, bewilderment—so it's fitting that Oldenburg's iconic duo of juicy cheeseburgers would grace the cover of MoMA's children's book, What is Contemporary Art? A Guide for Kids.
Oldenburg's Two Cheeseburgers, with Everything (Dual Hamburgers) (1962) may look good enough to eat, but as the book explains, they are in fact made of thick cloth covered in hard painted plaster. Authors Jacky Klein and Suzy Klein, a former museum curator and an arts and culture writer, go on to explain that Oldenburg "loves to make soft things in hard materials and hard things in soft materials." It's kid-friendly information that allows adults to have their own second looks at well-known works in MoMA's collection.
The book explores a wide range of iconic works from the past 50 years through inventive categories like "Getting Dressed," which groups together Joseph Beuys's Felt Suit (1970) and Vito Acconci's Adjustable Wall Bra (1990–91), and "Read All About It," which features artworks that employ wordplay, like Ed Ruscha's OOF (1962). Also included in the roster are Andy Warhol, Jackson Pollock, Roy Lichtenstein, Damien Hirst, and Louis Bourgeois, among others.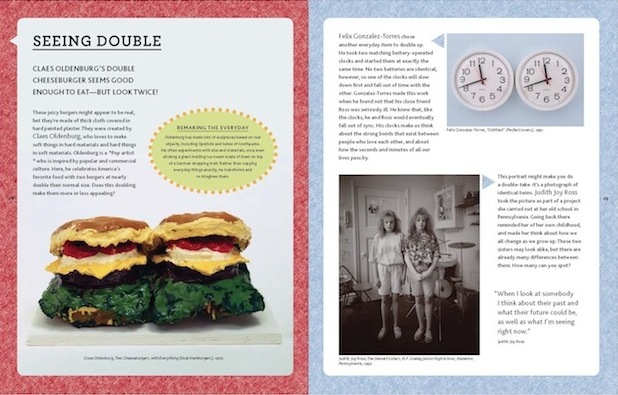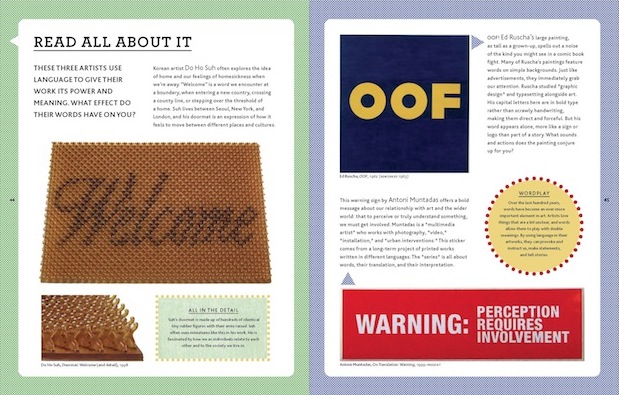 A short biography of each artist is included, along with prompts asking kids to think about materials and processes,  quotes from the artists, idea boxes that bring important contemporary art concepts to light, and a glossary of key art terms.
Whether for kids to explore on their own, or for grown-ups looking for some answers themselves, What is Contemporary Art? serves as a great introduction to contemporary art. Download a free PDF sample to check out chapters like "Bizarre Beasts" and "Playing Games."