There is hardly an introduction that does Vincent van Gogh's The Starry Night (1889) justice. It is one of the most recognizable and beloved artworks in the world, and for many MoMA visitors, it is the artwork to see—a celebrity perhaps signifying modern art itself. Yet despite its fame, few viewers are likely familiar with the story behind this unlikely masterpiece, one of the many nighttime paintings Van Gogh produced during his stay at a mental hospital in Saint-Rémy, in the south of France.
Now available for the iPad, MoMA's One on One series offers a sustained meditation on The Starry Night by art historian Richard Thomson that sheds light on the painting and transports readers to the environment in which it was created. In Thomson's engaging essay filled with vivid visual references and snippets of Van Gogh's personal correspondences, readers can catch a glimpse of the artist's complex inner workings and the thought processes that went into creating the nighttime scene.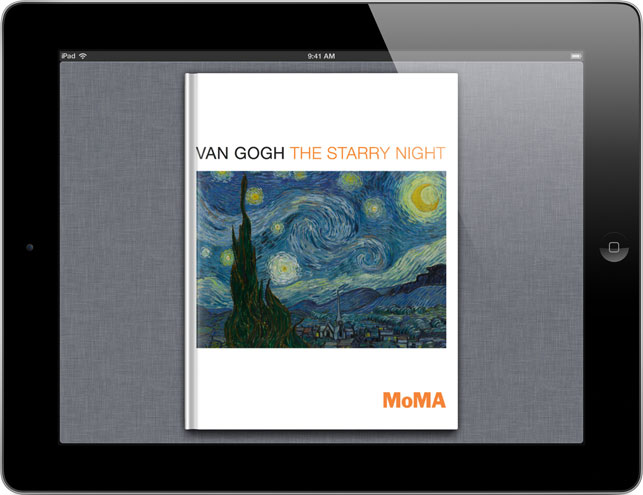 What's more, Thomson examines the physical circumstances behind The Starry Night, taking readers to the actual place where Van Gogh focused his attentions to the night sky, and highlighting the artist's technique and style. Thomson also considers other artwork that Van Gogh may have seen at the time, placing The Starry Night in a broader historical context.
For more on The Starry Night, visit the iBookstore to download a free sample, and check out the other One on One series book available for the iPad, Rousseau: The Dream, in which MoMA curator Ann Temkin illuminates Henri Rousseau's last major painting.