Five for Friday, written by a variety of MoMA staff members, is our attempt to spotlight some of the compelling, charming, and downright curious works in the Museum's rich collection.
Labor Day is in the rear-view mirror, and millions of children have been forced to say goodbye to the halcyon days of summer and trudge listlessly back to school. (Meanwhile, if YouTube is to be believed, tens, even hundreds of parents are doing stupid celebratory dances as the school buses pull away.) Well why shouldn't "Back to School" be a chilling refrain for these poor kids? At least in my public-school memory, we all spent six-plus hours a day losing feeling in our rear ends as we sat on mass-produced slabs of plastic or plywood. Desks, benches, pews…getting an education is invaluable, but school has traditionally involved a litany of physical discomforts. As these examples from MoMA's collection attest, the battle against numb-butt syndrome goes back at least a century.
Now take your seats, boys and girls…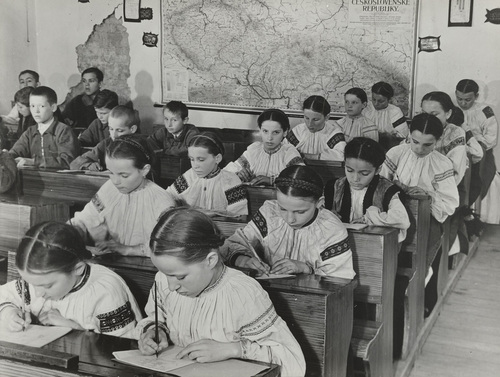 1. Margaret Bourke-White. Russian Language School, Carpatho-Ukraine. c. 1938
Margaret Bourke-White, on assignment for Life magazine in the Carpatho-Ukraine region (in what is now Ukraine), captured this image of life under a pew/desk-combo regime. Note the pleading eyes of the girl in the center of the photo, who is undoubtedly attempting to send Bourke-White a telepathic plea for a pillow or cushion.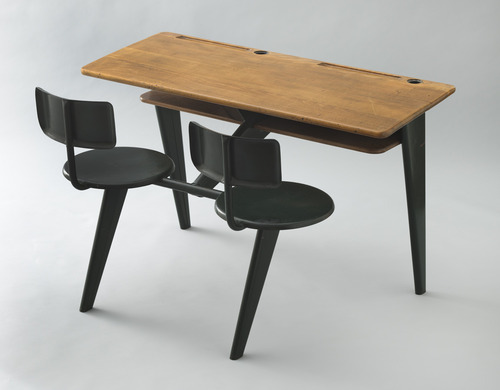 2. Jean Prouvé. School Desk. 1946
MoMA's current current exhibition Century of the Child: Growing by Design, 1900–2000 chronicles a century of design triumphs in the quest to better children's lives. Many brave artists have attempted to improve the school desk, including French designer Jean Prouvé, who's postwar two-seater succeeded, at the very least, in looking cool and maximizing material efficiency. As any high-schooler will tell you, looking cool is an acceptable substitute for physical comfort.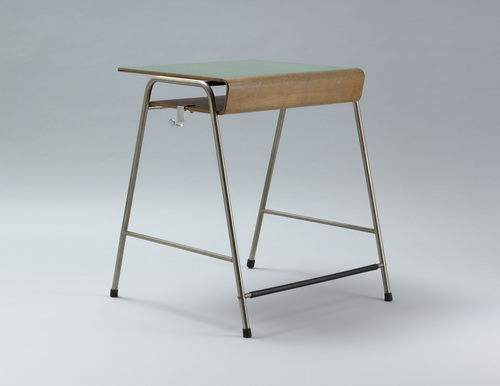 3. Arne Jacobsen. Munkegård school desk. c. 1950
Another example from Century of the Child, designed less than a decade later, Arne Jacobsen's minimal chromed-steel-and-plywood school desk is an obvious antecedent of the two-piece setup we had when I was in school—only without the sadism. An obvious aesthetic triumph, the Munkegård desk is also a step forward due to its lightweight construction and its ability, as an autonomous piece, to shift all the blame to whatever chair they stuck the kid in. (Just kidding; this line also included lightweight laminated beech chairs.)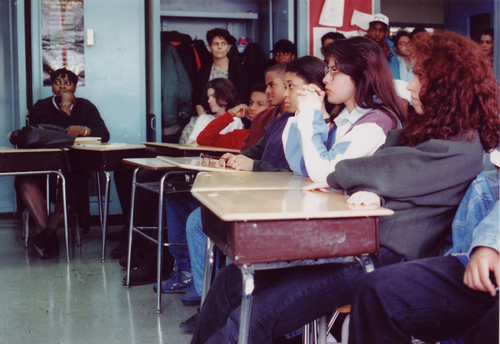 4. Frederick Wiseman. Still from High School II. 1994
Now this is exactly what I'm talking about! Made just two years after I graduated from high school, Frederick Wiseman's documentary High School II (a sequel to his 1968 original) is a trenchant exploration of contemporary furniture torture. Note the lack of smiles in this still from the film. Also note the hideous, confining desks—and you can just barely make out one of the dreaded bright-orange, molded-plastic chairs that haunted my youth.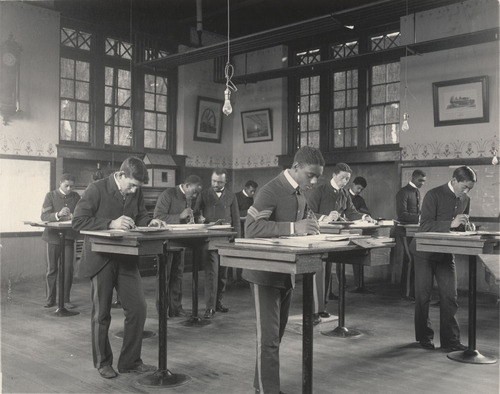 5. Frances Benjamin Johnston. Trade School: Mechanical drawing. 1899–1900
In 1899 Frances Benjamin Johnston was hired to photograph the students of the Hampton Institute, a vocational school in Hampton, Virginia, for an exhibition on African American life to be held at the 1900 Paris Exposition. What she captured in this photo, taken more than 110 years ago, is an act of protest that echoes through the ages. These brave soldiers would rather stand than submit to the tyranny of cheap materials and numb cheeks. Theirs is the spirit embraced by the forward-thinking designers we salute in Century of the Child, and I urge you to take up their cause. Get out of your uncomfortable seat and come see Century of the Child: Growing by Design, 1900–2000 before it closes on November 5.