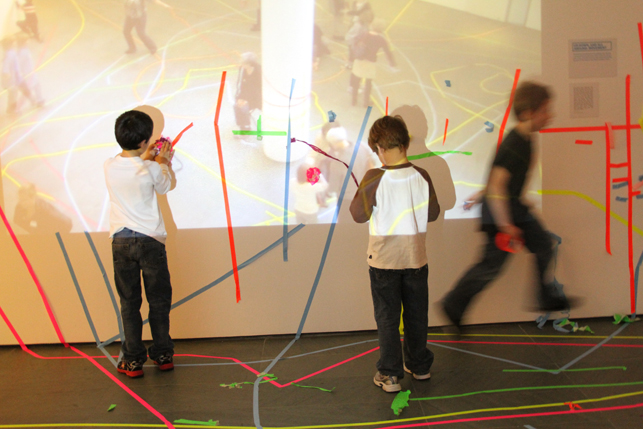 In a previous post I wrote about our Create Ability program for children and adults with learning or developmental disabilities, and the annual exhibition of work produced by these participants that was about to be installed. The exhibition has now come and gone—we very reluctantly took it down last week—but here in the Department of Education offices we are still buzzing about the exhibition's opening night reception.
On Friday, March 23, Create Ability participants gathered in The Edward John Noble Education Center to celebrate participants' artwork and share it with their loved ones. We were amazed to see people arriving in droves to attend the reception, and the mezzanine quickly filled up with laughter and excited chatter. Participants brought along their parents, siblings, teachers, and even extended family members who had commuted into the city from out of town. The joyful mood was heightened by music, food, and interactive activities throughout the space, including a movement exercise using neon tape that was integrated into the exhibition. Families posed for photos in front of their loved ones' artwork and artists introduced their guests to their Create Ability friends.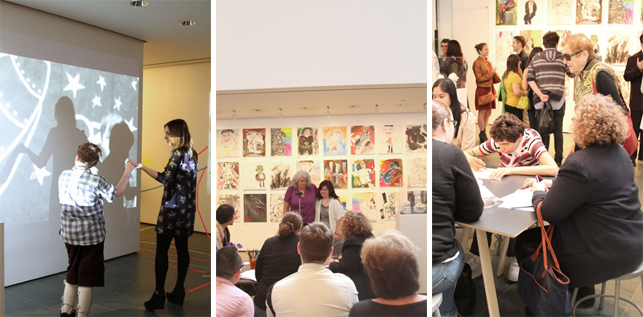 We paused the festivities to congratulate and thank all of the participants, then invited them up to the mic to share their thoughts on art, MoMA, or the Create Ability program. What we then witnessed was so thrilling and encouraging that we immediately regretted not videotaping the proceedings. The words that were spoken, through people's own voices or, in the case of those who are nonverbal, through the use of assistive technology like the iPad, reinforced our belief that individuals with disabilities desire challenges, opportunities to be creative, and the chance to grow. We kept hearing how these families desire access to new people and ideas, and how much they appreciated the safe and welcoming environment that this program provides. As people with disabilities often report that negative attitudes are the largest barrier they face in society, an environment of mutual respect and positivity can be transformative. As one mother later said, "The most important comment of the weekend was Victoria telling us that she wished Friday evening 'would never end' and her pride in sharing her work with so many members of her family…"
If you or anyone you know may be interested in joining us for the Create Ability program, visit our website or contact us at [email protected].