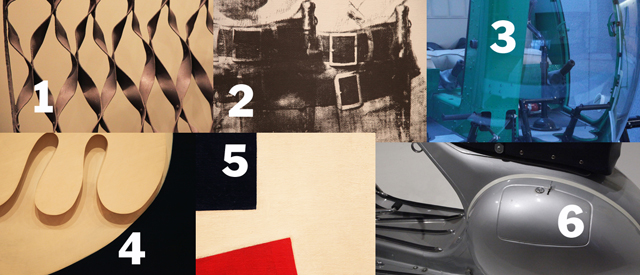 How well do you know your MoMA? If you think you can identify the artist and title of each of these works—all currently on view throughout the Museum—please submit your answers by leaving a comment on this post. We'll provide the answers—along with some information about each work—in two weeks (on Friday, March 4).
ANSWERS TO THE FEBRUARY 4 CHALLENGE:
Congratulations once again to Shin, whose quick commenting has taken two contests in a row. Do you have what it takes to capture the crown for the next two weeks?
<a class="noborder" https://moma.org/wp/inside_out/wp-content/uploads/2011/02/DYKYM_02-04-11-answer.jpg">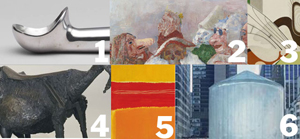 </a>
1. Sherman L. Kelly. Ice Cream Scoop.</i> 1935
2. James Ensor. Masks Confronting Death</a>. 1888</p>

3. Gerald Murphy. Wasp and Pear</a>. 1929</p>

4. Pablo Picasso. She-Goat</a>. 1950 (cast 1952)</p>

5. Mark Rothko. No. 5/No. 22</a>. 1950 (dated on reverse 1949)</p>

6. Rachel Whiteread. Water Tower</a>. 1998</p>

A special note of thanks to James Vickers, the originator of this column, who has taken a position at another venerable New York cultural institution. Best of luck, James!