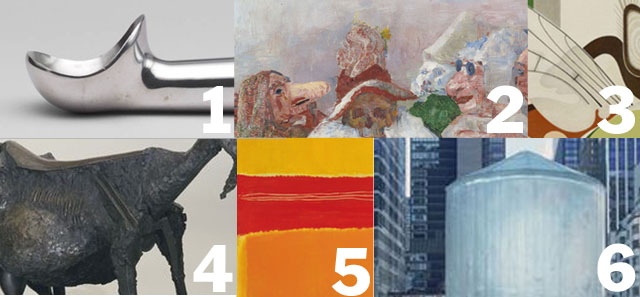 How well do you know your MoMA? If you think you can identify the artist and title of each of these works—all currently on view throughout the Museum—please submit your answers by leaving a comment on this post. We'll provide the answers—along with some information about each work—in two weeks (on Friday, February 18).
ANSWERS TO THE JANUARY 28 CHALLENGE:
Congratulations to Shin, who speedily identified all of the items in last week's challenge, with honorable mention going to Gul-Alice, who submitted full titles for each work. Good luck with this one!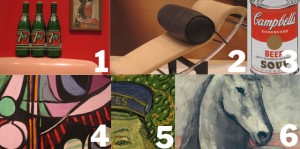 1. Tom Wesselmann. Still Life #30</a>. 1963</p>

2. Le Corbusier (Charles-Édouard Jeanneret), Pierre Jeanneret, and Charlotte Perriand. Chaise Longue (LC/4). 1928

3. Andy Warhol. Campbell's Soup Cans</a>. 1962</p>

4. Pablo Picasso. Girl before a Mirror</a>. 1932</p>

5. Vincent van Gogh. Portrait of Joseph Roulin</a>. 1889</p>

6. Pablo Picasso. Boy Leading a Horse</a>. 1905–06</p>