How well do you know your MoMA? If you think you can identify the artist and title of each of these works—all currently on view throughout the Museum—please submit your answers by leaving a comment on this post. We'll provide the answers—along with some information about each work—in two weeks (on Friday, February 4), along with the next Do You Know Your MoMA? challenge.
ANSWERS TO THE JANUARY 7 CHALLENGE:
We had another stumper last week, with no correct guesses. This time around we're taking it a little easier on you.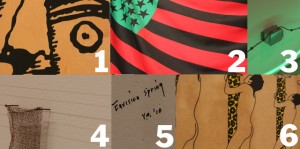 1. Sherrie Levine. Untitled (Mr. Austridge: 2). 1989. Casein on wood in artist's frame, 47 1/8″ x 27 1/8″ (119.7 x 68.9 cm). Committee on Painting and Sculpture Funds
2. David Hammons. African-American Flag</a>. 1990</p>

3. Keith Sonnier. Lit Circle. 1969–86. Synthetic polymer paint on circular glass, 70 3/4″ x 6′ 2 3/4″ x 18 1/4″ (179.6 x 189.9 x 46.4 cm). Gift of Murray Brant

4. Marisa Merz. Untitled (Stave)</a>. 1993. Copper wire, gold leaf on clay, and steel. Dimensions variable, Museum installation 10′ 5 3/4″ x 22′ 8″ (322.5 x 690.8 cm); clay 6 1/4 x 5 1/2 x 7 1/2″ (15.6 x 14 x 19 cm). Marcia Riklis Fund</p>

5. Yoko Ono. Whisper Piece</a>. 2010</p>

6. General Idea. The Dr. Brute Colonnade and Drop Ceiling Detail. 1975. Diazotype and enamel on acetate, craft paper. Sheet: 24 13/16 x 46 1/16″ (63 x 117 cm). Mary Joy Thompson Legacy Fund