Teaching artist Mark Epstein has been running our In the Making—On the Line workshops this fall. Through studio activities and in-gallery discussions, he and the teens have been exploring the different definitions of what a line can be, while looking at the various ways in which the artists in the Abstract Expressionist New York and On Line shows have tried to express themselves through this most basic of forms. For this journal, Mark gets in-depth about a very unconventional drawing activity that he created with his students.
-Calder Zwicky, Associate Educator, Teen and Community Programs
A central question driving my class is that of gesture—how can students explore the idea that a movement of our bodies translates into a parallel mark on a piece of paper or canvas? I thought about a variety of methods for showing the teens that each movement of their wrists or their arms would be visible in their final work. I realized very quickly that it was something that they would need to experience to fully understand. So at the beginning of class one day, I put out a huge array of unconventional supplies: cotton balls, rubber bands, dowels, latex gloves, wire, string, and dozens of other things. I gave each student a sheet of paper printed with the following challenge: On this table are a variety of things. Your task is to create your own drawing tool out of some of these materials—think about how to attach things to other things. An existing drawing tool, such as a pencil or piece of charcoal, should be a part of your new tool.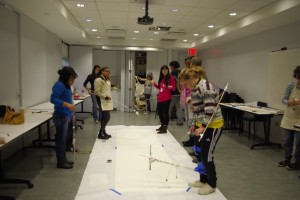 Students were advised that this tool should be designed to make marks and lines that they wouldn't make with just their hands or a pencil. The response from the class was extraordinary—everyone got to work immediately, tying together pieces of wood, trying out their tools, and then reconfiguring them if the results weren't up to par. After everyone had the general idea of their new drawing tool, I asked them to make sure that this new way of drawing somehow extended or exaggerated the movements of their bodies.
Tools were attached to arms, legs, and, at one point, a head. Limbs were extended by the tools such that the students couldn't control their pencils in the way they were used to—the weight of the tools they had built got in the way. We spent most of the class building, then the last half hour we put out large sheets of paper so students could continue testing their new creations.
The next week we set to work on using these new drawing tools to make a large collaborative mural on paper. I laid the paper on the floor and we pushed aside tables and chairs to make room for the artists to really be able to move around. Together as a group we came up with a plan of action that involved placing "emotion words" (anxious, silly, excited, etc.) around the perimeter of the paper to guide us in what kinds of marks to make where. Students started "drawing" four at a time; then other students stepped in to replace them when they wanted a chance to draw. We used pencil, charcoal, and ink with our new tools, and the result was amazing.
After stepping back to view the work for a few minutes and talk about it with the students, I asked them to work back into the drawing, this time without their new contraptions. We sat on the floor of the studio and made new kinds of marks with fine-line markers, working to complicate the visual impact of the piece by providing much smaller, more intricate marks.
Often to learn about how something is made, you have to make it for yourself—and at the end of this process, the teens really understood how your body's movements can be responsible for making an incredible array of different marks and lines. In our final conversation about the mural, we talked about choreography and dancing, how working on such a large surface with these funny tools attached to our bodies felt like being in character, and how it freed everyone up to move in ways they wouldn't have otherwise.
Applications for Spring 2011 Museum Studies, Art and Science of Conservation, and In the Making Classes are available now at MoMA.org/momateens. Classes are offered free of charge and are open to all NYC high school students.