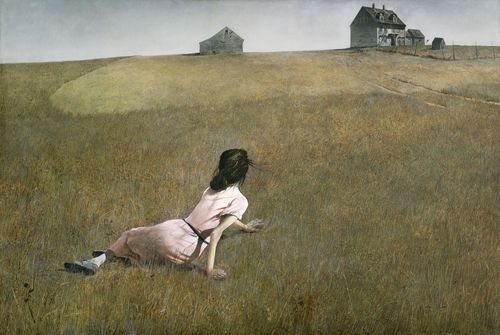 Before I read MoMA's new publication Contemporary Chinese Art: Primary Documents, if someone had asked me to identify a painting from MoMA's collection that was of central importance to a generation of artists emerging from the Cultural Revolution in China, I'm pretty sure I would not have picked Andrew Wyeth's Christina's World.
Over my years working at the Museum, I have come to know Wyeth's canonical painting, which I see at least once a week, quite well. But what I didn't know, and what I couldn't have known until the appropriate texts were translated into English and made available in the new volume, is its connection to a group of Chinese artists in the early 1980s.
This topic is explored in a section of the publication that the editor, Wu Hung, titled "New Directions in Realist Painting," and particularly by artist Ruan Xudong, who described Wyeth's canvas in his text "Contemplative Painting":
On the opposite side of the Pacific Ocean, in America, there was a young girl who suffered from polio. On a withering meadow in winter, situated in the barren field, she crawls toward a faraway house on the horizon. Even from her back one reads hope and aspirations. She clenches her teeth, parts the overgrown thickets, and crawls toward her destination…. This is Christina's World by the American oil painter Wyeth.
He explains that toward the end of the 1970s and in the early 1980s, a group of artists emerging from the Cultural Revolution in China were seeking new forms of realism in a movement referred to as "Contemplative Painting." Their goal was to break away from the formal characteristics and subjects of Socialist art without rejecting realism itself. To establish this new aesthetic, the artists sought models in Western modernism, which they could now access through the foreign art journals that were increasingly available on mainland China.
It seems that Wyeth's so-called pensive paintings held particular resonance for these artists. Ruan noted that they perceived Wyeth's aesthetic as "more velvety and steady than current Soviet Russian style. Thus, it serves as an excellent example for us to learn from."
What interested me most about this text was how Christina's World was reinterpreted in China over thirty years after it was made. And it subsequently provided a working model for artists such as Ruan to push their practice in a new direction.
For me, this serves as a good reminder that works of art have no single mode of interpretation; rather, they are open to multiple readings and can serve as propositions and provocations for audiences and artists throughout time and across the globe.