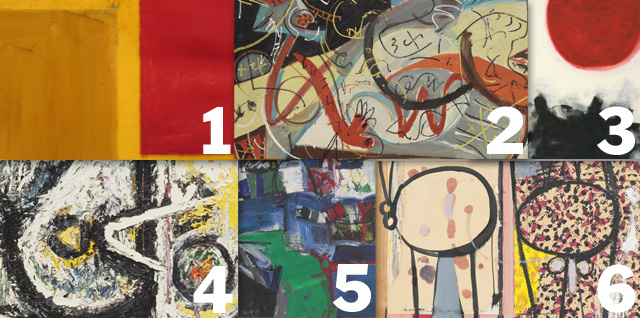 How well do you know your MoMA? If you think you can identify the artist and title of each of these works—all currently on view in the Museum as part of the Abstract Expressionist New York exhibition—please submit your answers by leaving a comment on this post. We'll provide the answers—along with some information about each work—in two weeks (on Friday, October 22), along with the next Do You Know Your MoMA? challenge.
ANSWERS TO THE SEPTEMBER 24 CHALLENGE:
Congratulations to last week's winner, Claire, who posted the correct answers on Facebook. Several other commenters had the right guesses, but Claire was pretty fast on the draw.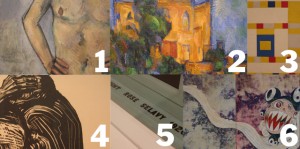 1. Paul Cézanne. The Bather. 1885

2.  Paul Cézanne. Château Noir. 1903-04

3. Piet Mondrian. Broadway Boogie Woogie. 1942-43
4.  Käthe Kollwitz. The Parents (Die Eltern) (plate 3) from War (Krieg). 1921-22, published 1923
5.  Marcel Duchamp. Fresh Widow. 1920
6.  Takashi Murakami. 727. 1996