Five for Friday, written by a variety of MoMA staff members, is our attempt to spotlight some of the compelling, charming, and downright curious works in the Museum's rich collection.
When the first newspaper comic strips appeared in the 1890s, arbiters of "high culture" derided the medium as sub-literate pablum for the masses. Yet despite the (elitist, borderline-xenophobic) hand-wringing of the highfalutin set, comics quickly captured America's heart—and the imagination of generations of artists. MoMA's collection provides an eye-opening look at the medium's evolution as an art form and an inspiration, from smudgy newsprint to Pop art to postmodern deconstruction. And so, in honor of the thousands of nerds pouring into town for next week's New York Comic Con…
MoMA Visits the Comics Section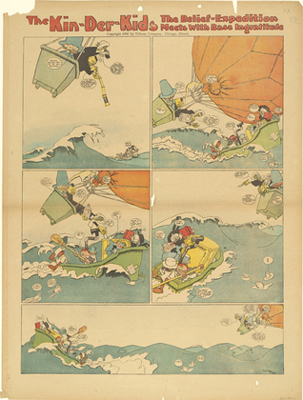 1. Lionel Feininger. The Kin-der-Kids: The Relief-Expedition Meets with Base Ingratitude from The Chicago Sunday Tribune. July 15, 1906
Along with Winsor McCay (Little Nemo in Slumberland) and George Herriman (Krazy Kat), Feininger kicked off the first revolution in comics art by combining master draftsmanship with visual daring and an utter disregard for the traditional confines of the panel.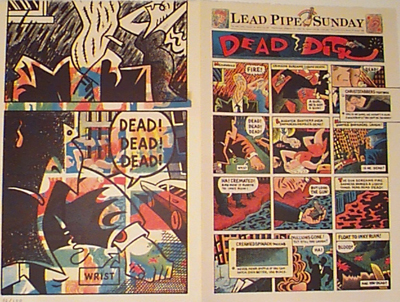 2. Art Spiegelman. Lead Pipe Sunday. 1989
Jump ahead some eighty years and you'll encounter another of the medium's visionaries, "underground comix" pioneer Art Spiegelman. Spiegelman, the longtime editor of the pioneering comics anthology RAW, was also the artist behind Maus, the first graphic novel to win a Pulitzer Prize.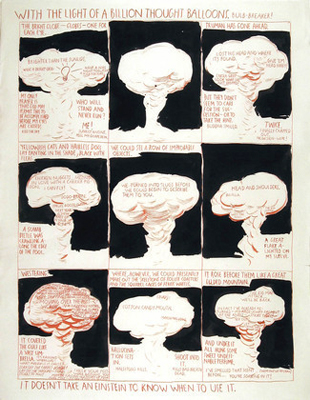 3. Raymond Pettibon. No Title (With the Light…). n.d.
Perhaps drawn by the medium's "lowbrow" reputation, the ever-prolific Pettibon frequently brings his punk aesthetic and caustic humor to comic-inspired drawings. Here, "with the light of a billion thought balloons," he turns comics' traditional form of internal monologue into a visual riff on nuclear destruction.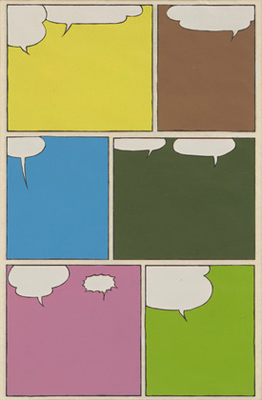 4. Rivane Neuenschwander. Zé Carioca no. 4, A Volta de Zé Carioca (1960). Edição Histórica, Ed. Abril. 2004
Neuenschwander (in a work that was featured in MoMA's Comic Abstraction exhibition) reproduced pages of a Disney comic originally published for the Latin American market, painting in a single background color and draining word balloons of any content. The result is a comic book reduced to only its most basic elements.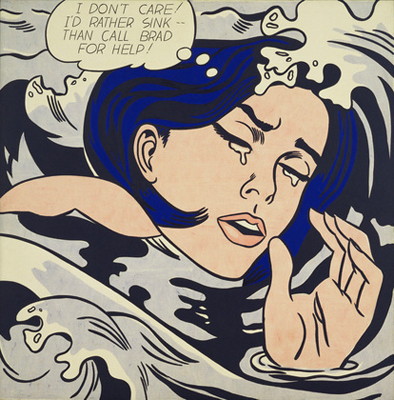 5. Roy Lichtenstein. Drowning Girl. 1963
You can't talk about comic books in modern art without mentioning Roy Lichtenstein, who frequently appropriated comic-book imagery and printing techniques (primary colors, Ben-Day dots, etc.) to create his iconic Pop art masterpieces.
Have a great weekend, and don't forget to read the comics section on Sunday!