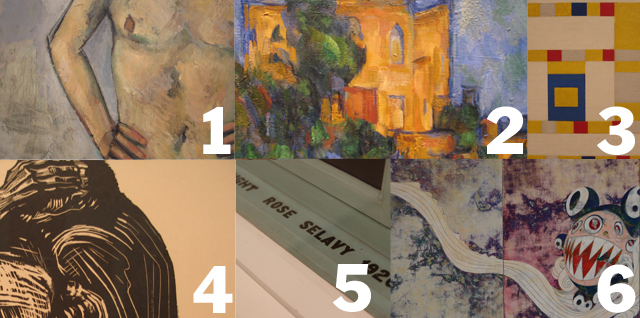 How well do you know your MoMA? If you think you can identify the artist and title of each of these works—all currently on view in the Museum—please submit your answers by leaving a comment on this post. We'll provide the answers—along with some information about each work—in two weeks (on Friday, October 8), along with the next Do You Know Your MoMA? challenge.
ANSWERS TO THE SEPTEMBER 10 CHALLENGE:
Congratulations to Nettrice, the first person to correctly identify last week's clues. A small clue for this week: All of these works are currently on view in the Museum, but one of them isn't installed in the fifth-floor Painting and Sculpture Galleries. Good luck!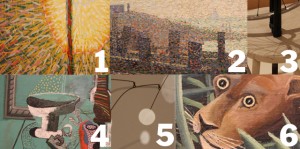 1. Giacomo Bella. Streetlight</a>. c. 1910–11</p>

2. Georges-Pierre Seurat. Evening, Honfleur</a>. 1886</p>

3. Marcel Duchamp. Bicycle Wheel</a>. New York, 1951 (third version, after lost original of 1913)</p>

4. Pablo Picasso. Green Still Life</a>. Avignon, summer 1914</p>

5. Alexander Calder. Snow Flurry, I</a>. 1948</p>

6. Henri Rousseau. The Dream</a>. 1910</p>