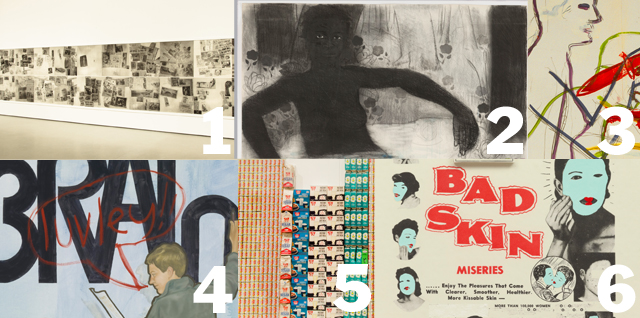 How well do you know your MoMA? Above are images of works from the MoMA collection that are currently on view throughout the Museum. If you think you can identify the artist and title of each work, please submit your answers by leaving a comment on this post. We'll provide the answers—along with some information about each work—in two weeks (on Friday, July 30), along with the next Do You Know Your MoMA? challenge.
ANSWERS TO THE JULY 2 CHALLENGE:
Another stumper! For the second time running, Do You Know Your MoMA? proved a bit too difficult, with two people correctly identifying one artist each. A case of the summertime blues, perhaps?
1. Kara Walker. Gone: An Historical Romance of a Civil War as It Occurred b'tween the Dusky Thighs of One Young Negress and Her Heart</a>.1994 </p>

2. Simon Hantaï. Untitled (Suite Blanc). 1973

3. Melvin Edwards. Sekuru Knows from the Lynch Fragment series. 1988

4. Pino Pascali. Bridge. 1968

5. Robert Mapplethorpe. Triptych: Self-Portrait</a>. 1972 </p>

6. Gordon Matta-Clark. Bingo</a>. 1974 </p>