Congratulations to the teens from the MoMA Teen Voices Project for their hard work on the website PopArt, which recently won a People's Voice Webby in the Art category. The Teen Voices Project (formerly the Youth Advisory Council), a group of sixteen students from New York City high schools, collaborated with MoMA Staff to design the interactive site.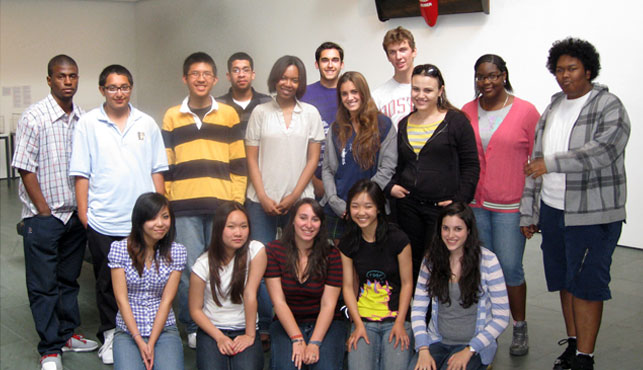 Faced with the challenge of creating an educational resource that other teens could use to engage with MoMA, the team started by learning about and analyzing existing interactive educational activities, websites, and technology-based communication projects. After countless debates on the purpose of education, the coolest parts of MoMA, and strategies to make MoMA more accessible to teens, the team identified a vision for their project: to create an online tool for people of all ages to interact with and respond to modern art, to reveal unexpected connections between works of art, and to trust in their own "gut" feelings about art.
The students put their ideas to paper and came up with distinct elements for a website project that included social media functions, virtual tours, and online collection activities. After presenting their ideas to staff at the Museum, they began working with Amelle Stein from RenderMonkey and MoMA's Digital Media staff to take their ideas and make them a reality. Many months, numerous debates, and several revisions later, the team had focused in on the idea of an interactive tool to navigate MoMA's extensive collection—and PopArt was born!
The teens explain the project in this short video created by artists and educators Alan Calpe and Huong Ngo, with assistance from participants in MoMA's Teen Voices Project:
PopArt was inspired by a few projects the team experienced on-site and online, and we'd like to give props to them:
Jonathan Harris's I Want You to Want Me, which was on view in the Design and the Elastic Mind exhibition in 2008. Mr. Harris met with the students to talk about this project and his many others.
A visit to NYU's center for the "recently possible," known as the Interactive Telecommunications Program. The team got an inside look at this amazing graduate program.
Brooklyn Museum's Tag, You're It! Project.
MoMA's Community and Access touch tours and visual descriptions with Associate Educator Carrie McGee, Family Guides, and other MoMA Teens projects.
The site was developed by our pals at RenderMonkey (who have created other exhibition sites, including Color Chart, Paper: Pressed, Stained, Slashed, Folded, and William Kentridge: Five Themes.
Thanks to Don Buckley at the Columbia School, Beth Harris at MoMA, and the interns and staff throughout MoMA that helped out along the way. Special thanks to Associate Educator Marit Dewhurst, who has inspired these students for a couple of years and is probably their favorite person at MoMA, and Amelle Stein and Sas Appajosyula from Render Monkey, who took the students' initial designs and turned them into digital awesomeness!