Many of MoMA's employees aren't just guardians of the Museum's collection: they are artists in their own right, and have found inspiration for their own work through their engagement with artwork shown at MoMA. Our jobs do sometimes force us to hurry by breathtaking works, with no time to let their power wash over us.  But at other moments—whether retouching a paint job, placing a wall label, or installing a work of art—we find ourselves alone, in empty galleries, confronted with some of the greatest works of art made in the last century. This new series of blog posts will focus on a few of MoMA's many employee/artists, and will address the ways in which they have incorporated their daily work experiences into their own artistic processes.
As Production Manager in the Museum's department of graphic design, Claire Ellen Corey produces various components of many of MoMA's exhibitions, installations, and marketing campaigns. Outside of her duties at MoMA, she's also a painter, a practice that has been informed time and again by all she has learned within the Museum. In fact, Corey combines techniques of painting and the tools of graphic design to create her multilayered paintings, ultimately producing her final image on an ink-jet printer.
Last summer, Corey was amazed to read in the catalogue for the exhibition Monet's Water Lilies that painter James Rosenquist had created his monumental F-111, which first extended around all four walls of the Leo Castelli Gallery in 1965, partly in response to Claude Monet's encompassing, large-scale Water Lilies paintings.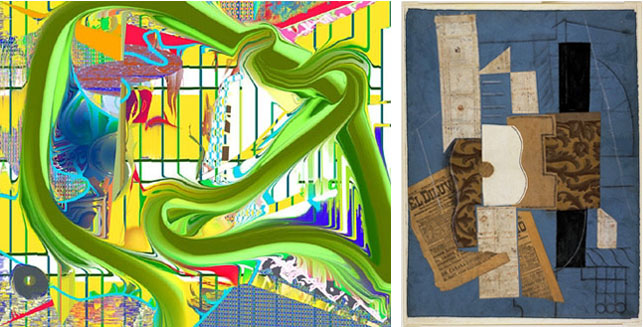 Corey's paintings have long held evidence of her engagement with MoMA's collection and exhibition program. Working on MoMA's 2003 exhibition Matisse Picasso brought her deep into Picasso's thinking in the early 1910s, when he began to use collaged paper in his work as a means through which to challenge traditional illusionistic space.  "You think you know Picasso, but then you always discover something else," Corey explained of her interest, and her experience.  Simultaneously, Corey was readying a group of her own paintings, including 3Z2E29, for a 2004 exhibition in Atlanta, Georgia. She was astounded when an Artforum reviewer remarked that this group of paintings "suggests the patterned wallpaper collaged onto the surface of Picasso's or Braque's Cubist canvases."
Though she had not deliberately reference Picasso in her paintings, she agreed with the reviewer that the link was there.  "It creeps into my work without me ever thinking about it," Corey has said of her artistic dialogue with MoMA's collection.
Other projects for MoMA have led Corey's own art into dimensions completely new to her. Inspired by the current exhibition William Kentridge: Five Themes, as well as Pixar: 20 Years of Animation in the winter of 2005–06, Corey has begun to create animations that begin with her paintings. She's also produced a project for billboards—something she would never have known how to accomplish without her work in MoMA's graphic design department.
</div>