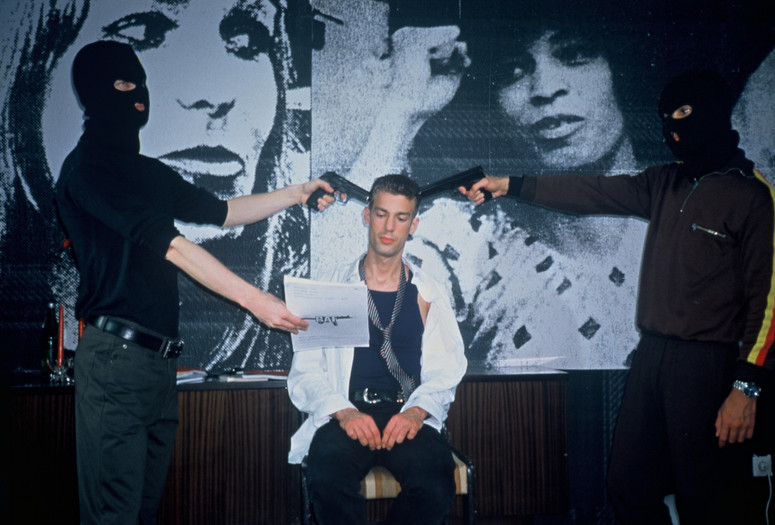 The Raspberry Reich. 2004. Germany. Directed by Bruce LaBruce. 90 min.
Cinematography by James Carman. With Susanne Sachsse, Daniel Bätscher, Andreas Rupprecht, Dean Monroe, Anton Dickson. In LaBruce's mercilessly funny lampoon of terrorist chic, a group of leftist German radicals plot to kidnap the son of a wealthy banker, just as the Red Army Faction captured industrialist Hanns-Martin Schleyer and held him for ransom in 1977. The plot thickens when Gudrun, the leader of the cabal, proclaims that her straight male comrades must shake off the chains of heterosexuality. Against a backdrop of walls adorned with pinups of Che Guevara and Ulrike Meinhof, she orders them to sleep with one another as proof of their commitment to the struggle, and soon all the rebels become willing combatants on the battleground of the bedroom. Pulsing with slogans for the homosexual intifada—THE REVOLUTION IS MY BOYFRIEND, MADONNA IS COUNTERREVOLUTIONARY, HETEROSEXUALITY IS THE OPIATE OF THE MASSES—and drawing liberally on the tropes of both porn and propaganda, The Raspberry Reich is a smart and steamy bit of re-education.
Give Piece of Ass a Chance. 2007. Canada. Directed by Bruce LaBruce. 14 min.