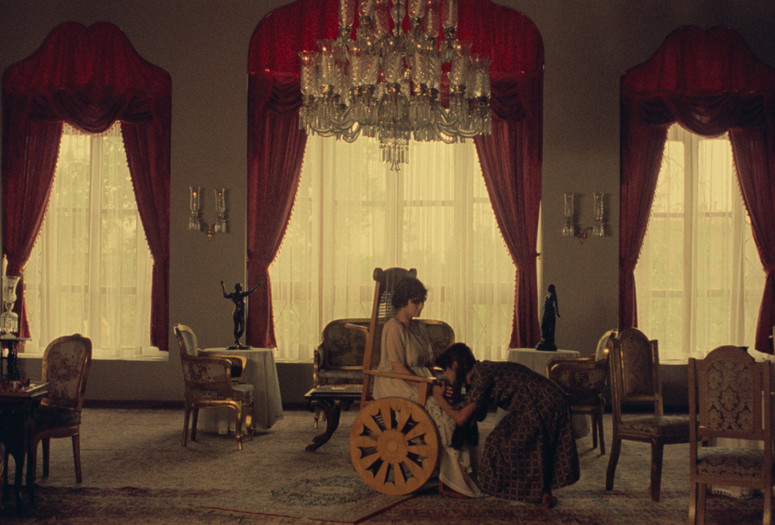 Jaam-e Hassanlou (Hassanlou Cup). 1966. Iran. Directed by Mohammad Reza Aslani. Digital restoration. US premiere. In Persian; English subtitles. 21 min.
Mohammad Reza Aslani's short film narrates the story of the 10th-century mystic Mansur Al-Hallaj over images of a recently unearthed 3,200-year-old gold vessel.
Shatranj-e Baad (Chess of the Wind). 1976. Iran. Written and directed by Mohammad Reza Aslani. With Fakhri Khorvash, Shohreh Aghdashloo, Shahram Golchin, Mohamad Ali Keshavarz. Digital restoration courtesy Janus Films, restored by The Film Foundation's World Cinema Project and Cineteca di Bologna at L'Image Retrouvée laboratory (Paris) in collaboration with Mohammad Reza Aslani and Gita Aslani Shahrestani. Restoration funding provided by the Hobson/Lucas Family Foundation. In Persian; English subtitles. 100 min.
One of the most sensational rediscoveries of pre-revolutionary Iranian cinema, Mohammad Reza Aslani's mesmerizing debut feature Chess of the Wind is a Gothic tale of feudal intrigue, set in an early-20th-century mansion after the death of a noble family matriarch. Like other doomed dynastic lines, such as the House of Atreus and the House of Usher, the family's fate is inscribed in the mansion's labyrinth of claustrophobic rooms—a microcosm of Iranian society's pervasive corruption and decay and the chronicle of a revolution foretold. The film was long believed lost after its only screening at the 1976 Tehran International Film Festival—where audiences and critics largely failed to appreciate its prescient forebodings—and it was only recently brought back to light thanks to a 2020 restoration by the World Cinema Foundation. Among its many pleasures is a remarkably eerie score by Sheyda Gharchedaghi, one of the most accomplished and prolific (female) film composers of the 1960s and 1970s.