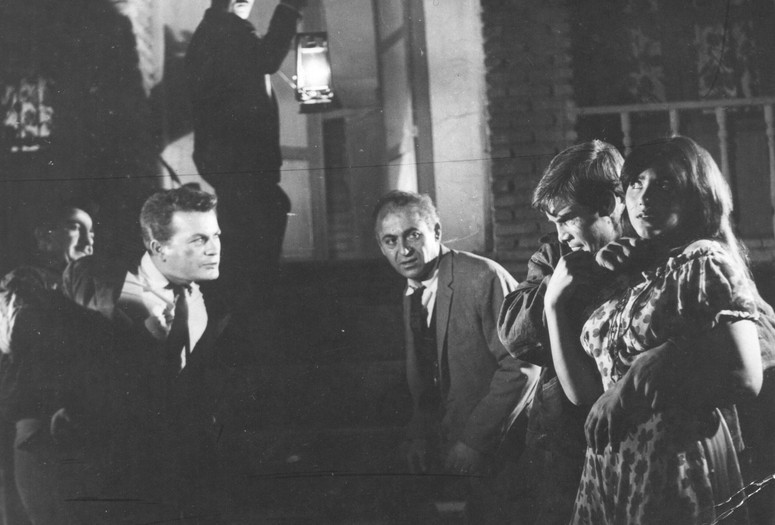 Persian Story. 1952. Great Britain. Directed by Ralph Keene. 16mm courtesy British Film Institute. 20 min.
Persian Story is a British propaganda film made following the nationalization of the Iranian oil industry and the expulsion of the British from the country. The film was meant to be written by the Welsh poet Dylan Thomas but, after a trip to Iran during which he met outspoken and courageous artists like the filmmaker Ebrahim Golestan (who can be spotted in the film, reading a book), he bailed on the project, decrying the shocking injustices he observed in forceful letters to his wife back home.
Zarbat (Strike). 1964. Iran. Written and directed by Samuel Khachikian. With Arman, Abdollah Bootimar, Ghodsi Kashani, Reza Beik Imanverdi. Digital preservation courtesy Cineteca di Bologna. US premiere. In Persian; English subtitles.. 95 min.
Strike is the story of a destitute married man (played by Khachikian regular Arman) whose daughter falls victim to the predations of a corrupt colleague and the doctor who is treating his terminally ill wife. One of Samuel Khachikian's most morbid thrillers, the film actually begins as a melodrama in which most of Iranian cinema's clichés of class conflict are introduced. Almost halfway into the film, however, Khachikian shifts to a meticulously designed spectacle of terror. Characters move into a dark territory of murder and mistaken identities, the house itself becoming the stage on which perverse pleasures are acted out.