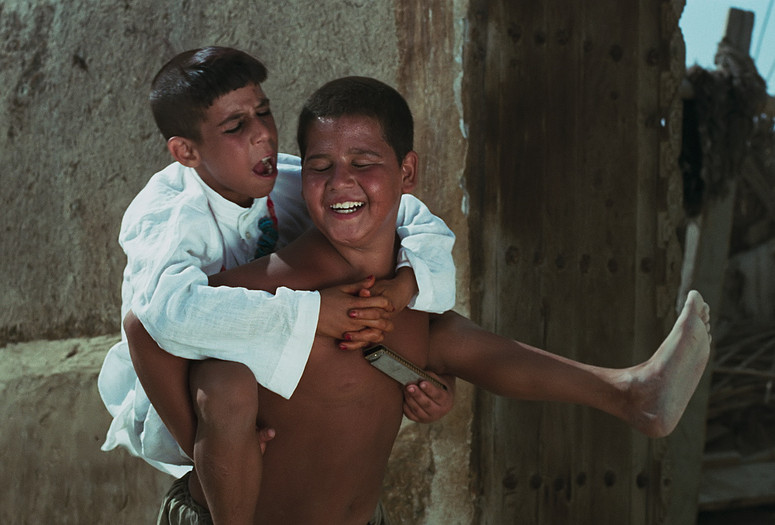 Saaz Dahani (Harmonica). 1973. Iran. Written and directed by Amir Naderi. With Masoud Goodarzi, Mehdi Javadi, Shahla Darvishi. Digital restoration courtesy MK2. US premiere. In Persian; English subtitles. 75 min.
Entezar (Waiting). 1974. Iran. Written and directed by Amir Naderi. Digital restoration courtesy MK2. No subtitles necessary. 46 min.
Writer-director Amir Naderi presents new digital restorations of Harmonica (US premiere) and Waiting (world premiere). Harmonica (edited by New Wave director Sohrab Shahid Saless of A Simple Event and Still Life) is both a political metaphor about exploitation and a terrific film about obsession, with some of the finest cinematography to come out of the sun-drenched, colorful south of Iran. The film tells the story of a boy in love with a shiny Japanese harmonica, a surrogate for Naderi's own childhood infatuation with a Western object: cinema. The mid-length Waiting is about an ice-delivery boy who falls for a girl, though he's only seen her hands. Showing Naderi at the peak of his purely visual storytelling, this nearly silent film was edited by veteran New Wave documentarian Kamran Shirdel. The two films document Naderi's deft move from gritty street dramas and crime films in the early 1970s to an immensely creative period at Kanoon, the celebrated government agency that brought culture and literacy to children and young adults in Iran, where this former photographer used his keen visual aesthetic to tell impressionistic stories of repression and rebellion.