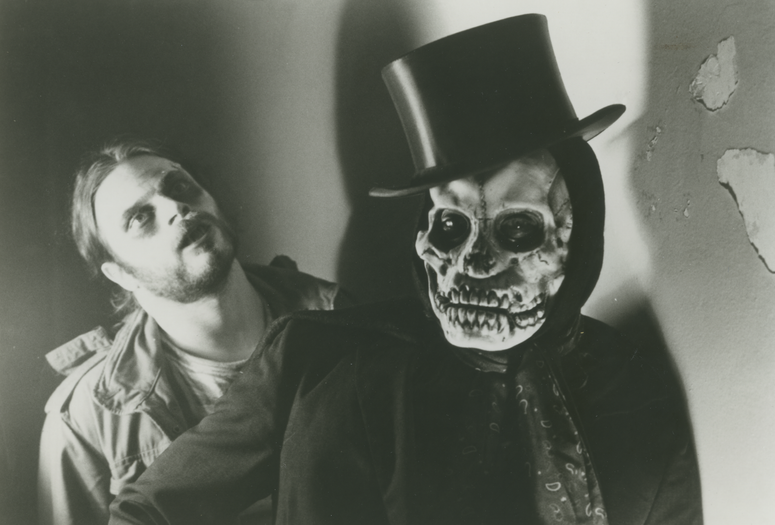 Shadows in the City. 1991. U.S.. Directed by Ari Roussimoff. With Craig Smith, Bruce Byron, Annie Sprinkle, Jack Smith, Taylor Mead. 16mm. 115 min.
A story of suicidal obsession, conceived as a work of "contemporary horror," Shadows in the City was the last major work of New York's 1980s No Wave film scene. Shot over seven years in Manhattan, Brooklyn, and Queens, painter-performer Ari Roussimoff's only fiction feature captures the urban desolation of the city in the decade before gentrification. This definitive work of "outsider cinema" boasts a who's who of local cult figures, including Bruce Byron (star of Kenneth Anger's Scorpio Rising), Taylor Mead, Annie Sprinkle, Joe Coleman, Nick Zedd, Kembra Pfahler, Valarie Caris, Catfish Hayes, Clayton Patterson, the Hell's Angels, and, in their final screen appearances, Jack Smith and documentary filmmaker Emile de Antonio.
Following limited screenings at New York's Millennium, Angelika, and Bleecker Street theaters, the film was presented as an "expanded cinema" event with live performance at the Limelight dance club in 1992, and later in Germany and the Netherlands, before disappearing when Roussimoff became "preoccupied with other things." Out of circulation for 30 years, this original 16mm release print is being presented one last time before the Museum begins digital restoration.
Heavily influenced by the German Expressionist films Roussimoff saw at MoMA and in repertory screenings in the 1960s and '70s, Shadows is a strung-out mashup of noir art film, Neorealism, and the carnivalesque that plays out in a series of scripted and improvised scenes. Upon its release, the Russian-born Roussimoff was dubbed "dean of the disenfranchised" by the underground press, with Downtown magazine describing Shadows as a "combination dagger-in-the heart and pie-in-the face of the official counter culture." The film's documentation of New York's physical and cultural landscapes of the 1980s is more arresting now than ever.
On Thursday, October 5, Roussimoff and the film's art director, Clayton Patterson, will present the screening in conjunction with the publication of Patterson's In the Shadows: The People's History of New York City Underground Tattooing.