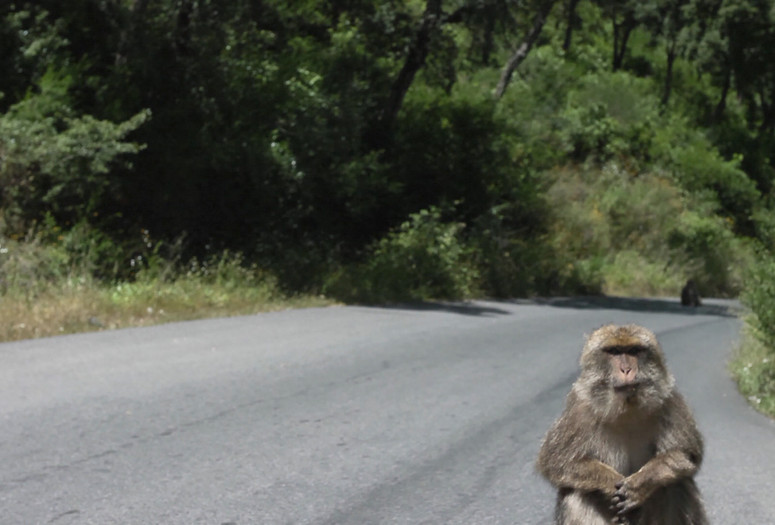 Solemn, symbolic, yet highly expressive, Holy Days is a meditation on life cycles. A string of vignettes driven by gestures and sound, with minimal dialogue and narrative, the film can be described as performative. But what is being performed? For Mari, nothing less than the porous borders between human, animal, and earthly consciousness. The director's enduring play with language manifests here as a more transcendent staging of communication. Extreme camera angles turn the natural into the extraordinary; a mule's bray becomes gargantuan and chicken feeding is an uncanny dance of claws. The film culminates in a man digging his own grave and singing his own lament, in which the lines between mourning, salvation, and delirium are not so clear cut. Anri Sala's rhapsodic video Long Sorrow, a compact allegory featuring a free jazz saxophonist's dizzying solo atop a disused Berlin apartment block, opens the program in one of the series's carte blanche selections.
Long Sorrow. 2005. Albania. Directed by Anri Sala. With Jemeel Moondoc. 13 min.
Holy Days. 2019. Algeria/France. Directed by Narimane Mari. With Michel Haas, Bilio Kaliakatsou, Julia Hilmer, Saadi Ikhelfoun. Ikhelfoun. Score by Antoine Morin, Boualem Hammouche, Florent Fournier-Sicre. No dialogue. New York premiere. 40 min.