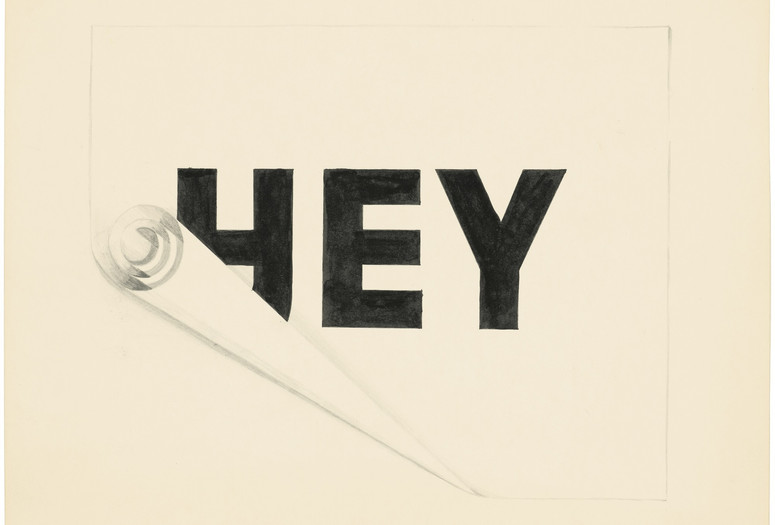 Please join us for The Museum of Modern Art's bimonthly program welcoming individuals who are Deaf or hard of hearing to participate in an ASL–interpreted private gallery talk focusing on one of MoMA's exhibitions, along with a wine-and-snack reception.
In October, we will explore the exhibition ED RUSCHA / NOW THEN. Artist Ed Ruscha has recorded and transformed familiar subjects—whether roadside gasoline stations or the 20th Century Fox logo—often revisiting motifs, sites, or words years later. Together with chief curator Christophe Cherix, we will trace shifts in the artist's means and methods over time in mediums including painting, drawing, prints, photography, artist's books, film, and installation—in works that make use of everything from gunpowder to chocolate.
Interpreting MoMA is offered free of charge. Space is limited and advance registration is required.
For more information or to register, please email [email protected] or call Access Programs at 212-408-6447.
Image description: The word "HEY" in bold, black capital lettering in the center of tan paper. Pencil shading creates the appearance of the bottom left corner of a piece of paper curling up to cover the bottom part of the letter H.
The Adobe Foundation is proud to support equity, learning, and creativity at MoMA.

Access and Community Programs are supported by the Stavros Niarchos Foundation (SNF).

Major funding is provided by Volkswagen of America, The Taft Foundation, and by the Werner and Elaine Dannheisser Fund for Older Adults at MoMA in honor of Agnes Gund.

Additional support is provided by the Sarah K. de Coizart Article TENTH Perpetual Charitable Trust, the Allene Reuss Memorial Trust, the J.E. and Z.B. Butler Foundation, the Megara Foundation, The Max and Victoria Dreyfus Foundation, Inc., the Von Seebeck-Share B. Charitable Trust, The Elroy and Terry Krumholz Foundation, and the Annual Education Fund.