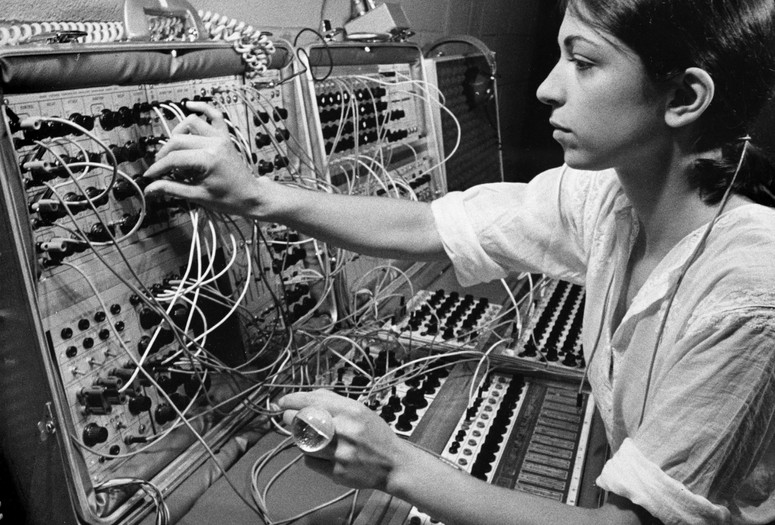 The inaugural presentation of Studio Sound features Suzanne Ciani and Sarah Davachi—two composers of different generations working with innovative music technologies. As part of Studio Sound, Ciani will perform Improvisation on Four Sequences live in MoMA's Kravis Studio.
Often referred to as the "Diva of the Diode," composer Suzanne Ciani is a pioneer of electronic music, known for her revelatory creations on an instrument called the Buchla. Developed by Don Buchla, Morton Subotnick, and Ramon Sender in 1964 at the San Francisco Tape Music Center—the first publicly accessible electronic music center—the Buchla was revolutionary. Unlike popular commercial synthesizers, it features an innovative interface that does not rely on a traditional 12-tone keyboard. Without the keyboard, the Buchla offers musicians the possibility for more sonic experimentation, a new interface between human and machine.
Over her decades-long career, Ciani has used the Buchla to compose New Age electronic music and innovative commercial sound design. In the Kravis Studio, Ciani will perform Improvisation on Four Sequences on the Buchla 200e. Presented in quadraphonic sound, the work incorporates a spatial experience into her musical composition. Ciani says, "I consider the spatial characteristics—where a sound is placed and the way it moves—to be an integral part of the music, and I plan and 'play' the space of each part of the performance."
The performance on Sunday, September 10, will be followed by a conversation between the artist and curator Martha Joseph.
Please note that tickets for the Sunday, September 10, performance are free with museum admission, but advance reservations are required.
There will be a first-come, first-served standby line beginning 30 minutes before the event.