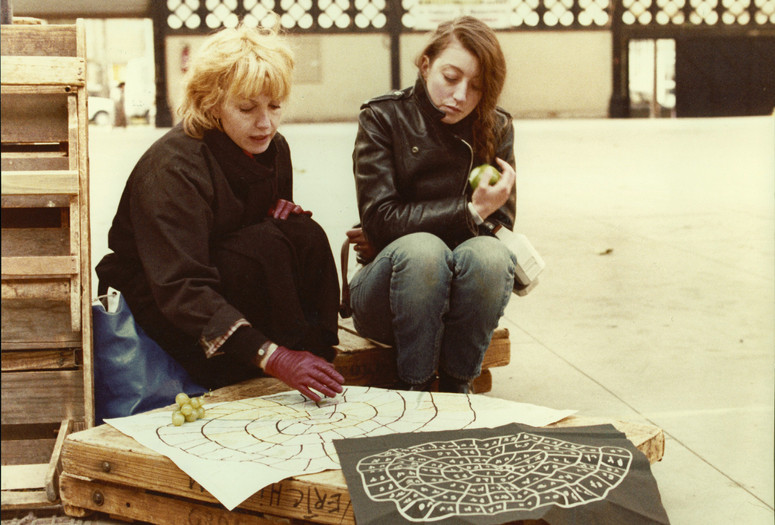 Le Pont du Nord. 1981. France. Directed by Jacques Rivette. Screenplay by Rivette, Bulle Ogier, Pascale Ogier, Suzanne Schiffman. With Bulle Ogier, Pascale Ogier, Pierre Clémenti. 35mm. In French; English subtitles. 129 min.
One of the masters of the French New Wave, Jacques Rivette made films characterized by their fractured narratives, visual puns, self-reflexivity, and playful confusion of reality and artifice. After an apprenticeship in the mid-1950s with Jacques Becker and Jean Renoir, Rivette became an iconoclastic film critic for Cahiers du cinéma; together with François Truffaut, Jean-Luc Godard, and Alain Resnais, he championed the auteurist aesthetic of filmmakers like Alfred Hitchcock, Howard Hawks, and Anthony Mann—directors who would have a decisive influence on his own work. Rivette was fascinated by theatrical illusion and the conceit of actors playing roles that mysteriously and inexorably alter their lives off camera. Often he incorporated improvisation and rehearsal into the staging of his own films; in addition to freewheeling adaptations of Cyril Tourneur's 16th-century play The Revenger's Tragedy in his 1976 Noiroît; Denis Diderot's 18th-century novel La Religieuse in 1966; and Honoré de Balzac's 19th-century story "The Unknown Masterpiece" in La Belle noiseuse (1991), he has depicted actors preparing a production of Jean Racine's Andromaque in L'Amour fou (1969), and Marivaux's La Double inconstance in La Bande des quatres (1988).
Le Pont du Nord unites the great Bulle Ogier with her daughter Pascale Ogier as marginal characters who fatefully meet and become embroiled in a bizarre government conspiracy that may, or may not, be the product of their own paranoid fantasies. The tango of these seeming strangers is set to an evocative score by Astor Piazzola, and played out in a Paris of labyrinthine quartiers where time, space, and even genre—a Mack Sennett slapstick comedy? A Louis Feuillade detective serial? A German Expressionist nightmare?—become hopelessly mixed up. It is, in a word, Rivette's take on the classic French board game Jeu de l'oie.