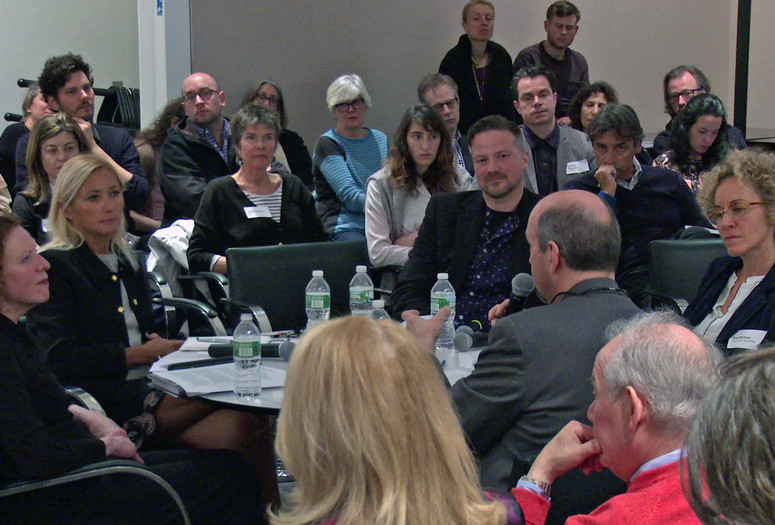 For the upcoming session we have invited Kaja Silverman, the Keith L. and Katherine Sachs Professor of Contemporary Art at the University of Pennsylvania, to lead a discussion about her new book The Miracle of Analogy, the first in a two-volume reconceptualization of photography, published by Stanford University Press. Silverman is the author of eight books: Flesh of My Flesh (2009); James Coleman (2002); World Spectators (2000); Speaking about Godard (with Harun Farocki, 1998); The Threshold of the Visible World (1996); Male Subjectivity at the Margins (1992); The Acoustic Mirror: The Female Voice in Psychoanalysis and Cinema (1988); and The Subject of Semiotics (1983). Her new book argues that photography originates in what is seen, rather than in the human eye or the camera lens, and that this is the world's primary way of revealing itself to us. Neither an index, representation, nor copy, as conventional studies would have it, the photographic image is an analogy.
We have invited as lead speakers Andre Dombrowski, Associate Professor of History of Art at the University of Pennsylvania; Eve Meltzer, Associate Professor of Visual Studies and Visual Culture in the Gallatin School of Individualized Study at New York University; and Howard Singerman, the Phyllis and Josef Caroff Professor of Fine Arts, Department Chair, Hunter College, City University of New York, to join Silverman in a discussion of her present volume, which focuses on photographic practices of the 19th century and some of their contemporary progeny. The book begins with the camera obscura—which morphed into chemical photography and lives on today in digital form—and ends with Walter Benjamin. Key figures discussed along the way include Nicéphore Niépce, Louis Daguerre, William Fox-Talbot, John Dugdale, Jeff Wall, Joan Fontcuberta, and Abelardo Morell.
This event is invitation only, but we are very pleased to present a live stream of the forum on MoMA.org, which will allow remote friends and colleagues to participate in the conversation.
Cofounded by curators Roxana Marcoci and Eva Respini on February 16, 2010, and conceived as an experimental platform for free-form critical discussions, MoMA's forums on contemporary photography are designed to encourage debate about the perspectives and scope of still and moving images and other forms of picture-making among leading artists, curators, and theorists in the field. The creative process of today is not solitary but dynamic, evolving from countless partnerships. These forums offer an intellectual milieu that values the scholarly reassessment of pivotal ideas in art, innovative practices, and complex and competing visions of modern and contemporary art.
Roxana Marcoci, The David Dechman Senior Curator, The Robert B. Menschel Department of Photography, MoMA, begins each session with an introduction to the topic, providing context for the conversation. Four to seven featured speakers then present for five to 10 minutes each. The presentations are followed by a probing, critical Q&A session and a moderated discussion with all the guests.
Read an article about the Forums from Art in America.
Organized by Roxana Marcoci, Senior Curator, Department of Photography, MoMA
Speakers: Kaja Silverman, The Keith L. and Katherine Sachs Professor of Contemporary Art, University of Pennsylvania
André Dombrowski, Associate Professor of History of Art, University of Pennsylvania
Eve Meltzer, Associate Professor of Visual Studies and Visual Culture, Gallatin School of Individualized Study, New York University
Howard Singerman, The Phyllis and Josef Caroff Professor of Fine Arts, Department Chair, Hunter College, CUNY