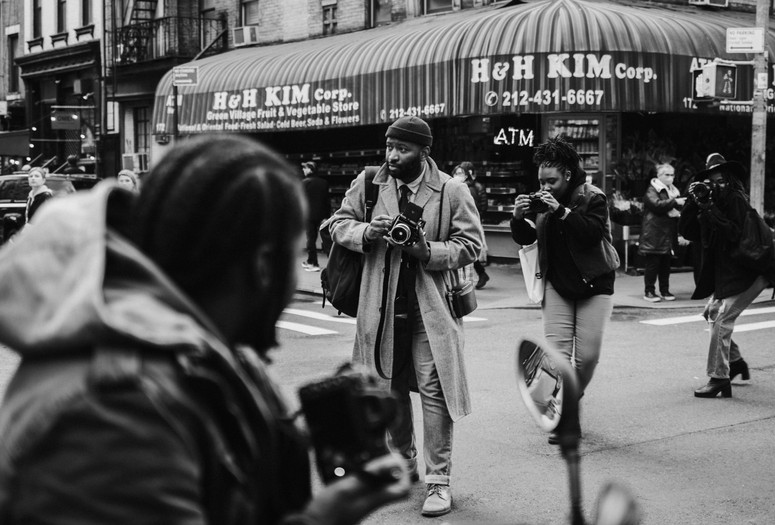 Photographer Akinbode Akinbiyi and New York–based visual artist collective and creative agency Souls in Focus lead a photowalk in Harlem. This special afternoon will bring together friends, strangers, artists, thinkers, and creators—humans, in other words—to explore the beautiful, cultural, and historic streets of Harlem. Wanderers will encounter pre–Civil War Baptist churches, a Mosque named after Malcolm X, East and West African markets, world-renowned soul food restaurants, and all the beauty in between.
This program will meet in Harlem, near the Schomburg Center on 135th Street and Lenox Avenue, and will follow a route created and led by Souls in Focus in collaboration with Akinbode Akinbiyi. This event is held in conjunction with the exhibition New Photography 2023. Bring your favorite camera to shoot with and some comfortable shoes. Additional information about the meeting location and route will be provided via email to registrants.
Register now to participate.
Souls in Focus is a community-driven collective and creative agency with a mission to inspire, educate, and connect visual artists from all around the world.
Akinbode Akinbiyi (b. 1946) is a photographer who has spent his career making lyrical black-and-white photographs of large cities including Cairo, Lagos, Johannesburg, and Kinshasa. His work has been the subject of numerous solo exhibitions, most recently Six Songs, Swirling Gracefully in the Taut Air, presented by Gropius Bau in 2020. In 2014, Akinbiyi's work was featured in documenta 14 in Athens and Kassel. He is also active as an educator, writer, and curator. In 1993, Akinbiyi cofounded the UMZANSI Cultural Centre in Durban, South Africa. He is the author of Just Ask! (2014), a publication about contemporary African and international photography. Akinbiyi lives and works in Berlin.
Accessibility

American Sign Language (ASL) interpretation is available for public programs upon request with two weeks' advance notice. MoMA will make every effort to provide accommodation for requests made with less than two weeks' notice. Please contact [email protected] to make a request for these accommodations or inquire about the accessibility of the route.


Volkswagen of America is proud to be MoMA's lead partner of learning and engagement.

Access and Community Programs are supported by the Stavros Niarchos Foundation (SNF).

Leadership support for Adult and Academic Programs is provided by the Carroll and Milton Petrie Education Program Endowment, and Lewis B. and Dorothy Cullman Education and Research Endowment.

Major funding is provided by the Agnes Gund Education Endowment Fund for Public Programs, The Junior Associates of The Museum of Modern Art Endowment for Educational Programs, and the Jeanne Thayer Young Scholars Fund.

Additional support is provided by Gretchen Jordan.