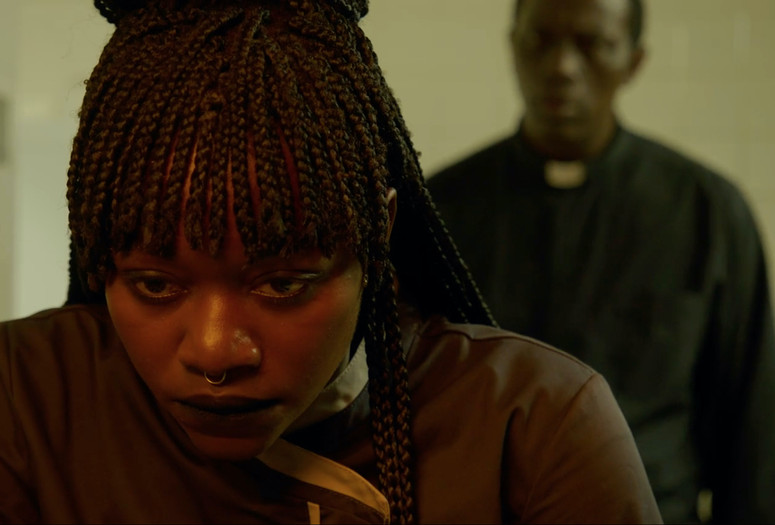 Rest Stop. 2023. USA. Written and directed by Crystal Kayiza. With Alicia Basiima, Margaret Bisase, Olivia Nantongo. DCP. 12 min.
During a bus ride from New York to Oklahoma, Meyi, a young Ugandan-American girl, realizes her place in the world through her mother's ambitious efforts to reunite their family. A FOFIF-supported short film
Our Father, the Devil. 2021. USA/France. Written and directed by Ellie Foumbi. With Babetida Sadjo, Souleymane Sy Savane, Jennifer Tchiakpe. DCP. In French; English subtitles. 107 min.
Marie works as the head cook in a retirement home in a small mountain town in the south of France. Though she seems relatively well adjusted, Marie harbors a shameful secret: she's a former child soldier. Silently struggling with the remnants of her traumatic past, Marie hides her PTSD from those around her, but her quiet life is turned upside down when an African priest named Father Patrick begins to volunteer at the home, and immediately recognizes him from her past. As Father Patrick charms her coworkers, Marie must decide if she will exact her revenge or cling to the new life she's built.
Ellie Foumbi's powerhouse feature debut, a bold thriller about power, revenge, and the devils inside us all, was nominated for Best Feature at the 2023 Independent Spirit Awards and is slated for an official release later this year.