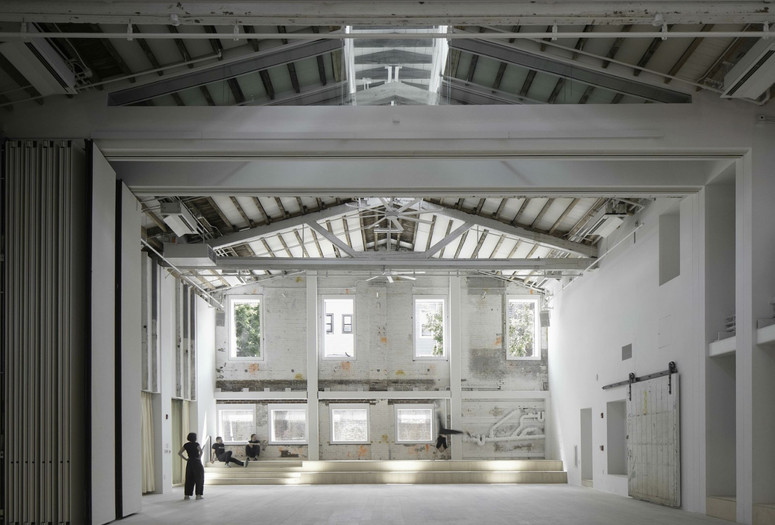 In a city where many aspects of our social lives are shaped by real estate and economic forces, how can architecture still play a vital role in fostering participation and belonging? In conjunction with the exhibition Architecture Now: New York, New Publics, The Museum of Modern Art organizes an afternoon of conversations between architects, designers, educators, scholars, and activists. The event will focus on alternative modes of imagining, creating, and activating new types of public spaces in New York today. Organized in two panels, discussions will offer a framework for learning about ongoing initiatives and design projects that seek to redefine the role of public-facing architecture now and in the future.
The event will take place at The Mercury Store, in Gowanus, Brooklyn, an adaptive reuse of an old metal foundry into an incubator for theater artists by CO Adaptive, one of the twelve projects featured in the exhibition.
The program will take place in English. Admission is free but RSVP is required. Seating will be offered on a first-come, first-served basis.
Register for the session on Saturday, May 13.
Schedule
11:30 a.m.–12:00 p.m.
Coffee and check-in
12:00–12:15
Welcome and opening remarks by Evangelos Kotsioris and Martino Stierli
12:15–1:45
Panel 1: Reimagining History
Moderator: Esther Choi
Speakers: Alicia Ajayi (Blackspace), Idris Brewster (Kinfolk), Quilian Riano (DSGN AGNC)
1:45–2:30
Break
2:30–4:00
Panel 2: Envisioning Futures
Moderator: Jerome Haferd
Speakers: Abby Coover & Ryan Brooke Thomas (WIP Collaborative), Yeju Choi & Chat Travieso (Yeju & Chat), Nina Cooke John (Studio Cooke John)


Accessibility



American Sign Language (ASL) interpretation is available for public programs upon request with two weeks' advance notice. MoMA will make every effort to provide accommodation for requests made with less than two weeks' notice. Please contact [email protected] to make a request for these accommodations.




Volkswagen of America is proud to be MoMA's lead partner of learning and engagement.

Access and Community Programs are supported by the Stavros Niarchos Foundation (SNF).

Leadership support for Adult and Academic Programs is provided by the Carroll and Milton Petrie Education Program Endowment, and Lewis B. and Dorothy Cullman Education and Research Endowment.

Major funding is provided by the Agnes Gund Education Endowment Fund for Public Programs, The Junior Associates of The Museum of Modern Art Endowment for Educational Programs, and the Jeanne Thayer Young Scholars Fund.

Additional support is provided by Gretchen Jordan.