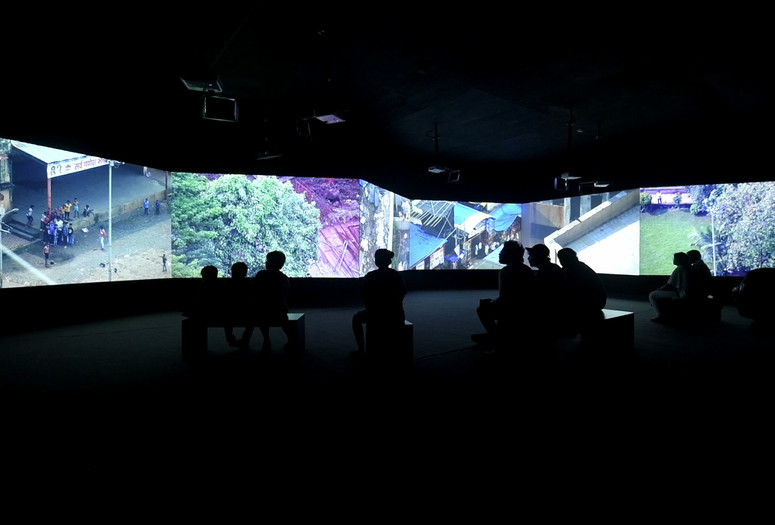 In conjunction with the exhibition Signals: How Video Transformed the World, the Mumbai-based group CAMP, led by Shaina Anand and Ashok Sukumaran, joins us for a Modern Mondays evening. This lecture and screening will draw from CAMP's longstanding exploration of simultaneous networks of migration and media, from transnational shipping routes and geopolitical borders to everyday CCTV surveillance systems.
CAMP has created acclaimed works across video, film, electronic media, and public art forms. Engaging livestream feeds as well as intricately crafted montage, databases as well as "live cinema," the group probes the possibilities and limits of video as a medium—and the ways in which old and new media have become an infrastructural condition of life around the world.
CAMP is a collaborative studio founded in Mumbai in 2007. Their research projects include Pad.ma, an online platform for video footage since 2008; Indiancine.ma, an archive of Indian film; and Njp.ma, an exploration of the Nam June Paik Archives. Currently working as a group of five, CAMP has exhibited internationally, most recently at the Kochi-Muziris Biennale, 2023; they won the Nam June Paik Art Center Prize in 2021.
Following the lecture and screening, CAMP will be joined in conversation by Stuart Comer, The Lonti Ebers Chief Curator of Media and Performance, Michelle Kuo, The Marlene Hess Curator of Painting and Sculpture, and Rattanamol Singh Johal, Assistant Director, International Program. The program will conclude with an audience Q&A.
This space is being filmed/photographed. Entering this space indicates your consent to being filmed/photographed and your consent to the use of your recorded image for any and all purposes.