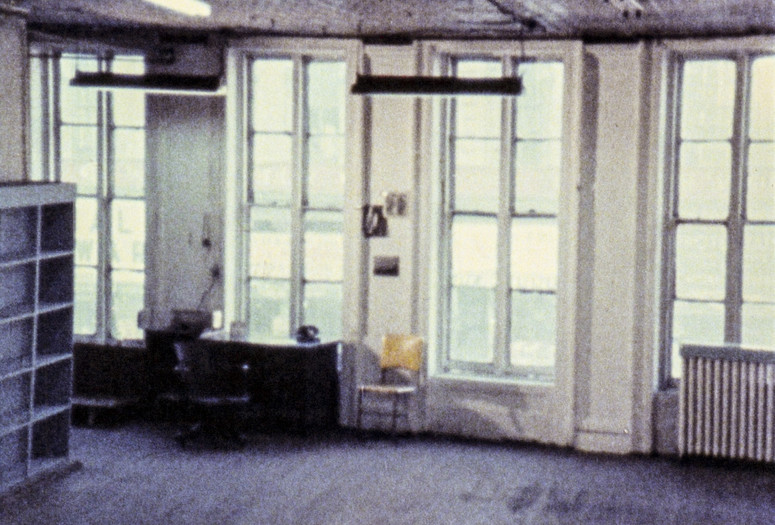 Wavelength. 1967. USA. Directed by Michael Snow. With Hollis Frampton, Joyce Wieland, Amy Taubin. 16mm. 43 min.
"What I often say to people watching Wavelength for the first time is that it only lasts for 45 minutes, and if you allow it, those 45 minutes will transform your idea of what a film can be. Wavelength was shot in Michael Snow's New York studio at 300 Canal Street with a Bolex camera equipped with a zoom lens. The camera was placed at the back of the studio on a tripod that was higher than eye level, and close to a side wall. At this angle, it faced the front wall with its four large windows overlooking Canal Street, where traffic was more or less visible day and night. The film explores this space through the slightly staggered movement of the zoom lens which goes from its widest position at the beginning to its narrowest closeup position at the end. Snow wrote that he was attempting 'a definitive statement of pure film space and time, a balancing of Illusion and fact, all about seeing.' In other words, we believe in the existence of the room we see on the screen and we are equally aware that this room is an illusion created by the factual chemical reactions of various film stocks to various conditions of light. Onto this illusory space, perhaps cued by the fragments of human activity that take place during the course of the zoom lens's journey, and perhaps also because of the tension created by the relentless sound of an electronic sine wave which accompanies the movement of the zoom by going from its lowest frequency to its highest, we begin to project a narrative. Because I am the woman who appears late in the film to make a phone call alerting someone to a death, I have always experienced Wavelength as a projection of an ever-intensifying awareness of mortality. In any case, my presence in what often has been praised as a moving-image masterpiece is my perch on immortality" (Amy Taubin).
Fannie's Film. 1981. USA. Directed by Fronza Woods. With Fannie Drayton. 16mm. 15 min.
"Windows are a reality and a metaphor in this portrait of a 65-year-old Black woman who works as a cleaner in a Pilates studio" (Amy Taubin).
The Whirled. 1961. USA. Directed by Ken Jacobs. With Jack Smith. DCP. 19 min.
"Jack Smith in thrift store rags and heels swans down the fire escape of a Lower Manhattan tenement; the filmmaker appears in an ancient kinescope as a contestant on a 1950s TV game show where his opponent is Carolee Schneeman. Madly surreal, it's a preview of Jacobs's future greatness" (Amy Taubin).
Program runtime 77 min.