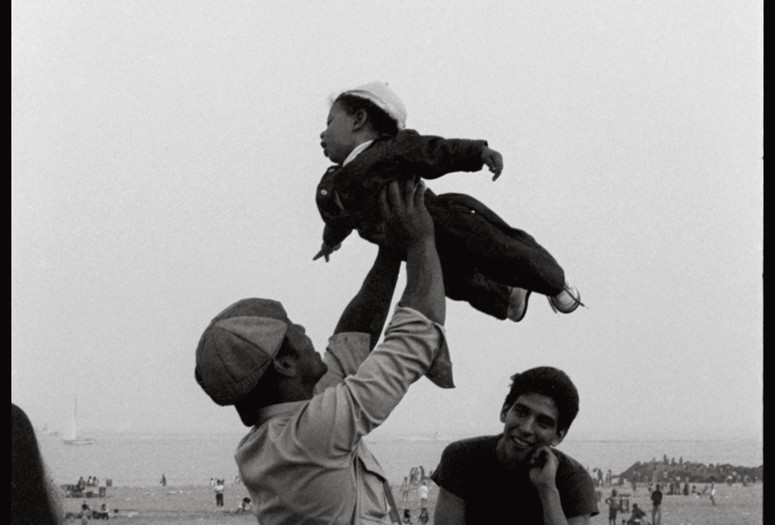 Dance and movement psychotherapist Jennifer Sterling leads this Slow Looking session with MoMA and Studio Museum in Harlem staff, focusing on one artwork featured in the exhibition Projects: Ming Smith.
This program is one in a series in support of Projects: Ming Smith that seeks to expand the discourse on Ming Smith's practice beyond existing art-historical, curatorial, and cultural-theory frameworks. In focusing on the blur, that which is just beyond the grasp of our touch and eyes, that opacity, privacy, and fugitivity characteristic of Blackness, we hope to reframe how we sense and perceive image and movement as captured through Smith's photographic lens.
In Slow Looking, we explore a single artwork through a series of guided activities, including close looking, writing, and drawing. Our intention is to offer a welcoming, calm space for individuals to experience and respond to art together. This session is part of the initiative Artful Practices for Well-Being, which offers ideas for connectedness and healing through art.
This program is a collaboration between MoMA and the Studio Museum in Harlem.
Facilitator
Jennifer Sterling is an author, a registered dance and movement psychotherapist, and the creator of Bodyful Healing, an initiative that offers support and resources to Black women living with depression. Having witnessed and experienced the effects of oppressive systems on Black women, Sterling focuses on reducing the stigma around mental illness within Black communities and educating others about the adverse effects of oppression on Black women's bodies.
Registration
Register for Slow Looking online on Wednesday, May 17, 6:00–7:30 p.m. ET
Register for Slow Looking online on Thursday, May 18, 12:00–1:30 p.m. ET
These Slow Looking sessions will be led virtually through Zoom, a free video-conferencing software platform. Participants should have access to a computer, smart phone, or tablet with a camera and an Internet connection. Participants may also dial in using a phone line. Please bring several sheets of paper and a writing utensil.
Accessibility



There will be verbal descriptions for all images. A PDF of the presentation is available in advance upon request. Live CART captioning will be available. American Sign Language (ASL) interpretation is available for public programs upon request with two weeks' advance notice. We will make every effort to provide accommodation for requests made with less than two weeks' notice. Please contact [email protected] to make a request for these accommodations.
Volkswagen of America is proud to be MoMA's lead partner of learning and engagement.

Access and Community Programs are supported by the Stavros Niarchos Foundation (SNF).

Leadership support for Adult and Academic Programs is provided by the Carroll and Milton Petrie Education Program Endowment, and Lewis B. and Dorothy Cullman Education and Research Endowment.

Major funding is provided by the Agnes Gund Education Endowment Fund for Public Programs, The Junior Associates of The Museum of Modern Art Endowment for Educational Programs, and the Jeanne Thayer Young Scholars Fund.

Additional support is provided by Gretchen Jordan.