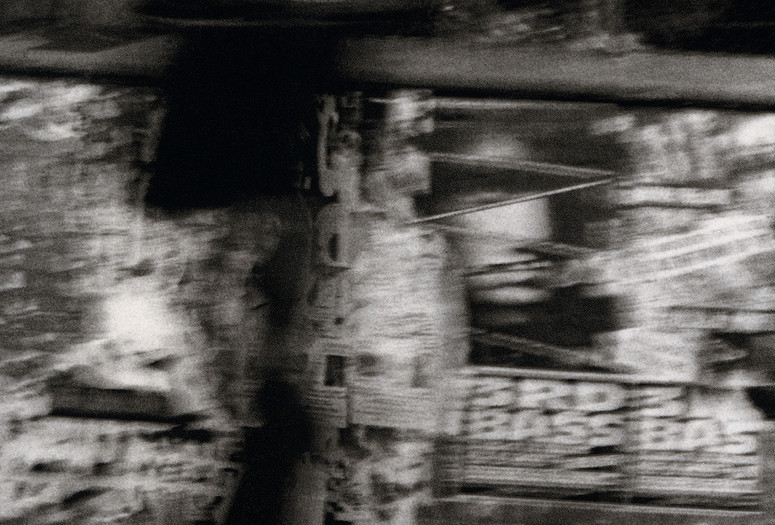 To celebrate the exhibition Projects: Ming Smith, Erica N. Cardwell moderates a panel of Gabrielle Civil, Kenturah Davis, and Shala Miller. These interdisciplinary artists will discuss Smith's work in relation to optics/opticality, the blur, light and shadow, and (in)visibility. Each artist will select a photograph from the exhibition as an entry point for exploration of their own practice, activating and responding to the photograph with their own visual, sonic, or poetic offering. The panelists highlight the hybridity of Smith's practice, which often explores the role of music, dance, and writing.
This program is one in a series in support of Projects: Ming Smith that seek to expand the discourse on Smith's practice beyond existing art-historical, curatorial, and cultural-theory frameworks. In focusing on the blur, that which is just beyond the grasp of our touch and eyes, that opacity, privacy, and fugitivity characteristic of Blackness, we hope to reframe how we sense and perceive image and movement as captured through Smith's photographic lens.
This event is a collaboration between the Studio Museum in Harlem and MoMA.
Collaborators
Erica N. Cardwell is a writer, critic, and educator based in Brooklyn and Toronto. She is the recipient of an Andy Warhol Foundation Arts Writers Grant and a New York State Council for Arts Grant for Artists in support of her first book, Wrong Is Not My Name: Notes on (Black) Art, which will be published in March 2024. Cardwell's teaching and writing consider the consciousness and imaginations of people of color as a tool for social, spiritual, and collective movement. She centers Black feminist theory as her primary critical approach, and often writes about print and paper-making practices, archival media, and interdisciplinary performance. Her writing has appeared in ARTS. BLACK, Artsy, Art in America, Frieze, BOMB, the Believer, the Brooklyn Rail, C Magazine, CULTURED, and other publications. Most recently, her writing was included in the anthology Track Changes: A Handbook for Art Criticism. Cardwell has been awarded residencies and fellowships from the Lambda Literary Foundation, Vermont Studio Center, Banff Centre for Arts and Creativity, and the Queer Art Mentorship. She received her MFA in writing from Sarah Lawrence College and has taught for various institutions, such as Parsons School of Design at the New School, and the Ox-Bow School of Art and Artists' Residency. She is on the editorial board of Radical Teacher Journal and is a member of the International Art Critics Association.
Gabrielle Civil is a Black, feminist performance artist, poet, and writer, originally from Detroit. She has premiered over 50 performance artworks around the world, including Translated Bodies (2023) at Velocity Dance Center, the déjà vu—live (2022) at Beyond Baroque, Jupiter (2021) for the Salt Lake City Performance Art Festival, and Vigil (2021) for Northern Spark. Her performance memoirs include Swallow the Fish (2017), Experiments in Joy (2019), (ghost gestures) (2021), and the déjà vu (2022). Her writing has also appeared in New Daughters of Africa, Kitchen Table Translation, Migrating Pedagogies, DanceNotes, and Experiments in Joy: A Workbook. Her performance stills and videos have been exhibited in art spaces in California, Ohio, Minnesota, Mexico, Brazil, and online. In 2023, she will activate dolls as an artist-in-residence at Automata Arts, Los Angeles, and perform Pilgrimage as a performance fellow at Franconia Sculpture Park in Minnesota. A 2019 Rema Hort Mann LA Emerging Artist, she earned her PhD in comparative literature from New York University and teaches at the California Institute of the Arts. The aim of her work is to open up space.
Kenturah Davis is an artist working between Los Angeles and Accra, Ghana. Her work oscillates between various facets of portraiture and design. Using text as a point of departure, she explores the fundamental role that language has in shaping how we understand ourselves and the world around us. This manifests in a variety of forms, including drawing, textiles, sculpture, and performance. Davis was commissioned by LA Metro to create large-scale, site-specific work that will be permanently installed on the Crenshaw/LAX rail line. Her work has been included in institutional exhibitions in the United States, Ghana, Italy, France, China, Japan, and Australia. Davis earned her BA from Occidental College and an MFA from Yale University School of Art. Davis was an inaugural artist fellow at NXTHVN in New Haven, Connecticut.
Shala Miller, also known as Freddie June when she sings, was born and raised in Cleveland, Ohio, by two southerners named Al and Ruby. At around the age of 10 or 11, Miller discovered quietude, the kind you're sort of pushed into, and then was fooled into thinking that this is where she should stay put. Since then, Miller has been trying to find her way out, and find her way into an understanding of herself and her history, using photography, video, writing, and singing as an aid in this process. Miller's work in photography and film meditates on the intersection of desire, mourning, pain, and pleasure. Taking up skin as a site of history and intimacy with the self and across generations, they hold space for the body's vulnerabilities and maladies.
Registration
Register for the online panel discussion on Tuesday, April 18.
Accessibility


American Sign Language (ASL) interpretation and CART captioning will be available for this program.




Volkswagen of America is proud to be MoMA's lead partner of learning and engagement.

Access and Community Programs are supported by the Stavros Niarchos Foundation (SNF).

Leadership support for Adult and Academic Programs is provided by the Carroll and Milton Petrie Education Program Endowment, and Lewis B. and Dorothy Cullman Education and Research Endowment.

Major funding is provided by the Agnes Gund Education Endowment Fund for Public Programs, The Junior Associates of The Museum of Modern Art Endowment for Educational Programs, and the Jeanne Thayer Young Scholars Fund.

Additional support is provided by Gretchen Jordan.