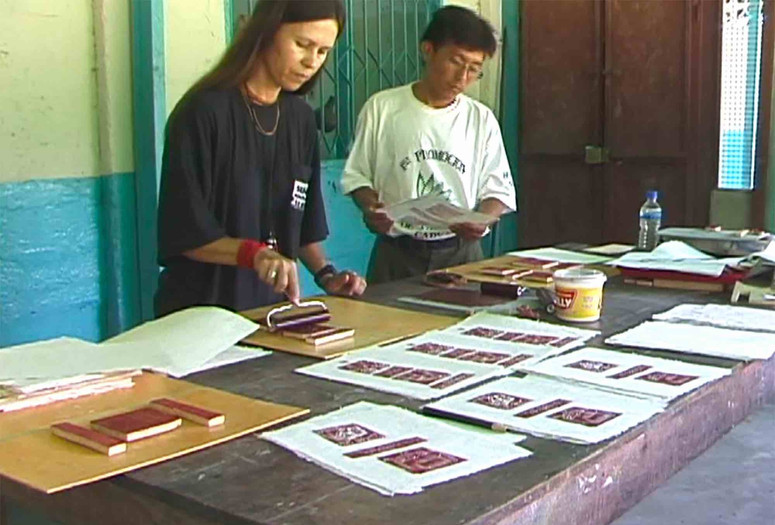 Mexico-born, New York–based artist Laura Anderson Barbata will discuss her series Intercambios, Amazonas Venezuela 1996–1998, currently on view in the exhibition Chosen Memories: Contemporary Latin American Art from the Patricia Phelps de Cisneros Gift and Beyond. In 1992, Barbata traveled to the Upper Orinoco region of the Amazon, where she met the Yanomami artist Sheroanawë Hakihiiwë. Together, they established the Yanomami Owë Mamotima project (Rainforest Paper Project). Barbata's photographs, documenting her earliest visits to the region, are shown in the exhibition alongside drawings by Hakihiiwë, as well as the book Shapono, which they published together in 1996. Barbata will be joined in conversation by Julia Detchon, curatorial assistant in Latin American Art. Barbata's presentation will be followed by an audience Q&A.
The program will take place in English. This event is free, with registration. We invite visitors to view the featured artwork before and after the program.
Artist bio
Laura Anderson Barbata (Mexican, b. 1958) is a transdisciplinary artist based in New York. Since 1992, she has primarily worked in socially engaged practice and has initiated projects in the Venezuelan Amazon, Trinidad and Tobago, Mexico, Norway, and the United States that address social justice and the environment. Her work often combines performance, procession, dance, music, textile arts, paper making, photography, zines, and protest.
Accessibility



American Sign Language (ASL) interpretation and live captioning is available for public programs upon request with two weeks' advance notice. MoMA will make every effort to provide accommodation for requests made with less than two weeks' notice. Please contact [email protected] to make a request for these accommodations.


This theater is equipped with an induction loop that transmits directly to hearing aids with T-coils.
Volkswagen of America is proud to be MoMA's lead partner of learning and engagement.

Access and Community Programs are supported by the Stavros Niarchos Foundation (SNF).

Leadership support for Adult and Academic Programs is provided by the Carroll and Milton Petrie Education Program Endowment, and Lewis B. and Dorothy Cullman Education and Research Endowment.

Major funding is provided by the Agnes Gund Education Endowment Fund for Public Programs, The Junior Associates of The Museum of Modern Art Endowment for Educational Programs, and the Jeanne Thayer Young Scholars Fund.

Additional support is provided by Gretchen Jordan.